Creamy Chocolate Ice Cream Recipe that is an easy 3 ingredient homemade frozen dessert and a no chum and no bake family recipe.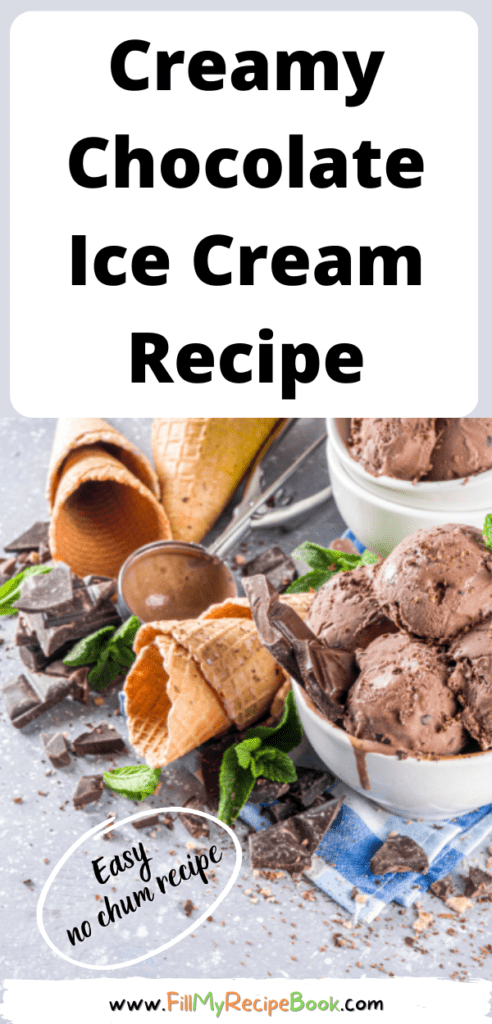 Creamy Chocolate Ice Cream Recipe
Make this easy creamy chocolate ice cream recipe for a summer frozen dessert that is simple and a no chum recipe. Its really creamy and rich with cocoa powder as flavor. Add the ice cream in cones to serve for kids. A no Bake dessert.
Is homemade ice cream better with or without eggs?
To add more flavor and rich color and also prevents ice crystallization. Also helps keep the smoothness of the creamy ice cream. But you can make ice cream without the yolks.
Why do you need condensed milk for ice cream?
The condensed milks thick and syrupy milk act as a sweetener and softens the ice cream allowing for the creaminess of it. If you would prefer your ice cream to be less sweet the use low fat condensed milk.
What can I use instead of condensed milk in ice cream?
Substitution alternatives
Ideal milk, evaporated milk. Not as rich as cream.
heavy cream and sugars
powdered milk
coconut milk
cream of coconut
nut milk and cashews.
Why chocolate ice cream is the best?
Chocolate provides natural chemicals that can protect you from cardiovascular disease and strokes. As well as the calcium in the cream helps build strong bones. Using a high percentage of pure cocoa powder or chocolate, such as 70 % plus is much healthier for the chocolate flavor.
Can you use milk instead of heavy cream for ice cream?
Don't worry too much if you don't have whole milk or heavy cream. Nearly any milk will work, and you can substitute half-and-half for the cream. Ideally you want ingredients with a high fat content because these will create a creamy texture when cooled.
Can I use honey instead of condensed milk?
Honey could be used for a replacement of condensed milk as a reinforcer. Since honey is a similar reinforcer and has additional advantages that is will not spoil as easily as condensed milk. mmmm yummy.
Ingredients
double cream (use half milk or half cream)
condensed milk
cocoa powder
vanilla essence
The amounts are in the recipe attached.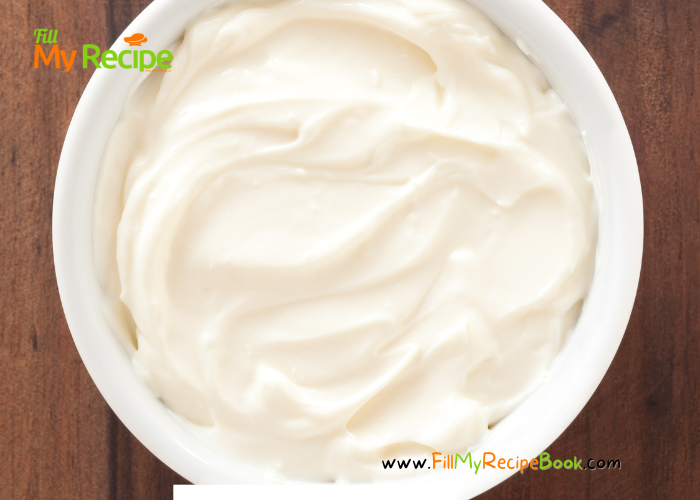 Full cream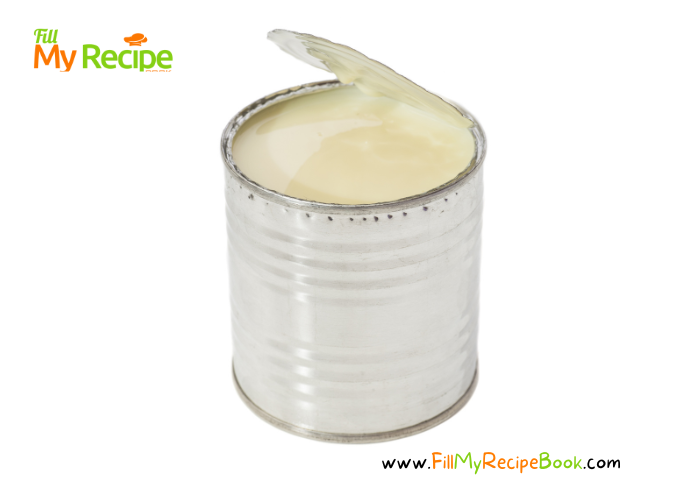 Tin of condensed milk
100 % Dark Cocoa powder to flavor the ice cream. Or even add some chocolate chips.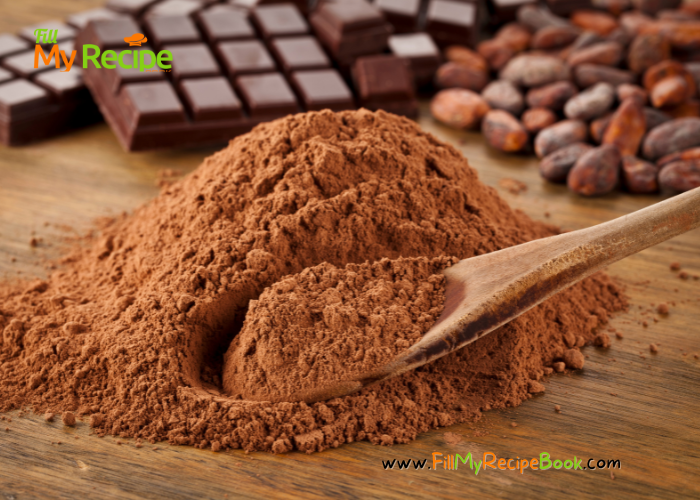 How To.
This easy 3 ingredient Homemade chocolate ice cream recipe is very quick and simple.
According to ingredients in the recipe on this page, mix the ingredients with a hand held blender until thick and freeze. Its so easy and quick.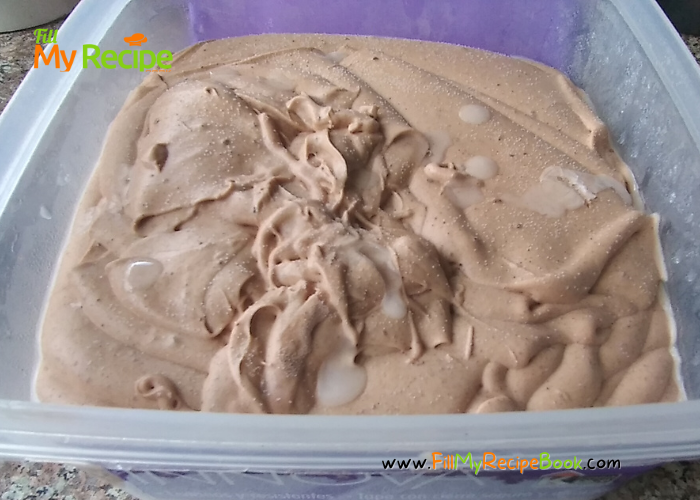 Scoop the ice cream out of the container when needed. Add into a bowl or serve in a cone.
An alternative to making it a little more intriguing for kids add some chocolate chips.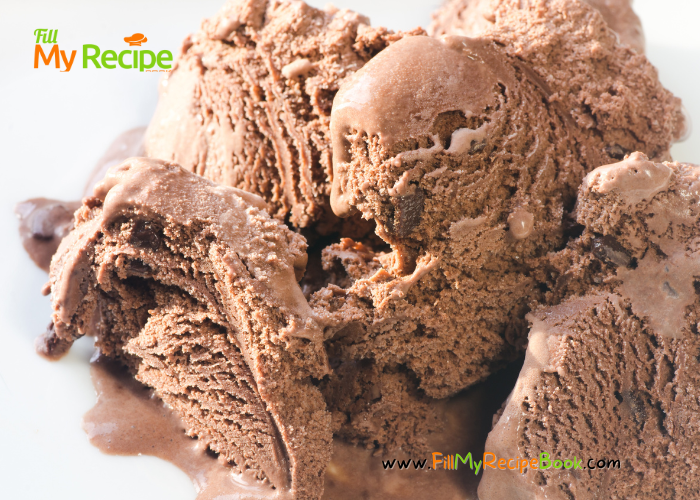 A served bowl of creamy chocolate ice cream that already has chocolate chips in. Although the recipe is for plain chocolate ice cream its simply easy to add a few while you blend the mixture.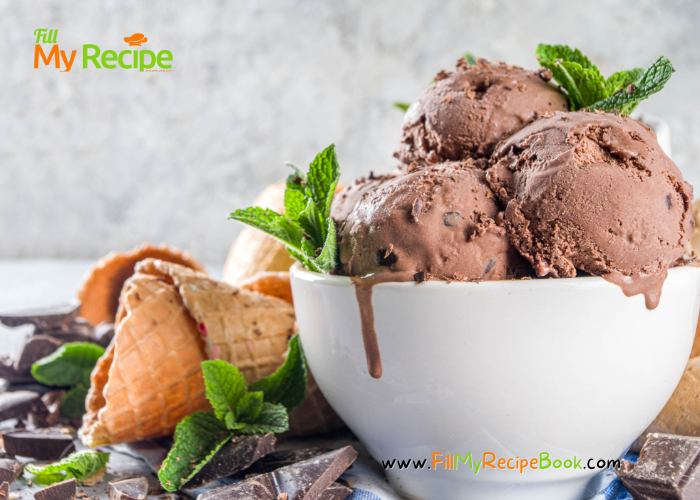 Delicious frozen dessert in a bowl served with shaven chocolate for decoration. Or serve this ice cream in a cone for all. A great cold snack for kids in the summer.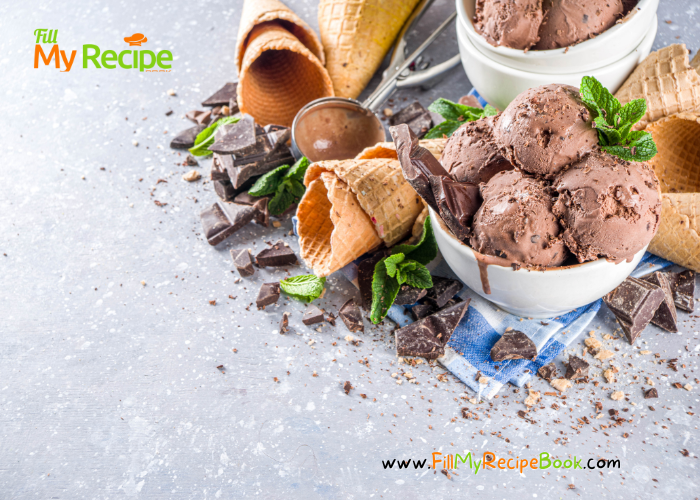 Different types of ice cream. ( a few listed)
Italian ice cream consists of fruit juices frozen. Artificially or naturally flavored and they are dairy free.
Frozen yogurt that is also flavored with fruits.
Sorbet ice cream is a mixture of mixed fruits and liquid and flavorings that are also dairy free.
Creamy ice cream, which is made with full cream or milk. Added flavorings with fruits or powders.
Sherbet ice cream is a mixture of sorbet with a little bit of milk in the ingredients.
Gelato ice cream is (means ice cream in Italian) It is a custard base ice cream and contains less fat which makes it denser. Served warmer so ends up been softer and smoother.
Frozen custard ice cream has an egg yolk added which makes it a soft serve ice cream.
Recommended.
(click the highlighted heading for the recipe)
A delicious frozen dessert is this —-> Easy Tasteful Vanilla Ice Cream
A few Mothers Day recipe Ideas to create —-> 21 Mother's Day Braai Ideas and Mothers day pudding dessert dishes to create —-> Mothers Day Pudding and Desserts
Choose more frozen desserts —–> 8 Frozen Dessert Recipes and 10 Easy Ice Cream Recipes
View these other ice cream recipe ideas to create —-> 8 Dairy Free Homemade Ice Cream Recipes and 10 Sugar Free Diabetic Ice Cream Recipes and 10 Easy Ice Cream Recipes and 8 Chocolate Ice Cream Recipe Ideas and 10 Healthy Frozen Yogurt Ice Cream Recipes
More recipe ideas for puddings —-> 16 Chocolate pudding Recipe
Who doesn't love desserts get some ideas here —–> 21 Easy Dessert Recipes and —-> 10 Quenching Float Recipes
Some 3 ingredient recipe ideas for you to create —–> 12 Three Ingredient Dessert Recipes
Sharing more thanksgiving dessert recipe ideas for you to create. —-> 27 Thanksgiving Dessert Recipes
and these recipe ideas —–> 19 Vegetarian Christmas Desserts Recipes
Get some recipe ideas to create for Valentines —-> Easy Valentines Treats to Choose.
Print
Creamy Chocolate Ice Cream Recipe
Creamy Chocolate Ice Cream Recipe that is an easy 3 ingredient homemade frozen dessert and a no chum and no bake family recipe.
Author:
Prep Time:

10 min

Cook Time:

0 min

Total Time:

10 min

Yield:

1 lt

Category:

frozen Dessert, ice cream

Method:

no bake, no chum

Cuisine:

South african
Ingredients
600

ml of full cream

1

tin (397 g) of condensed milk

50

ml of cocoa powder

1 teaspoon

of vanilla essence
Instructions
In the container you will freeze the ice cream in, add all the ingredients and blend with a hand held mixer until thick.
Place covered with a lid on to freeze for about 4 hours or leave overnight.
Serve in a bowl with fruits or chocolate chips. Even make a ice cream cone for the kids or big kids.
Enjoy it is so creamy and delicious.
Keywords: Creamy Chocolate Ice Cream Recipe