How To Make A Simple Cheese Board. Simple cheese board appetizer ideas, what cheeses to choose and sweet fruit to include.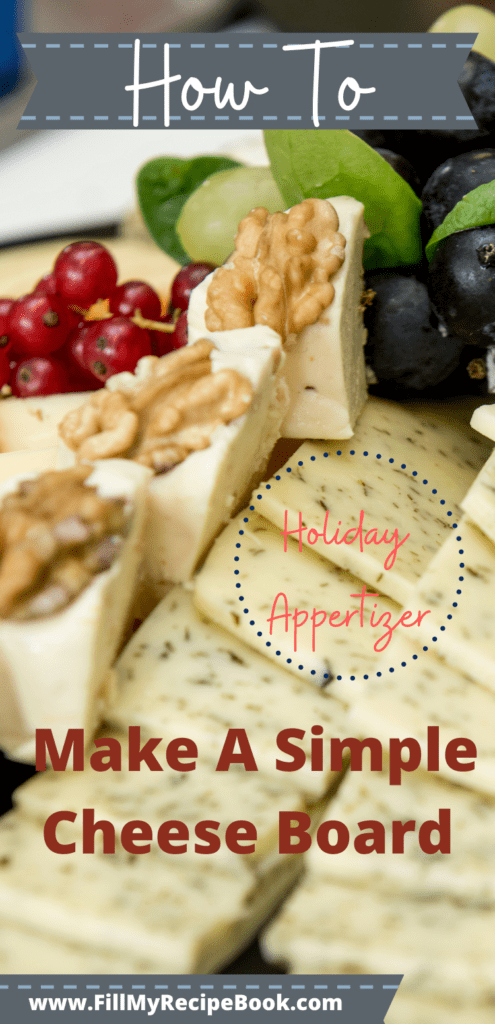 How To Make A Simple Cheese Board
At cocktail parties, a good, balanced cheese plate can help guests enjoy drinks, circulate, and develop new tastes.
While many appetizers require serious preparation, a cheese plate is not only classic but offers the familiar, the not-so-familiar, and the unique to your guests. Follow these directions to knock it out of the park.
Variety is the spice of life
What type of Cheese to serve
The key to a cheese plate is (no surprise here) the cheese. This is the heart of the experience, and while almost everyone loves cheese, it's important to pick a variety, so you're sure to please a large crowd.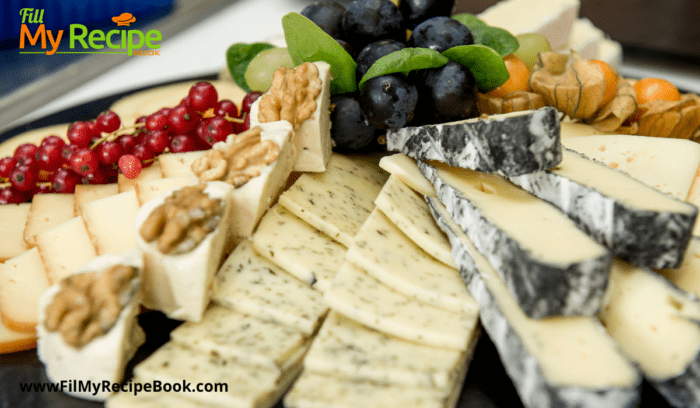 Start with a slice of hard cheese, like parmesan, manchego, or another variety. Then add a soft cheese, like a brie or a spreadable cheese, that can be served with a knife.
Finally, try adding one or two more with unique flavors. Try a smoked cheese, a bleu cheese, or a fragrant cheese with honey or lavender incorporated. Making sure you have a variety of flavors and textures to please every palate.
It's important to consider the texture of your cheese when you consider how to serve them. When dealing with a slice of soft cheese, serve it with a cheese knife so that guests can spread it on a cracker or piece of fruit. With hard cheeses, slice them into cracker-friendly pieces for easy serving. When in doubt, slicing is crowd-friendly since guests don't want to hack into a wedge of cheese while everyone's waiting to get a bite.
Match with crackers and snacks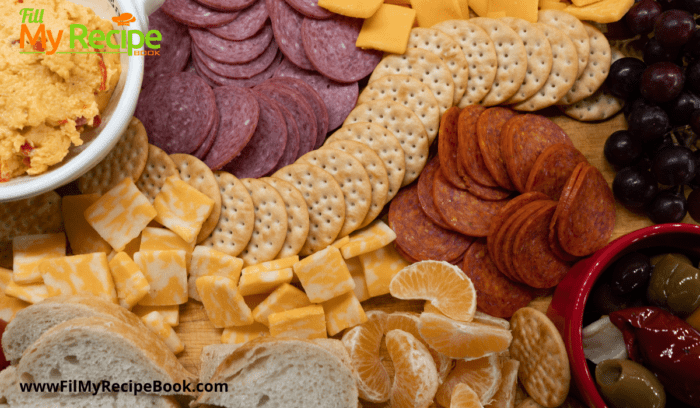 It's traditional to serve cheese with crackers, and that's usually a safe move. Try water crackers with sharp cheddar, or pair hearty whole-wheat crackers with smoked cheese for a heavier bite. If you have more than one kind of cheese, you should also offer more than one kind of cracker, but let people experiment in mixing them all up. You can also offer another crunchy snack, like Chex Mix or Gardetto's, too, to incorporate a new flavor and an easy finger food.
Complement by adding another layer.
Other sweet and sour eats.
Offering some different flavors, like sweet (grapes or strawberries), salty, chocolatey (try several kinds of chocolate!), or even a sour candy (depending on what you're drinking!) Wine pairs well with fruits, nuts, and chocolate.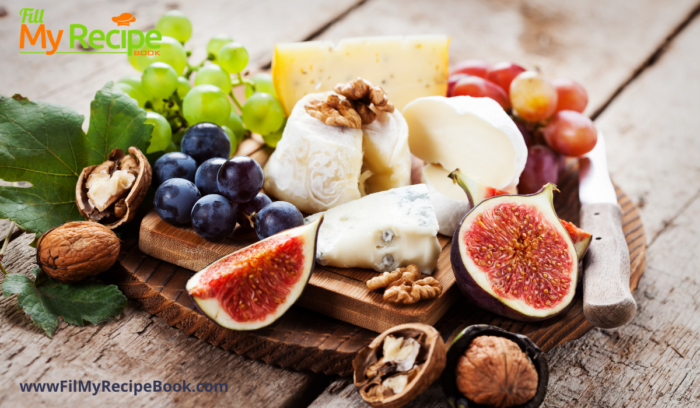 A cheese tray can be arranged in myriad ways, but usually, it's a good idea to mix all these ingredients together on one platter (if you've got one large enough!) Try placing small bowls for nuts and chocolate or fruit among bunches of grapes, rolls of crackers, and wedges of cheese. You can either pass the tray among guests or place it in a central location, which will keep guests circulating and conversation flowing.
Display and enjoy.
Of course there is also the wine that normally goes with a cheese board.
Some ideas to serve with your different tasting cheeses are.
A crisp white wine or a light red wine such as Pinot Noir would be a great match. A Chardonnay that isn't too oaky.  Firm and aged cheeses, like gouda or havarti need  brown ale or a slightly sweeter white wine.
Appetizers and snacks to serve —–> 20 Easy Thanksgiving Appetizers Recipes
How To Make A Simple Cheese Board
How To Make A Simple Cheese Plate
Ingredients
Hard cheeses. like Parmesan and Manchego. (and other)

Soft cheeses. like Brie and spreadable cheeses

Two unique flavors, bleu cheese and smoked cheese.

Fragrant cheeses with honey and lavender.

Crackers and snacks. and small rolls. use for instance (Chex Mix or Gardetto) To please different tastes

Sweet fruits like grapes and strawberries

pistachios or cashew

Chocolate varieties and sour candy

Wine (to suite your plate)
Directions
When obtaining your cheese plate cheeses make sure you are pleasing various tastes for all different people. As well as some different types of crackers.
Slice cheeses thinly to place on crackers. Maybe some can be cut into squares for tasting.
Place different crackers between different cheeses or the ones that go together. (as per Taste)
The sweet fruits can be filled in-between the cheeses and crackers. Or place them in small bowls.
Also place choice of chocolates varieties around the plate.
The sour candy can also be placed around.
Make sure that the various tastes of sweet and sour and crackers and cheeses are displayed nicely and easily accessible for people to obtain and place what they want on their plates.
The different flavors of crackers can be easily dressed with sliced cheeses or cheese spreads.
A crisp white wine or a light red wine such as Pinot Noir would be a great match. A Chardonnay that isn't too oaky.  Firm and aged cheeses, like gouda or havarti need  brown ale or a slightly sweeter white wine.