Simple Crumbed Pecan Muffins recipe are an easy healthy idea. The streusel topping is made with cinnamon and pecan chopped nuts.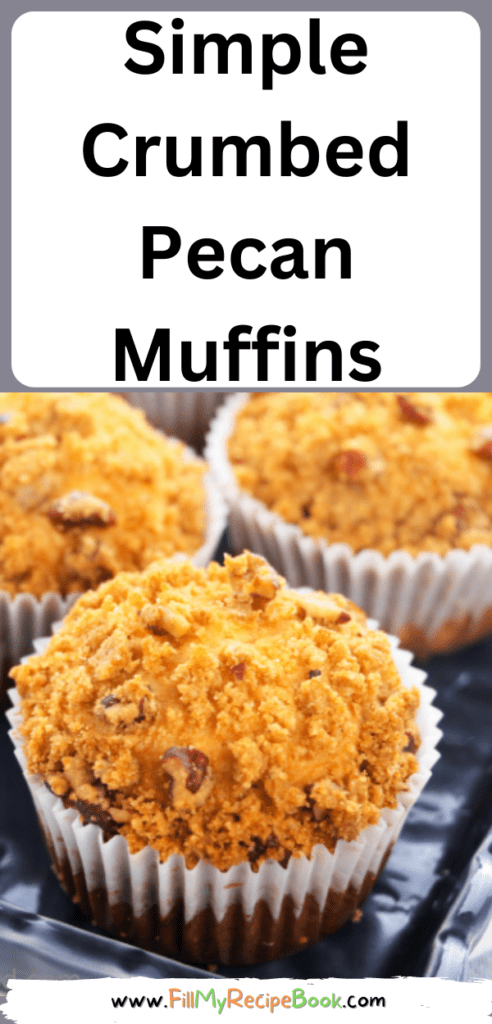 Simple Crumbed Pecan Muffins
These Simple crumbed pecan Muffins recipe idea are just an addition to other muffin recipes. All that is different is that it has a simple crumbed pecan nut mixture with cinnamon and sugar, butter mix on top. But an easy and healthy muffin recipe that is oven baked and eaten for breakfast or brunch and snacks.
What makes muffins better?
Adding herbs and spices in the dry mix can add flavor. Adding filling ingredients such as pecan nuts or raisings or dates or dried fruit later in the recipe before you pour into the muffin pans. Doing this will not compromise the texture of the muffins.
What is the secret to fluffy muffins?
The best way to get fluffy muffins is to have your ingredients of butter, eggs and milk at room temperature. It is easier to mix into a light and fluffy mix. In this way it incorporates air and when cooking in the oven they expand and this is what makes them fluffy.
What are some mistakes to avoid when making a muffin?
Do not overmix the batter
Don't forget to line your muffin pans or grease them.
Do not overfill the cups, only fill them to 3/4.
Do not overbake or underbake muffins, test if the knife comes out clean.
Leaving the muffins in the pan to cool after 5 minutes will not be good, but do leave them in for about 5 minutes for them to set, as they will not break up then.
Ingredients
olive oil
eggs
vanilla essence
milk
sugar
Flour
Baking powder
Himalayan Salt
cinnamon
For the Streusel Topping
Flour
Brown Sugar
cinnamon
melted butter
chopped Pecan nuts
For all the amounts and the instructions for this delicious healthy muffin idea see the attached recipe.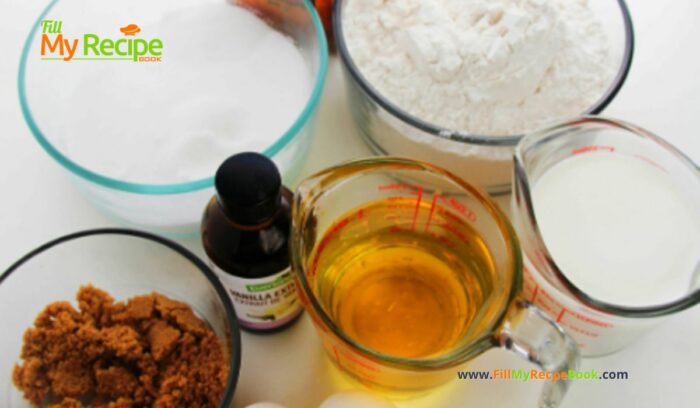 How To
When the mixture is mixed of dry and wet ingredients.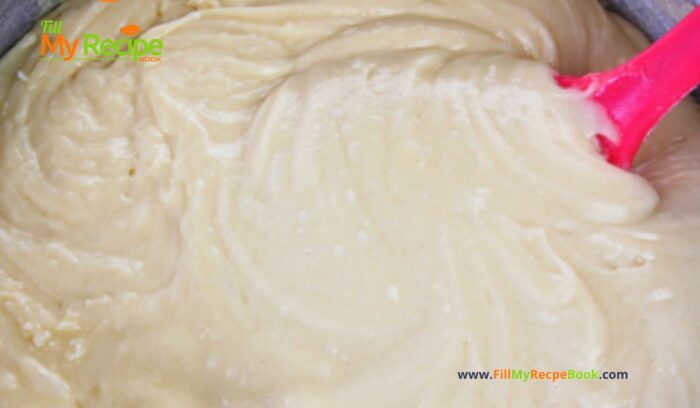 Use a cookie scoop to portion out about 1/3 cup of batter into each of the prepared muffin liners.
In a small bowl, combine the streusel topping ingredients and then sprinkle over the wet batter.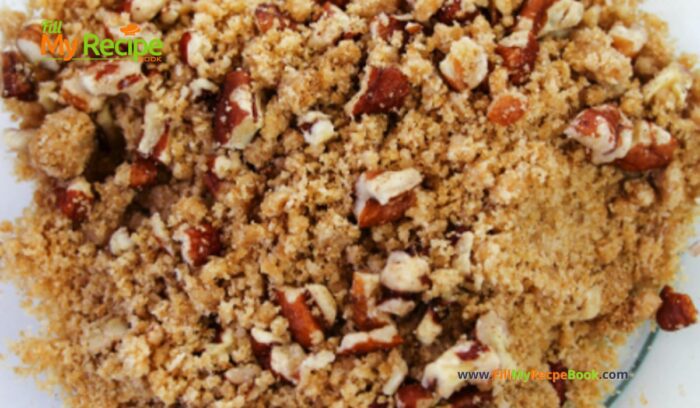 Below, the crumb pecan streusel mix is topped over the basic muffin, ready to bake.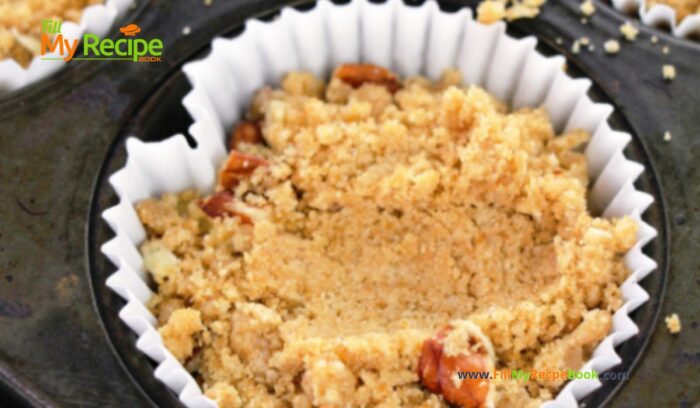 Yummy, pecan muffins are cooked and left to cool. Before you take them out of the muffin tray or their liners.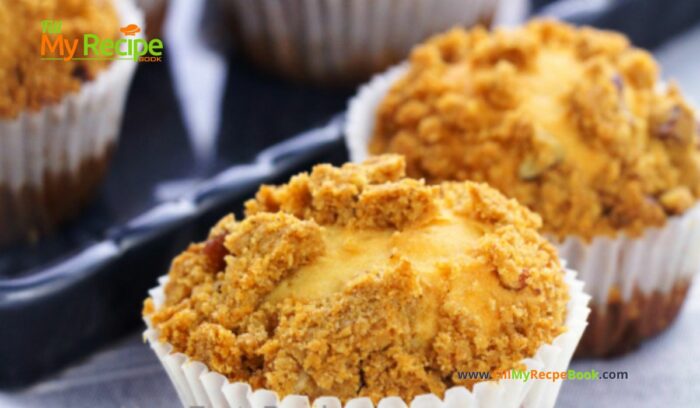 Delishes tea time snack or other time snack. Cinnamon is so good for lowering your sugar, and also other problems.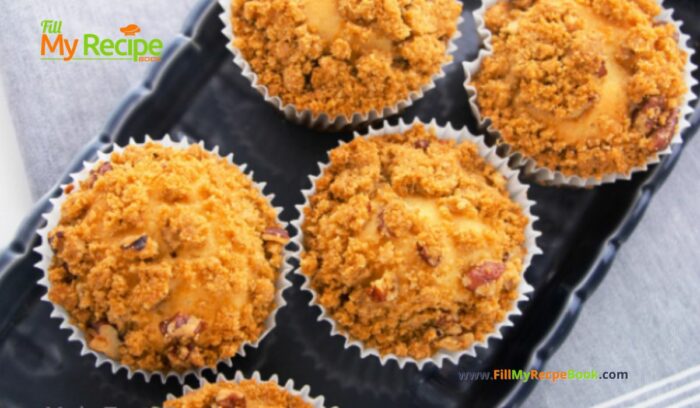 Place the pecan muffins on a decorative tray for serving.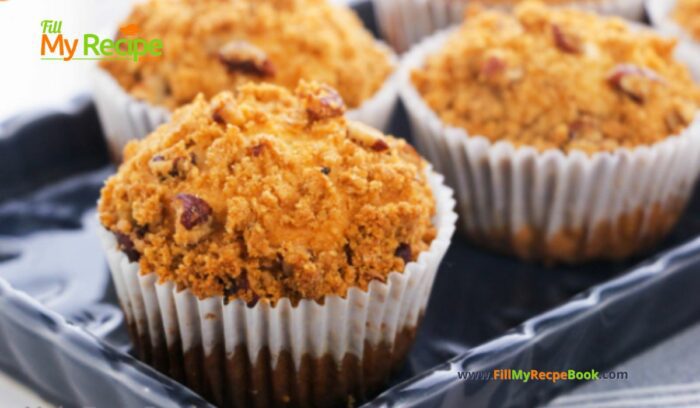 Recommendations
(click the highlighted heading for the recipes)
Create more muffins that use banana and those that don't. —-> Breakfast Banana Muffins Recipe and Easy Chocolate Banana Muffins and Scrumptious Banana Oat & Honey Muffins and Oat Raisin & Date Muffins and 12 Healthy Zucchini Muffins and Gluten Free Zucchini Muffins and Amazing Pecan Crumb Muffins and Divine Oat and Chocolate Muffins and Tasty Banana Blueberry Muffins and Cheesy Ham Egg muffins and Fresh Homemade Raspberry Muffins and Lemon Zucchini Muffins Gluten Free
PURCHASE this amazing blank recipe book at Amazon online.
Gorgeous Blank Recipe Book of 200 pages. An empty book to fill in instead of bits of paper everywhere. It has sections and index pages.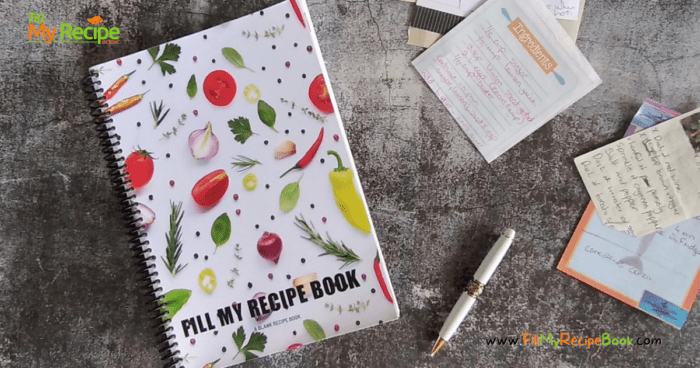 Print
Simple Crumbed Pecan Muffins
Simple Crumbed Pecan Muffins recipe are an easy healthy idea. The streusel topping is made with cinnamon and pecan chopped nuts.
Author:
Prep Time:

20 min

Cook Time:

24 min

Total Time:

44 min

Yield:

12

Category:

desserts, snacks, breakfast

Method:

Oven Baking
Ingredients
1 Cup

of vegetable oil

2

eggs

1 1/2 Tsp

of vanilla essence

1 Cup

of milk

1 Cup

of sugar

3 Cups

of Flour

3 Tsp

of Baking powder

1 Tsp

of Himalayan Salt

1

Tblsp of cinnamon
For the Streusel Topping

1 Cup

of Flour

1 Cup

of Brown Sugar

2

Tblsp of cinnamon

6

Tblsp of melted butter

1/2 Cup

of chopped Pecan nuts
Instructions
Preheat oven to 350 Deg.F (175 Deg.C)
Grease and line two muffin trays. May use muffin liners.
In a large bowl beat together the eggs, vanilla and milk. Then add the sugar and beat untill smooth.
With a small bowl mix together flour and salt and baking powder and cinnamon.
Stir the dry ingredients into the wet mixture until smooth.
Use a cookie scoop to add the mixture into the muffin pans and fill up to 1/3  of the muffin.
In another bowl combine the streusel mixture and sprinkle on top of the muffins wet mix.
Bake for 18 – 24 minutes until its tested done with a toothpick or knife.
Leave to cool on a cooling rack. 
Serve.
Keywords: simple crumbed pecan muffins recipe
Many more Oven Baking Recipes to choose from and free printables to have available