Healthy Banana Bread Recipe. A healthy moist banana bread uses Greek yogurt and is always a popular tea dessert or snack recipe idea.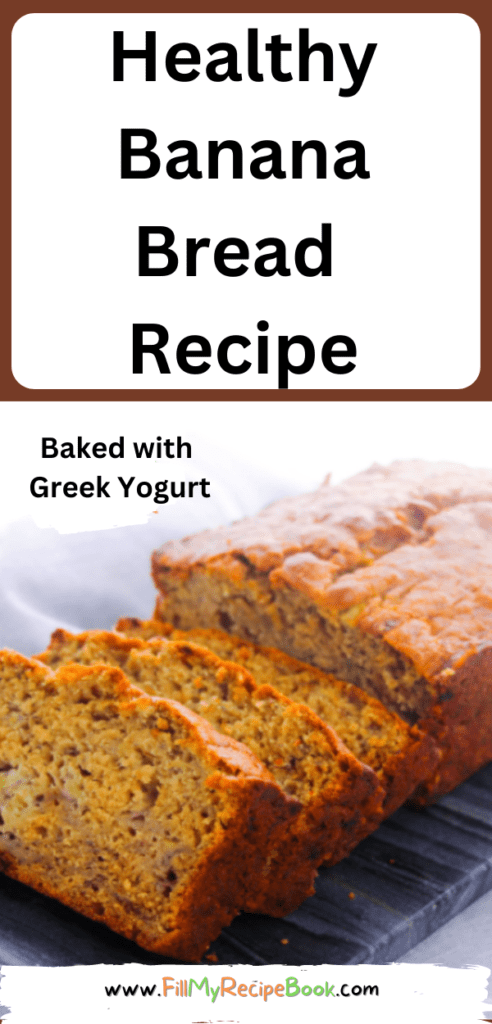 Healthy Banana Bread Recipe
This is a healthy filling banana bread recipe idea for you to create. A moist and tasty dessert of snack banana loaf that you and the kids would enjoy with butter spread on the slices. Oven bake recipe for when you have plenty of ripe bananas. Freezes well to serve later when you need that special loaf to serve or have for breakfast meal.
There are different types of recipes for banana bread.
Can you bake with Greek yogurt?
Greek yogurt is a healthy staple for breakfast and can be eaten with fruits or muesli. It is a great ingredient for baking recipes, used the same as any dairy products. The Greek yogurt makes the recipes moist and tender for cakes, biscuits and bread and more.
Is Greek yogurt and banana healthy?
Bananas provide potassium and the Greek yogurt provide high amounts protein and combined helps build muscle and replenish amino acids that are lost during exercise.
What does yogurt do in baking?
Yogurt gives a slight tanginess and light and fluffy texture to loaves, cakes and biscuits. Greek yogurt may be substituted for dairy products in many bakes, such as sour cream or cream and kefir. Bake with Greek yogurt for your recipes that include it.
Why is Greek yogurt the healthiest?
Greek yogurt has more protein and less sugar, than normal yogurts that may have higher calcium levels. But the normal yogurts contain plenty of sugar and other ingredients that are not healthy. Greek yogurt is thicker and both types are packed with probiotics and supports digestion, weight loss and is healthy for the heart. Greek yogurt is the better healthier choice.
Why do people cook with Greek yogurt?
Because Greek yogurt is packed with natural acidic it reacts with baking soda and makes the baking recipes rise higher. The tang it provides lends a balanced flavor to your baked goods.
Ingredients.
flour, baking soda
salt
cinnamon
eggs
Greek yogurt
brown sugar
butter or olive oil
vanilla essence or extract
ripe bananas
Use ripened bananas for best results. Greek yogurt and other healthy options. Get the recipe to see all the measures and instructions attached.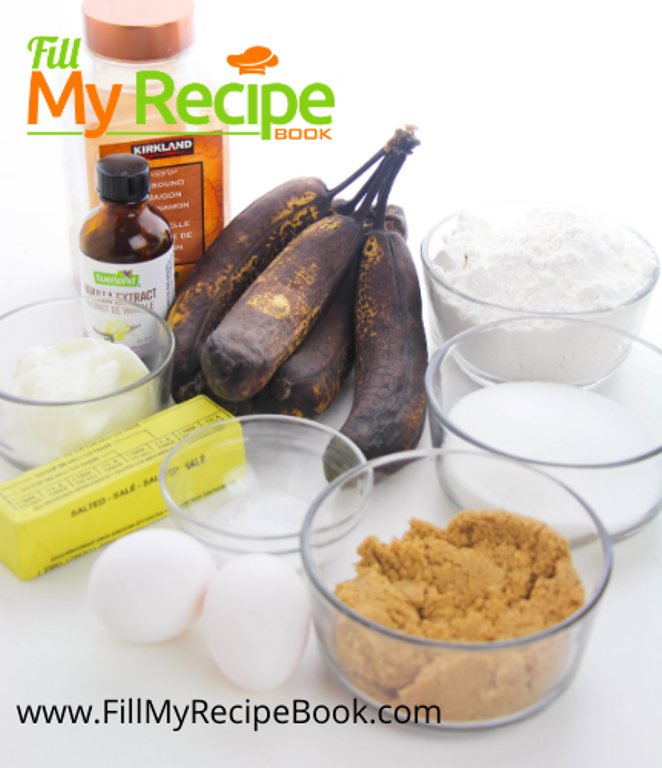 How To
In a mixing bowl sieve the flour separately and the wet ingredients as well. Whisk or blend the mixture.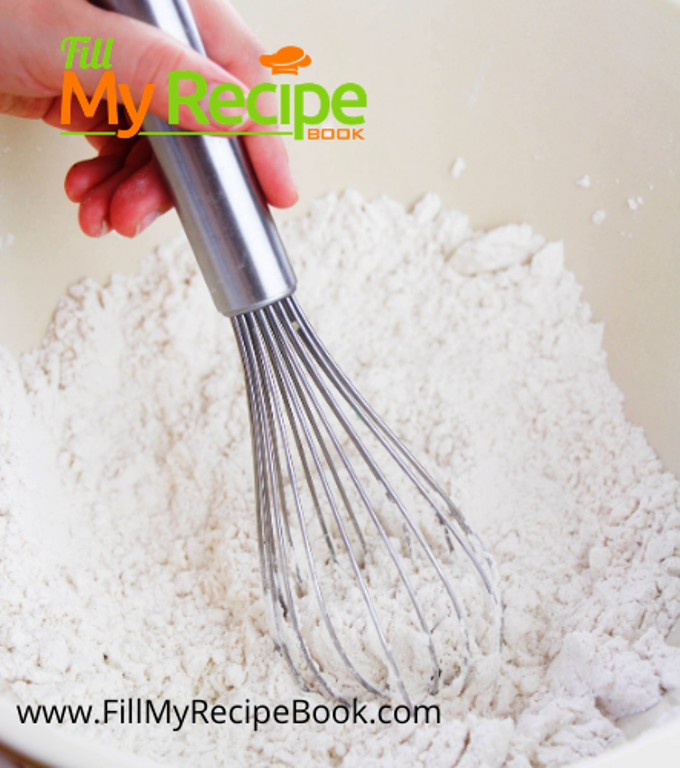 Then you would mash the bananas and mix together the dry and wet ingredients.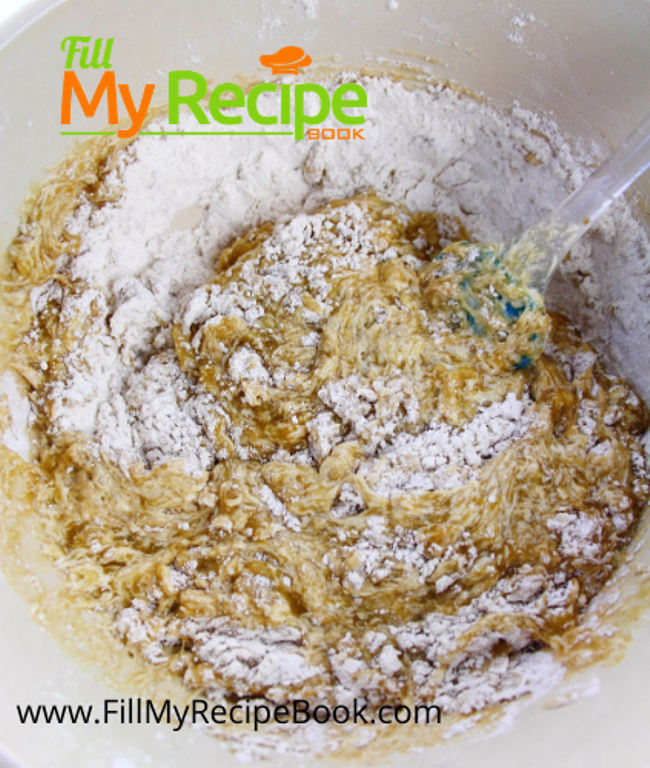 Mixing all together till smooth, or if you prefer leave the banana a little chunky.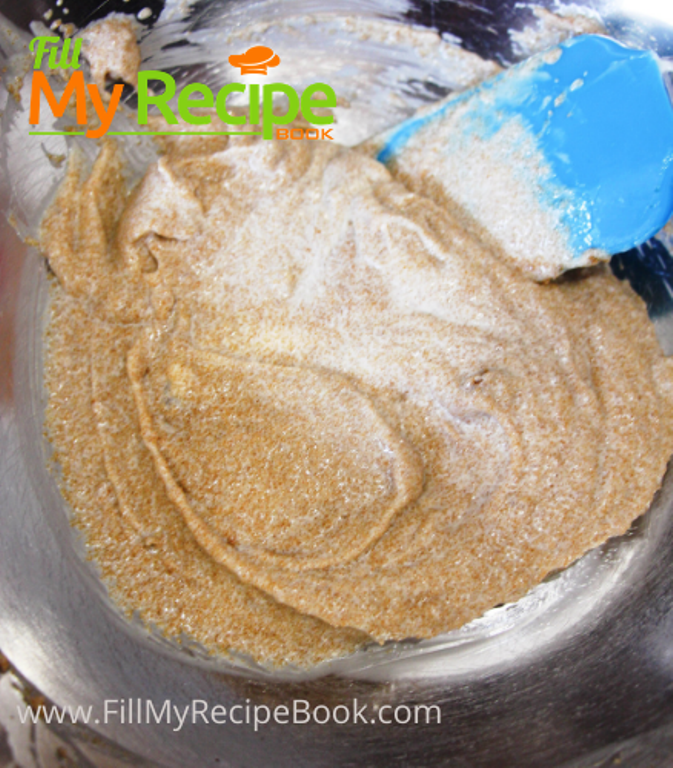 After buttering the loaf pan and lining it with a wax sheet, fill it with the mixed batter.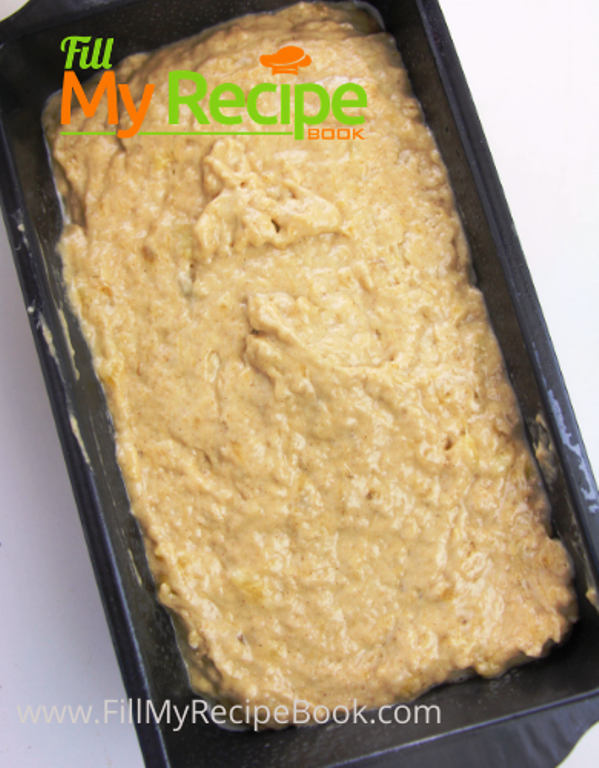 Bake the banana mixture till cooked and tested that a clean knife comes out.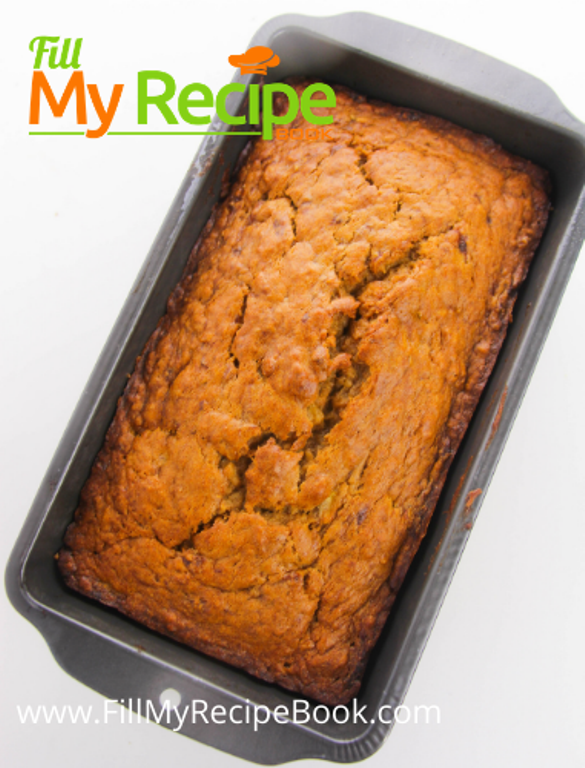 Cool the loaf on a cooler rack.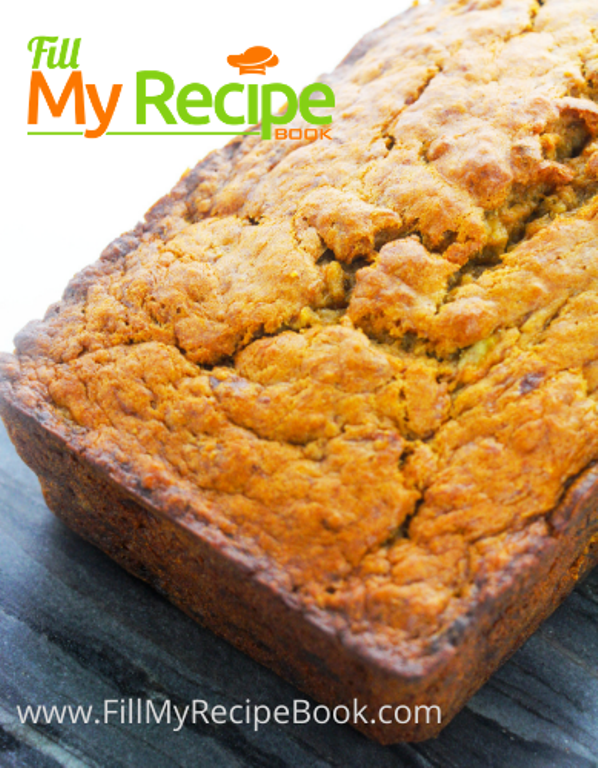 Cut the banana loaf into slices once cool and butter it for tea.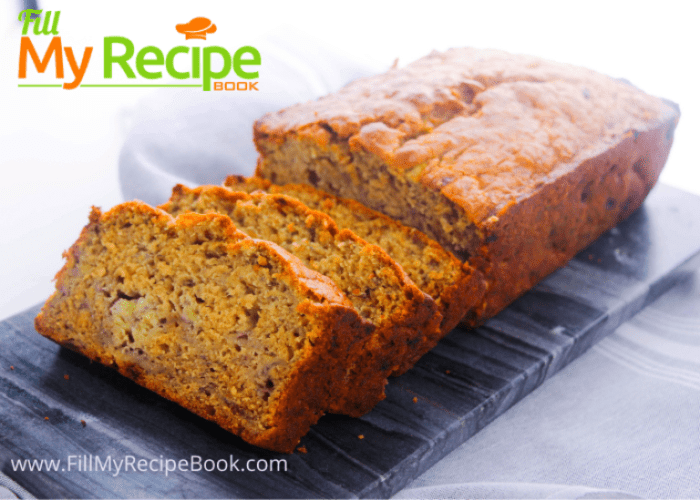 The slices of the banana bread show a delicious ripe banana.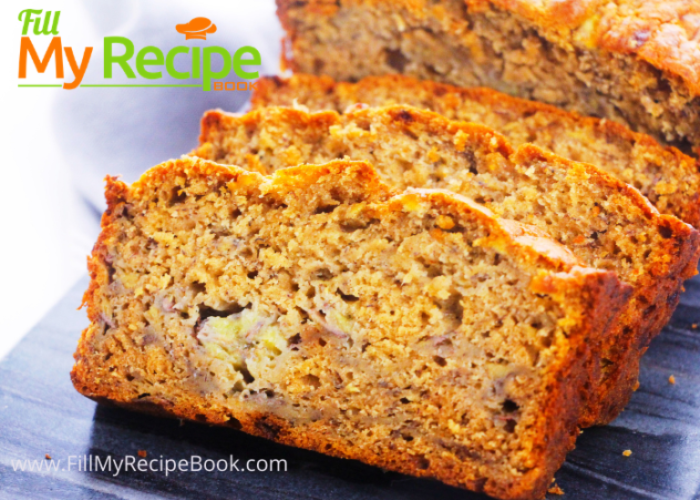 Recommendations
(click the highlighted headings for the recipes)
Delicious recipe ideas to create —-> 14 Healthy Greek Yogurt Inspired Recipes
These banana bread recipe ideas will be delicious to create to —-> Easy Chocolate Chip Banana Bread and Tasty Banana Bread Loaf and Filling Banana Bread Recipe
Get more Greek yogurt recipe inspiration with—–> 17Healthy Greek Yogurt Bakes Recipes
Get these recipe ideas ——> 20 Fathers day afternoon tea recipes
Get these great homemade bread recipe —–> 18 Easy Bread Recipes
and other fruity ideas —-> 27 Fruit Inspired Recipes
Make some muffins out of bananas as well.—-> 5 Tasty Muffins Collection and Easy Banana Pancake Recipe
Gorgeous Blank Recipe Book of 200 pages. An empty book to fill in instead of bits of paper everywhere. It has sections and index pages.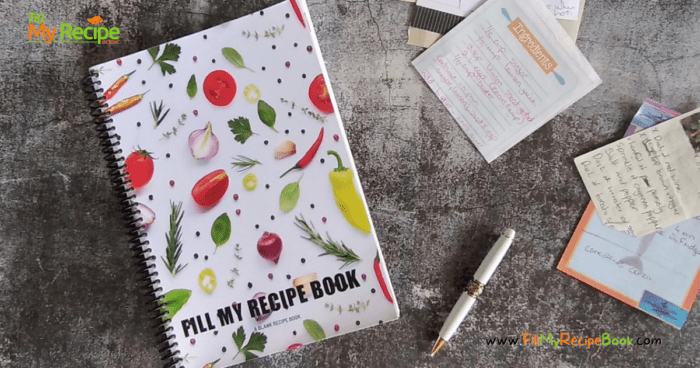 Print
Healthy Banana Bread Recipe
Healthy Banana Bread Recipe. A healthy moist banana bread uses Greek yogurt and is always a popular tea dessert or snack recipe idea.
Author:
Prep Time:

15 min

Cook Time:

55 min

Total Time:

70 min

Yield:

1 loaf

Category:

Meals, supper or lunch, dinner

Method:

Oven Baking
Ingredients
1. 2 Cups of all purpose flour
2. 1 Tsp Baking Soda
3. 1 Tsp Salt
4. 1 Tbsp Cinnamon
5. 1/2 Cup of Butter or olive oil
6. 3/4 Cup of Brown Sugar
7. 2  Eggs
8. 1/3 Cup of Greek Yogurt
9. 1 Tsp Vanilla Essence
10. 4-5 Ripe Bananas
Instructions
Preheat oven to 350 Deg F (175 Deg C)
Grease and line a standard sized loaf pan and set aside.
In a large bowl stir together flour salt and baking soda and cinnamon.
In another bowl beat together till soft the bananas.
In medium bowl beat together butter and brown sugar till light colored. Then beat in eggs and yogurt and vanilla.
Add the banana mixture to all the other mixtures and pour in the loaf pan.
Bake for 45 to 55 minutes, until a knife or toothpick comes out clean, then it is baked .
Cool on a cooling rack until needed for tea time.
 
Keywords: Healthy Banana Bread Recipe