Chocolate Mousse in Instant Pot recipe. Chocolate dessert a filling of cocoa, whipped cream, vanilla. Baked in ramekins in an instant pot.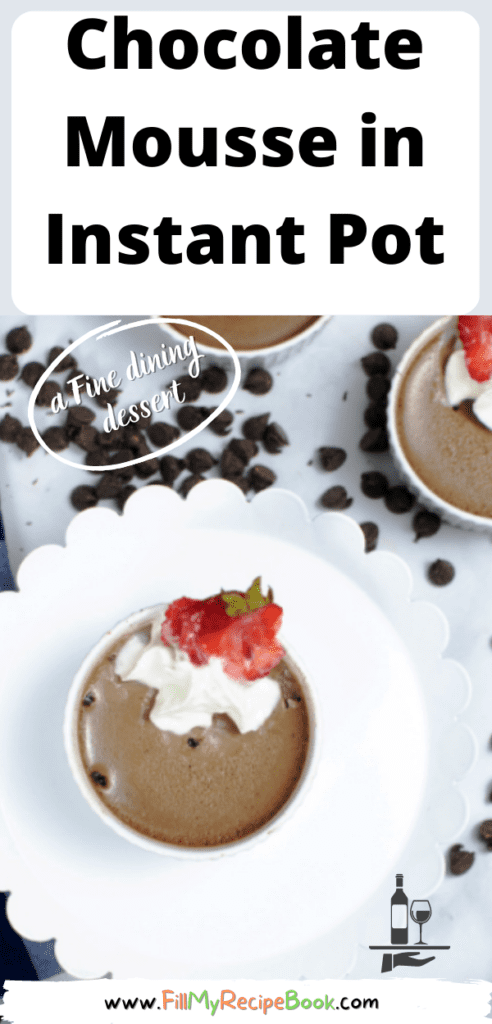 Chocolate Mousse in Instant Pot
A delicious chocolate mousse recipe idea to create, that is baked in an instant pot in ramekins. A filling of whipped cream with cocoa milk and vanilla. A dessert to be served and decorated with a fine dining meal. Pudding for family members or special occasions.
What is chocolate mousse made of?
What goes in chocolate mousse. Just FIVE ingredients, all good stuff we like: chocolate, cream, sugar, eggs and butter.
What is the difference between chocolate pudding and chocolate mousse?
Mousse is lighter and fluffier than pudding. Pudding is usually cooked to thicken the pudding mixture. Mousse is thickened from whipping the cream and egg whites and then folding into the melted chocolate.
Is chocolate mousse supposed to be thick?
A good chocolate mousse should be light, airy, and not fatty. All chocolate mousses should set for at least 12 hours in the refrigerator. Most should be eaten at room temperature, so remember to take them out of the refrigerator 30 minutes before serving.
Ingredients
Below are the ingredients to make this dish. See the recipe for the correct amounts.
4 egg yolks
1/2 cup powdered sugar
1/4 cup water
1/4 cup cocao
1 cup whipping cream
1/2 cup cow's milk
1/2 tsp vanilla
1/2 tsp sea salt
The instant pot is the main item you would need as well as a microwave and finally blending and cooking the ingredients in a pot.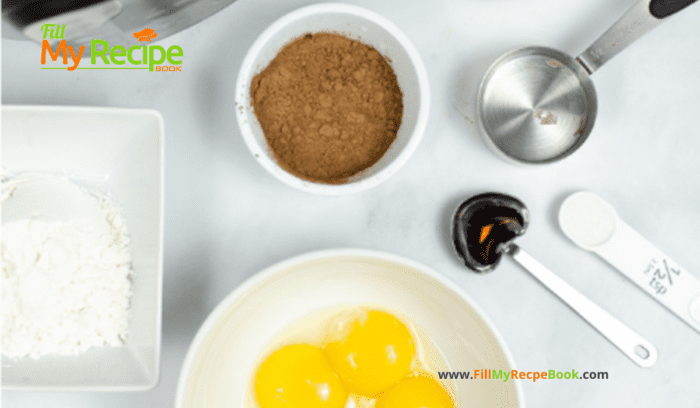 How To
Whip the cream and adding the other ingredients. See the recipe attached for those items and the correct amounts. The cocoa is what makes this dish chocolate tasting. So yummy, love chocolate mousse.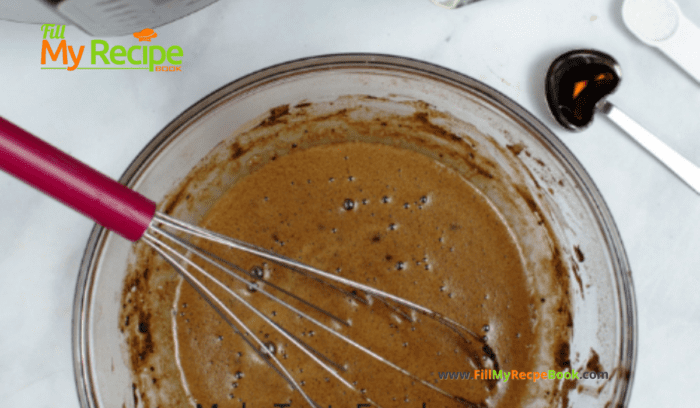 Below photo shows the chocolate mixture filling up the ramekins and ready to use the instant pot.
Purchase online a set of these Bakeware Set for Baking, Ramekins for your chocolate mousse pudding. Also get this amazing useful 18 pieces Pressure Cooker Accessories Set Compatible with Instant Pot 6,8Qt – 2 Steamer Baskets, Springform Pan, Stackable Egg Steamer Rack, Egg Beater, 2 Silicone Trivet Mats. All for your instant pot or pressure cooker. WOW.
(click the highlighted headings for an online purchase)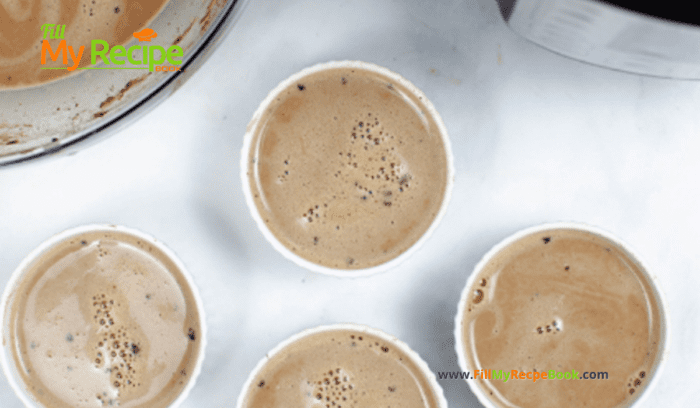 The ramekins are placed inside the instant pot, covered with foil. Placing water at the bottom of the instant pot, then setting the trivets in there.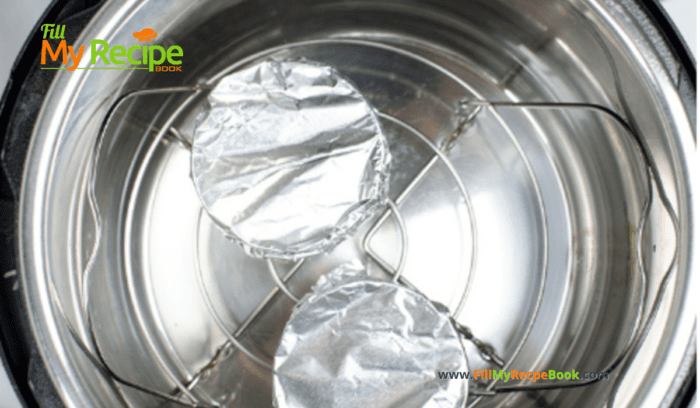 Finish Mousse
The mousse is baked in the pressure instant pot at high for 10 minutes. Then carefully removed with hand oven gloves. left to cool on a cooling rack.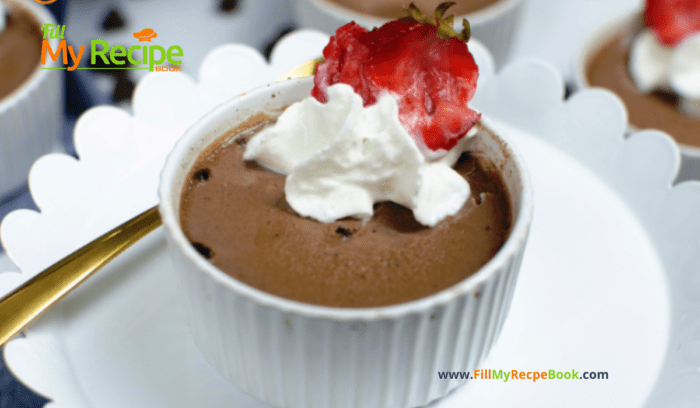 Once cooled for at least 2 hours, place the ramekins or bowls used in the fridge overnight to chill. Next decorate with some whipped cream and strawberries or other fruit of the day. Enjoy and also sprinkle with chocolate chips or shavings.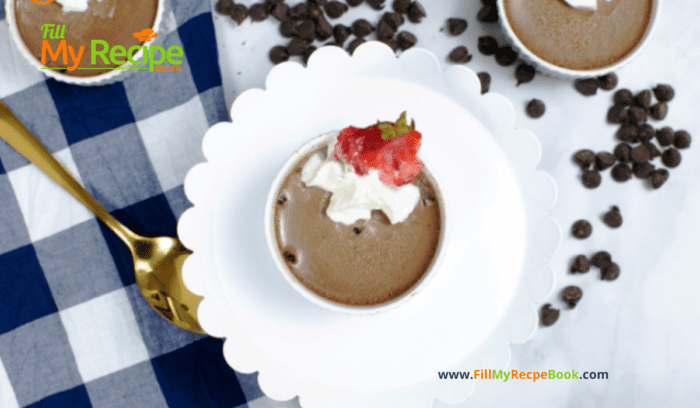 A spoon full of yummy chocolate mouse for a dessert.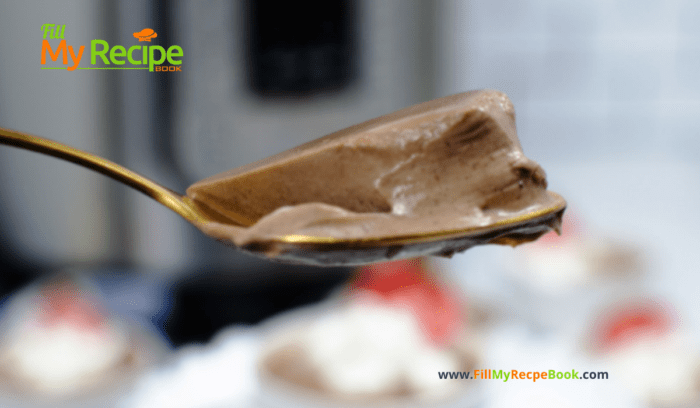 This post may contain affiliate links, where we earn from qualifying purchases. See more details in the policy page.
Recommendations
(click on the highlighted heading for the recipe)
Use this mousse for a trifle filling as well.—-> Christmas Cherry Trifle Bowl
Another —-> healthy chocolate avocado mousse dessert.
Not forgetting these fine dining ideas —–> 15 Gourmet Fine Dining Desserts Recipes
More recipe ideas for puddings —-> 16 Chocolate pudding Recipe
Great ideas for a Christmas Desserts —–> 20 Pleasing Christmas Dessert Recipes
Amazing Christmas puddings ideas —–> 19 Christmas Pudding Recipe Ideas
Print
Chocolate Mousse in Instant Pot
Chocolate Mousse in Instant Pot recipe. Chocolate dessert a filling of cocoa, whipped cream, vanilla. Baked in ramekins in an instant pot.
Author:
Prep Time:

8 min.

Cook Time:

15 min

Total Time:

23 min

Yield:

6

Category:

Deserts

Method:

Instant pot and microwave
Ingredients
4

egg yolks

1/2 cup

powdered sugar

1/4 cup

water

1/4 cup

cacao

1 cup

whipping cream

1/2 cup

cow's milk

1/2 tsp

vanilla

1/2 tsp

sea salt
Instructions
Place your egg yolks in a medium size bowl. Whisk well.

To the bowl add swerve, water, and your cacao. Microwave for 2 minutes. Stop The microwave every 30 seconds to whisk. 

Add in your milk and whipping cream. Whisk well.

Let that sit for about 10 minutes. Then add in the remaining ingredients: vanilla and sea salt. Whisk well.

Add the chocolate mixture to jars, or ramekins. I used 3-ounce ramekins for this dessert. Pour the mixture in evenly, and cover with aluminum foil.

Add one and a half cups of water to your instant pot. Place the trivet in your Insta pot and place each ramekin in your instant pot. For these specific ramekins I had four on the bottom and two setting on top for a different layer.

Set your instant pot to high pressure for 10 minutes. Once it is done cooking, do a quick release by holding the valve toward you with a hot pad or towel.

Remove each ramekin with tongs and transfer to a cooling rack. Allow them to cool for about two hours. You can serve immediately, or you can refrigerate them overnight. Enjoy!
Keywords: Chocolate mousse in a instant pot
Other recipes you would love to make.
More desserts.
A spoonful of amazing chocolate mousse will make the day. A tasty desert made to enjoy.