Easy Tasty No Bake Tiramisu Tart Recipe. An Italian cuisine but similar to South African fridge tart, a dessert with lady fingers and coffee.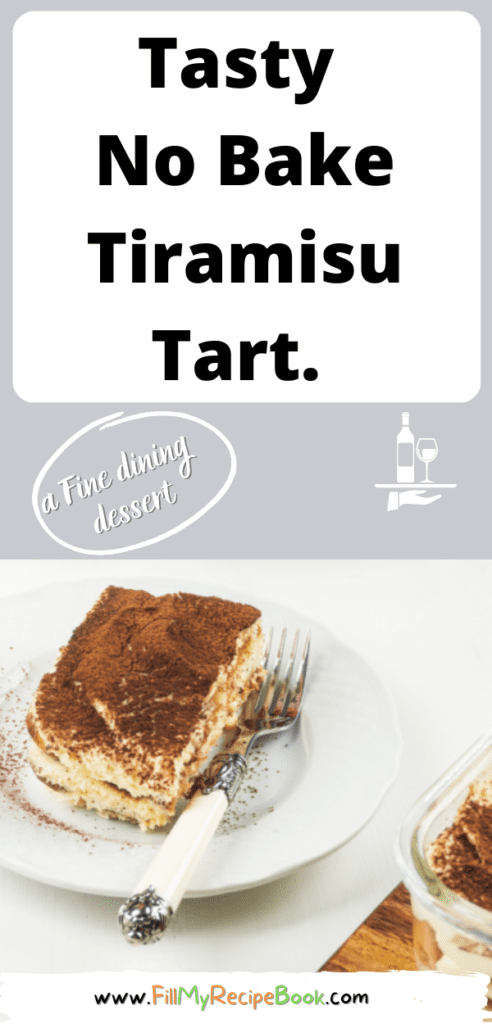 Tasty No Bake Tiramisu Tart.
This tart is similar to a fridge tart that a South African would make and name it. A very popular tart but it depends on the flavor you love to make it with. This one is coffee vanilla tiramisu which is traditional in Italy. Meaning that it is supposed to be a "pick me up" recipe. Alcohol free recipes.
It is a rich treat and blends both the flavors of cocoa and espresso coffee, with savory cream cheese or mascarpone cheese and cream. Using wine or rum is another option. Layered with lady fingers biscuits.
Do you use soft or hard ladyfingers for tiramisu?
Store bought lady fingers may differ to hard or soft ones, or even half sizes. Both or all of them are fine to be used in the tart. Only thing that can be suggested if you using the softer or half ladyfingers is to brush them with the coffee mix rather than dip or soak them. They can fall apart.
Why does tiramisu taste so good?
The flavor of layers of mascarpone and Italian custard are contrasted with the darkly robust presence of espresso and sharpness of cocoa powder. The name itself, tiramisu, means "pick me up" in Italian most likely referring to the two caffeinated ingredients that are present in the dish, espresso and cocoa.
What can I substitute for ladyfingers in tiramisu?
Although ladyfinger biscuits are the star in this tiramisu tart you can replace them with, Pavesini biscuits, numerous biscotti such as cocoa or wholemeal cookies, Oro Saiwa, Pan di Stelle, Margherite or amaretti cookies, sponge cake, pandoro, panettone, and madeleines.
Ingredients
The recipe attached will provide you with the ingredients needed, but the images below give you a good idea.
espresso coffee
lady finger biscuits
cream cheese, or mascarpone cheese.
eggs
sugar
more in the recipe attached.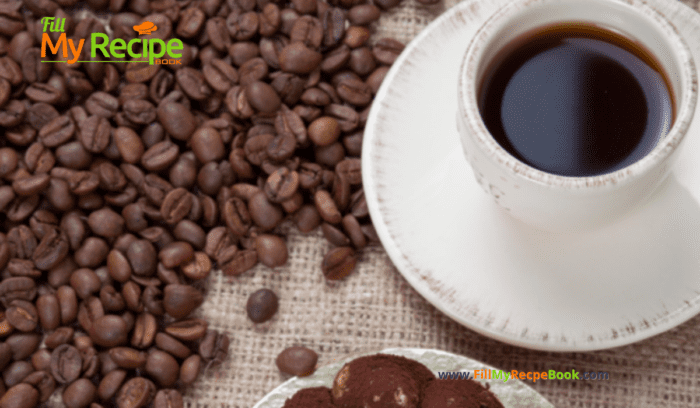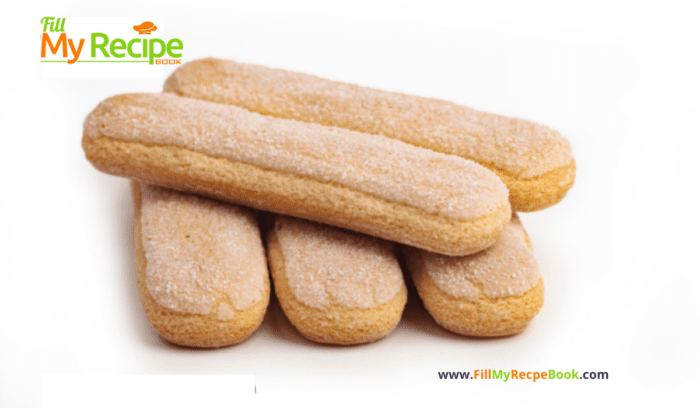 How To
The image below shows you the whisked cream and cream cheese or mascarpone cheese. Before folding it in the Zabaglione. (whisked egg and sugar)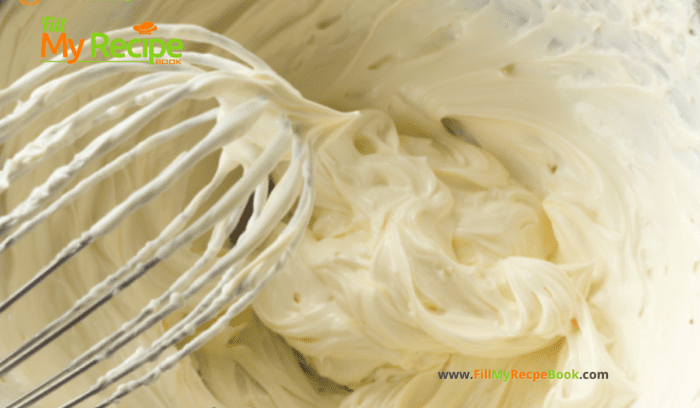 The recipe layered with lady fingers and filling then lady fingers and filling then dusted with cocoa powder. Then chilled in the fridge for a few hours.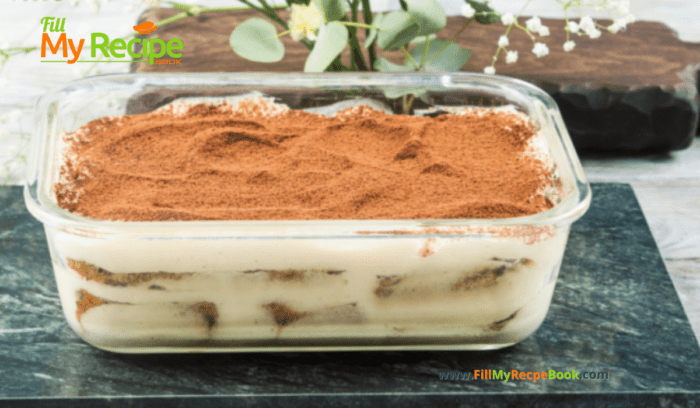 A chilled tart ready to cut and serve.
Purchase online a Black Slate Board with Natural Edge for Kitchen Dining It simply makes serving on a table a fine dining experiance.

Serving the chilled tiramisu tart by slicing a piece and serving on a plate to eat.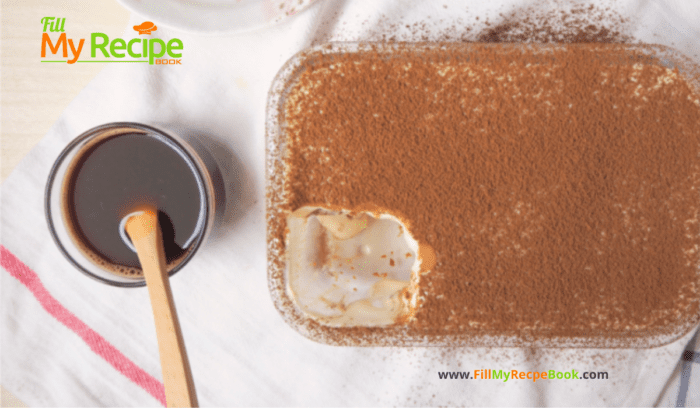 A portion of the chilled tart served on a plate to have with coffee or tea for special occasion or just normal get togethers.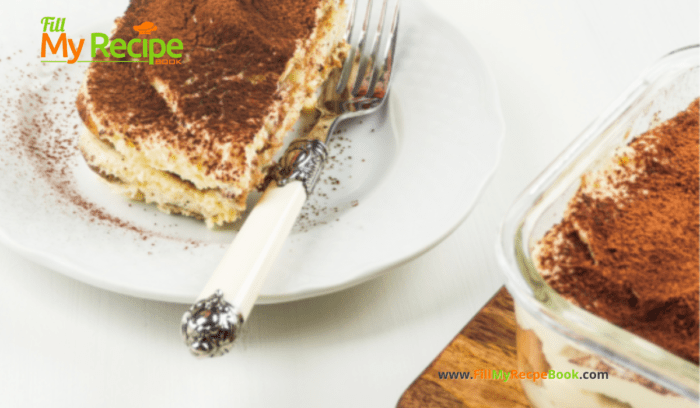 Tasty recipe to have to Christmas pudding or a dessert.
Purchase online these very pretty and fancy Leaf Coffee Spoon Dessert Forks (click the highlighted link to view and buy)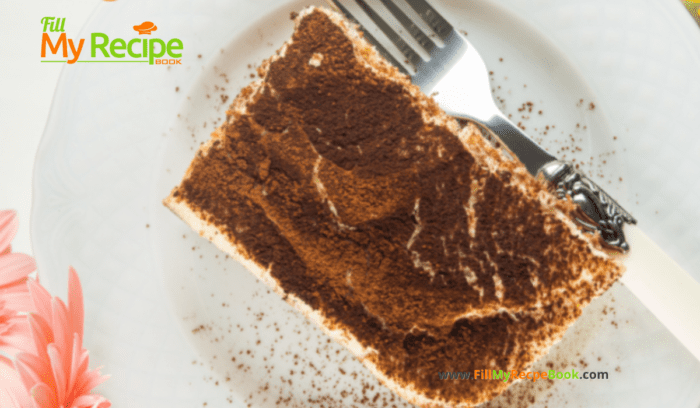 A popular Italian dish or dessert, that is versatile for different pallets with alcohol flavoring.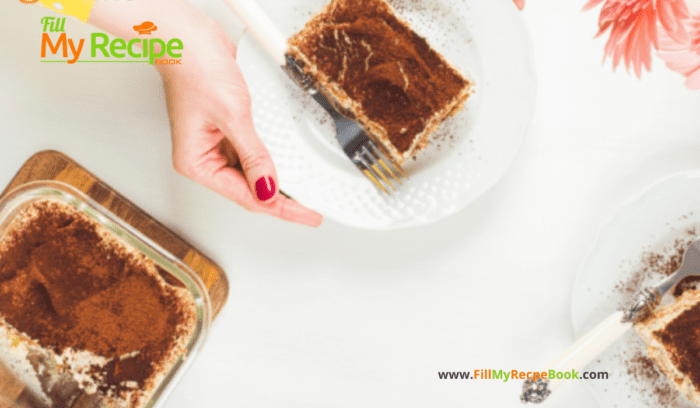 Who can not resist this dessert. Cocoa for the chocolate taste and coffee flavor lady fingers for the tasty cheese and cream filling.
Serve some squares of this dessert on Large Serving Platter Set. purchase these online.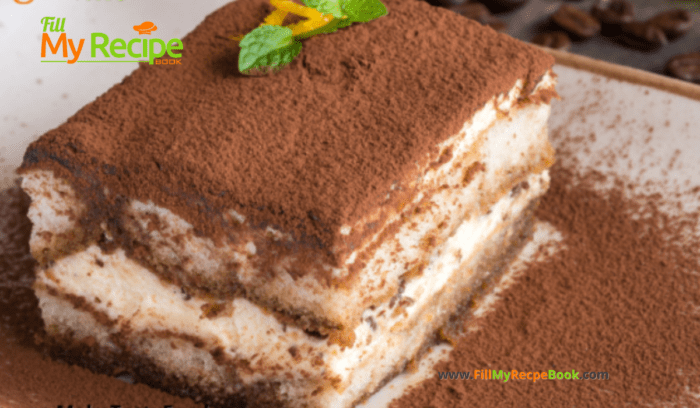 The wonderful and not to hard to make Tasty No Bake Tiramisu Tart Recipe below.
If you would love to write this recipe out the go download a pretty and uniform General recipe page to do it with, For FREE.
Recommendations.
(click on the highlighted heading for the recipe)
A few Mothers Day recipe Ideas to create —-> 21 Mother's Day Braai Ideas and Mothers day pudding dessert dishes to create —-> Mothers Day Pudding and Desserts
Very tasty dessert recipe ideas to create for the family —-> 10 Puddings and Desserts Recipes
Mothers day recipe ideas to create for tea —-> 18 Tarts and Cakes for Mothers Day Tea
Delicious pudding recipe ideas to create —-> Simple Bread and Butter Pudding and Malva Pudding and Custard and Christmas Cherry Trifle Bowl Uses lady fingers as well.
As well as —-> Blissful No Bake Custard Milk Tart .
—-> Other NO BAKE dessert Recipes.
Get more fridge tart recipes to make for tea. —–> 11 Easy Fridge Tarts
Get these great Recipes as well.—-> 10 Tasty Fridge Tart Recipes
Try these —-> 7 Delicious Trifle Terrine Recipe
More of these amazing recipes for afternoon or weekend tea.—-> 24 Yummy Cakes and Tarts
Sharing more delicious dessert ideas —–> 20 Scrumptious Dessert Recipes and these Valentine desserts ideas —-> 14 Special Valentine Dessert Recipes for Two
Not forgetting these fine dining ideas —–> 15 Gourmet Fine Dining Desserts Recipes
Sharing more thanksgiving dessert recipe ideas for you to create. —-> 23 Thanksgiving Dessert Recipes
More amazing puddings and pie tarts recipe ideas to create —–> 18 Delectable Puddings & Pies
Amazing Christmas puddings ideas —–> 19 Christmas Pudding Recipe Ideas and Some recipe ideas for Christmas desserts. —–> 24 Christmas Fancy Dessert Recipes and these recipe ideas —–> 19 Vegetarian Christmas Desserts Recipes
Get more Italian recipe ideas —–> 17 Easy Italian Recipes
Purchase a few pleasing and tasteful dishes to serve your fine dining desserts or meals with.
A few purchase online links of Fine Dining Dessert Serving Dishes to choose from. Fine dining desserts must be presented well.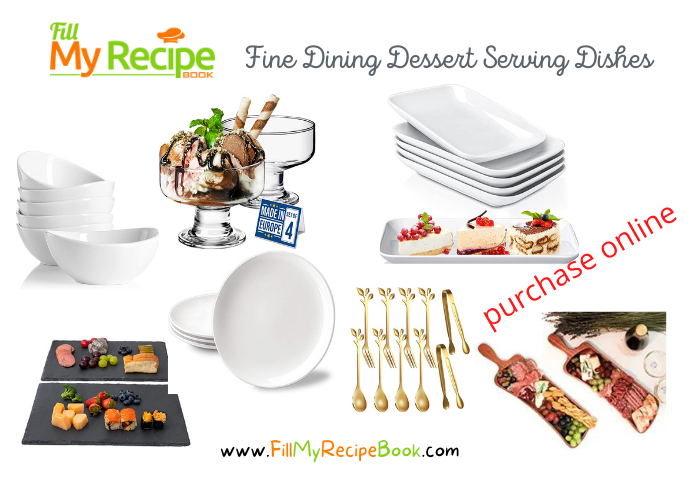 Print
Tasty No Bake Tiramisu Tart
Easy Tasty No Bake Tiramisu Tart Recipe. An Italian cuisine but similar to South African fridge tart, a dessert with lady fingers and coffee.
Author:
Prep Time:

8 hrs 40 min

Cook Time:

5 min

Total Time:

8 hrs 45min

Yield:

9

Category:

Desserts

Method:

Stove top No Bake

Cuisine:

Italian
Ingredients
8

  Large egg yolks

1 tsp

of vanilla essence

1 1/3 Cup

of fine sugar 

1 1/2 Cups

of Cold mascarpone cheese or cream cheese.

2 Cup

of Cold full cream

1 1/2 Cup

of espresso coffee freshly brewed or instant coffee. (

3tablespoons

to the

1 cup

of boiling water) They do absorb the liquid quickly.

1

packet of lady fingers.

1/2 Cup

of unsweetened cocoa powder for dusting the top.
Instructions
Lightly grease a dish (8 x 8 inch)
Firstly make the cup of expresso coffee and leave to get to room temperature.
Place a small pot on the stove, half filled with water to warm up. Take a glass or heat proof bowl that fits on top of the pot. (not in the hot water). Whisk the egg yolks, fine sugar and vanilla over this warm water in pot. (its called making the zabaglione. ) The sugar must only melt and become smooth. Must not boil. Must be a light yellow in color. (for organic farm eggs it will be darker yellow) To make sure the sugar has been dissolved tip your fingers in the mixture and rub together to feel if the sugar has been dissolved. If you feel any sugar carry on whisking. Whisk for about 10 minutes until the mixture is thick and foamy. Remove and and stir for another 2 minutes. leave aside to cool. Must be room temperature to mix in cream.
*To make the zabaglione (which is a fancy name for egg yolks whisked with sugar and wine, rum or in our case vanilla) you have to whisk the egg yolks with the sugar over a double boiler. until light pale and foamy.*
This establishes the total flavor of the dish.
Whisk with a hand mixer on medium speed the mascarpone cheese or as I used cream cheese. Slightly until smooth firstly. Then whisk in the cold cream little at a time and carry on whisking. It mixes quickly and be careful not to over mix it as it will separate.
Fold in the mixed cream and cheese into the zabaglione. (egg yolk mix) A little at a time. until all the cream is been folded in. (they must be the same consistency.)
Then dip the lady fingers in the cup of coffee. Quick dip them in and turn them over then take them out before they soak to much. Place them in the greased tart bowl at the bottom.
Layer 1/2 the whisked mascarpone mix on top of the lady fingers. Then layer another layer of dipped coffee ladyfingers over the mascarpone cream and spread the last mixture on top.
Sprinkle or dust the cocoa mixture on top of the dish.
Place the finished Tiramisu in the fridge to chill for at least 5 – 8 hrs.
Then cut in squares and serve. Cold.
Notes
For another non alcohol version you can use apple juice and vanilla.
Keywords: Tasty No Bake Tiramisu Tart
This post may contain affiliate links, where we earn from qualifying purchases. See more details in the policy page.