Raspberry White Chocolate Truffles rolled in powder sugar or coconut for a great taste. A no bake dessert to serve for snacks for teas.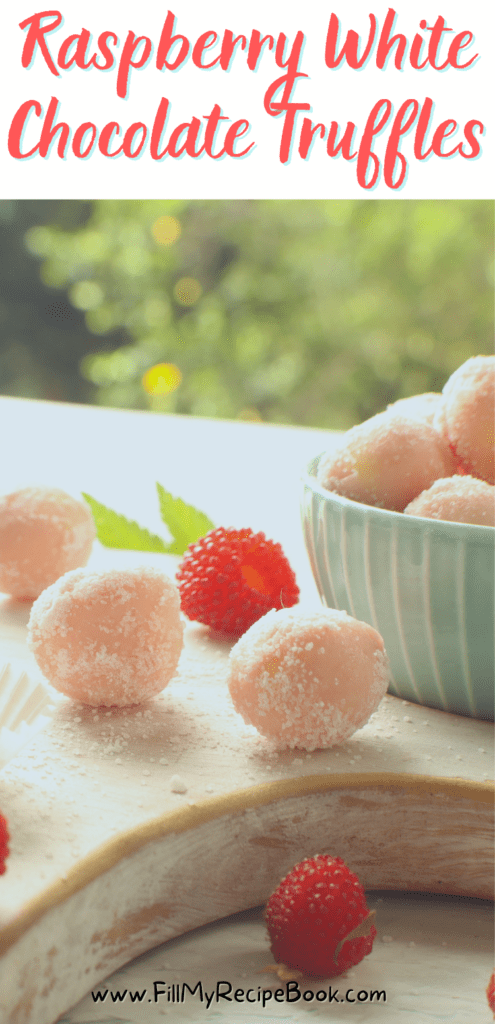 Raspberry White Chocolate Truffles
Fresh raspberries from our own bushes in the garden. Picking them and freezing a lot of raspberries for shakes or baking.
Using fresh raspberries is an option in this recipe, but pink strawberry Nestle Milkshake powder was used for this recipe to color and flavor the truffles. It was used to see what they taste like, but quickly heating up the raspberries in the pot with cream and butter can be done. Mash them as much as you can then add this little liquid to a blender or processor.
How To
Heating up the white chocolate chips in a double boiler is quick and easy. The melting of the chocolate chips can also be done in the microwave. (follow the recipe below).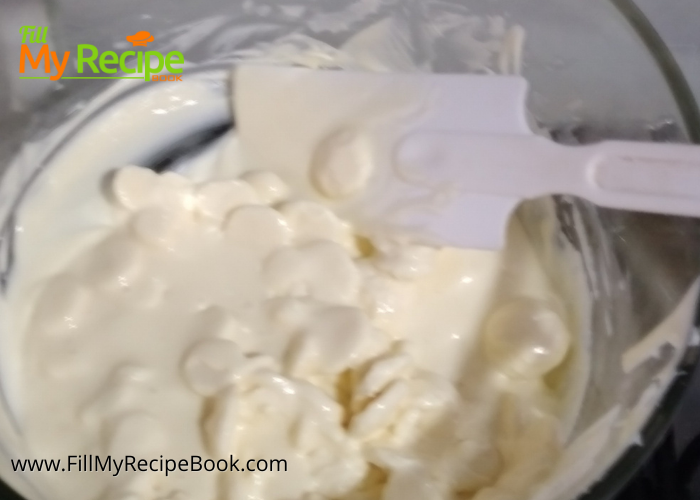 Once the heated raspberry mixture is blended then you stir this into the melted warm white chocolate. This is important to have both mixtures warm enough to touch. For the mixture to blend in well. Other wise the butter separates when its chilling in the fridge.
Once the mixture is cooled and ready to roll into balls then place them on wax paper. Chill them again then roll on castor sugar or powdered sugar.
Chill further for the treats or snack. Have them served on a plate with tea for guests.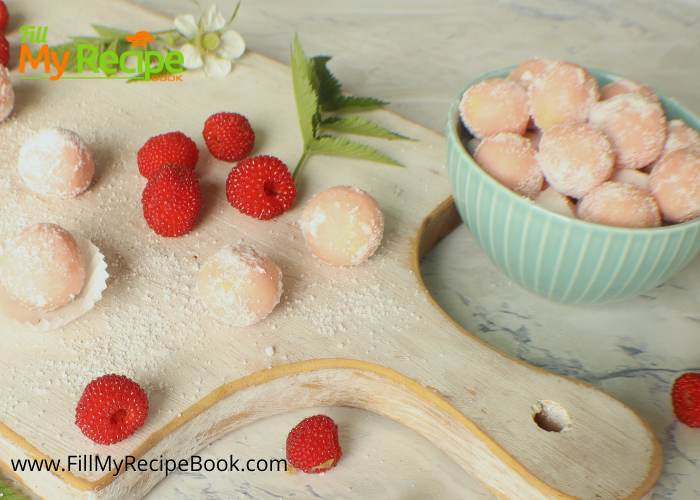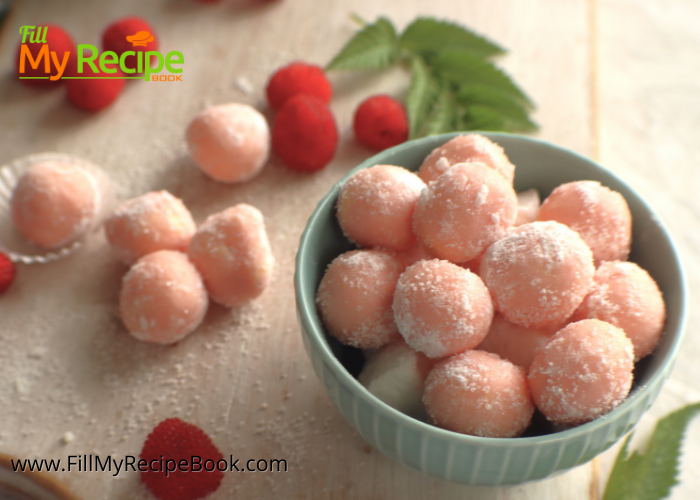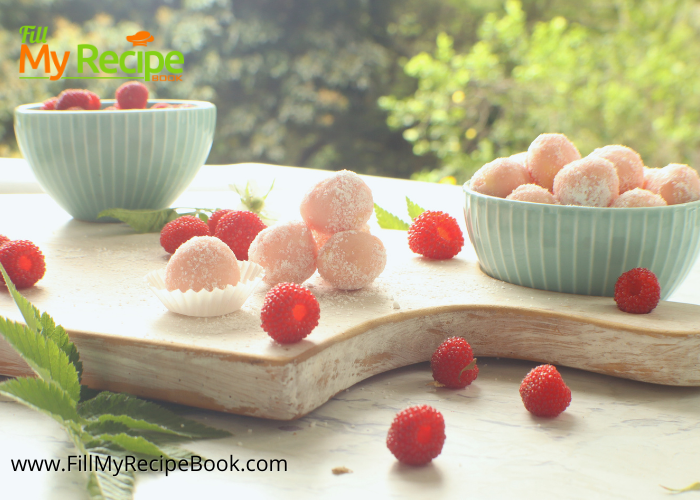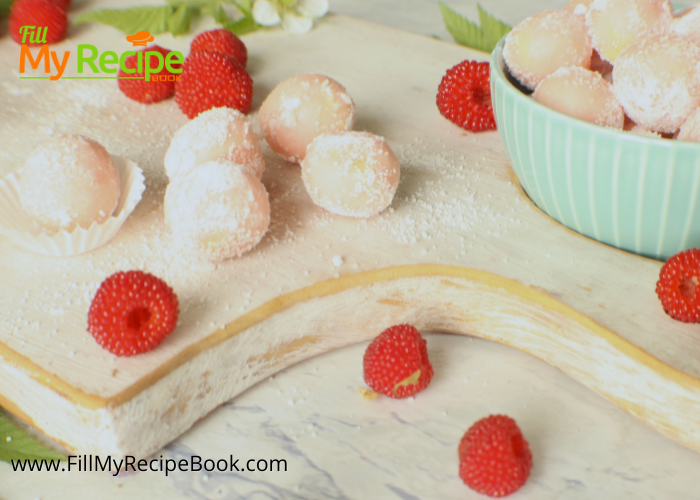 Recommendations.
Easily make these for Easter. —–> Easy Easter Dessert Recipes and these Valentine desserts ideas —-> 14 Special Valentine Dessert Recipes for Two
Learn to make more truffles or balls below. —–> Easy no bake Truffles Recipes
Get some more recipe ideas with berries —-> 22 Easy Berry Treats Recipes
Looking for something simple to bake or not to bake that's quick? then get these —-> 20 Easy Baking Recipes Ideas
Here we share recipe ideas to create for —-> 21 Quick and Easy Snack Recipes as well as these party snack ideas —–> 18 Quick Christmas Party Snacks the kids will love these —-> 24 Christmas Snacks for Kids Recipes
A few candy treats recipe ideas to add to these truffles.—–> 14 Satisfying Candy Recipes
Here are some other candy recipe ideas —–> 16 Easy Candy Recipes Ideas
Print
Raspberry White Chocolate Truffles
Raspberry White Chocolate Truffles rolled in powder sugar or coconut for a great taste. A no bake dessert to serve for snacks for teas.
Author:
Prep Time:

10 min

Cook Time:

10 min

Total Time:

20 min

Yield:

20-25

Category:

No Bake Desserts
Ingredients
255 g (9 oz) white chocolate chips
5 Tablespoons (75 g) 1/3 cup unsalted butter
3 Tablespoons (42 g) full dairy cream
1.2 oz (35 g) (1/3 cup) Freeze dried raspberries (pulsed freeze dried raspberries in a food processor or a coffee grinder into a powder) (used some pink nestle milk shake powder with these)
1/4 cup of castor or powder sugar (for rolling truffles in)
Instructions
In a pot add cream and butter, bringing to a simmer, Then adding raspberry or strawberry powder (used Nesquick milk shake powder) for 2 minutes, stirring all the time.
Make sure both mixtures are the same temperature and warm to blend them together well. (as the butter can separate while cooling)
Then on a double boiler melt the white chocolate chips, but DO NOT heat them up to 105 Deg. F. The melted chocolate should be warm to touch.
Add the raspberry mixture into the melted chocolate and mix thoroughly.
Pour into a container to seal and place in the fridge to cool. 2-3 hours. (or leave overnight) you may need to stir with a fork now and again to prevent the fat from separating. ( I found that because i used the immersion blender this didn't happen and that both mixtures need to be warm to mix in well)
Place some wax proof paper on a table to work on while rolling 1 inch balls for the truffles. Scoop with an ice cream scooper or a tablespoon. Then roll them in the palm of your hand to balls. Place on the wax proof paper until finished.
Then roll the balls in powdered sugar before placing in a sealed container in fridge before serving.
They will keep for a week this way, but do freeze well.
Keywords: Raspberry White Chocolate Truffles, raspberry balls. white chocolate truffles