Blueberry White Chocolate Truffles balls recipe. Easy candy to create, a no bake dessert or snack, filled with blueberries and freezes well.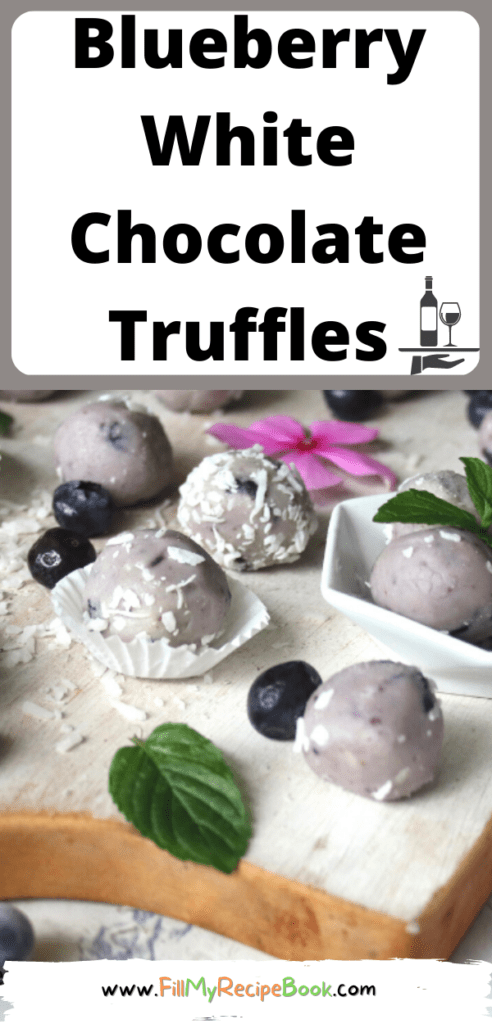 Blueberry White Chocolate Truffles
Very tasty no bake blueberry white chocolate truffles balls recipe to make with no effort.
Which chocolate is best for truffles?
Look in the baking aisle for chocolate with 60% or higher cacao content. Guittard makes chocolate baking bars with 64% and 70% cacao content. Ghirardelli's also makes baking bars with 60% and 70% cacao content. We also like Scharffen Berger.
Why is my chocolate truffle not setting?
Heating the cream to the wrong temperature. If the cream is boiling, it will cause the cocoa butter to separate from the chocolate, turning the truffles greasy. Of course, it needs to be hot enough to melt the chocolate, so too-cool cream won't get the job done either.
What are white chocolate truffles made of?
White chocolate truffles are made by melting together white chocolate chips with heavy cream/ condensed milk in the microwave. The mixture is refrigerated and then rolled into balls before being dipped in melted chocolate or rolled in toppings.
What flavor goes with white chocolate?
White chocolate goes very well with tangy fruit, almost acting like a whipping cream. The sweetness and richness of white chocolate work well with key lime, peach, cherry and strawberry pies. You can serve these pies with white chocolate chips, a white chocolate sauce, or white chocolate shavings.
Ingredients
white chocolate chips
unsalted butter
cream
blueberries
castor sugar or fine coconut
See the recipe attached for all the measurements.
How to
Melting the white chocolate chips over a double boiler is quit quick. A microwave may be used.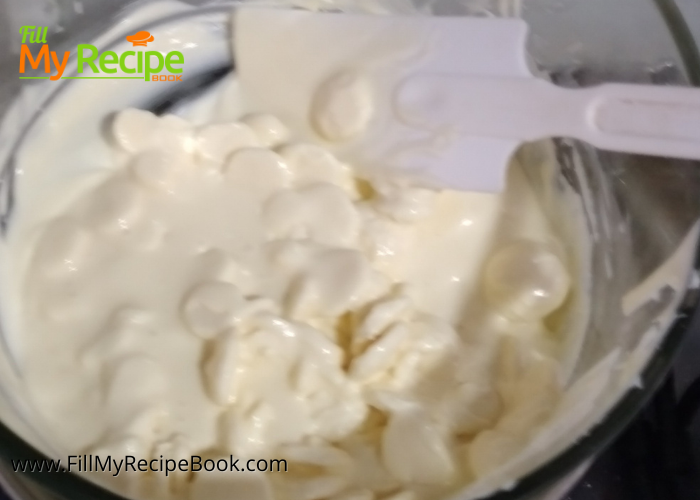 The blueberries were just heated in the pan and mashed with a potato masher. Cream and butter added stirred for a few minutes (2 min). Then this mixture was added to a blender to blend the blueberries finer and mix the mixture well. The blueberries will not make the balls bigger. As they have been blended to a fine mixture for color and flavor. Then added to the warm melted white chocolate.
Once the mixture is mixed together then place in a bowl or Tupperware you can seal. Place in the fridge to harden maybe about 3 hours. Overnight is also ok. But found that the mixture is hard enough to work for this time period.
Using a ice cream scoop or tablespoon scoop enough mixture to roll one inch balls in the palm of your hand.
Line them up and place them on some wax paper. One inch balls made about 25 balls. But if you want balls a little bigger they should make at least 20 minimum.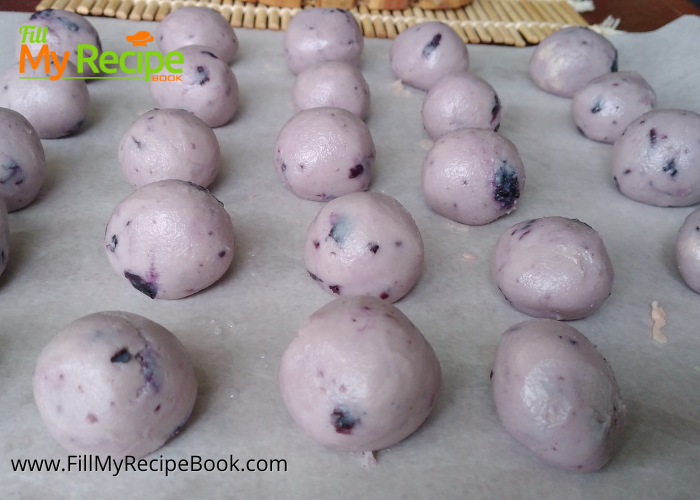 These can be rolled in castor or sifted powdered sugar. We rolled them in some finely blended coconut.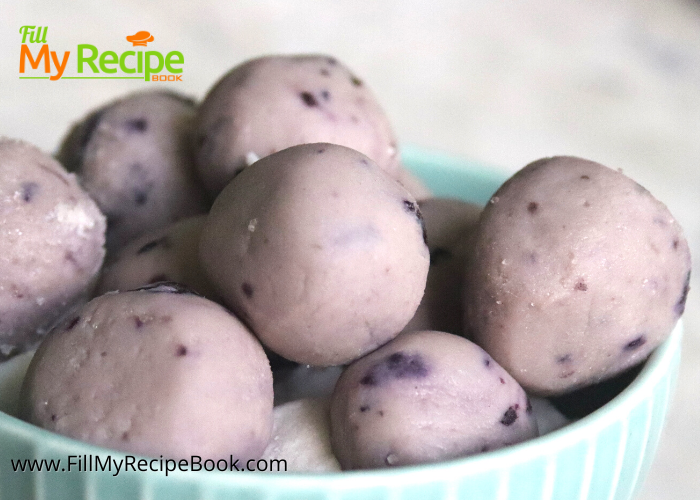 The blueberry balls before rolling in sugar or coconut.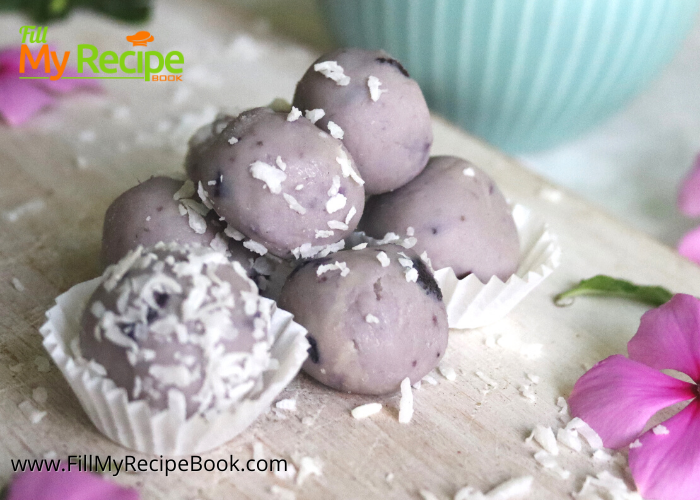 When they are rolled in the required toppings you prefer. Place in a sealed container in the fridge. They should last for more than a week or can be frozen well.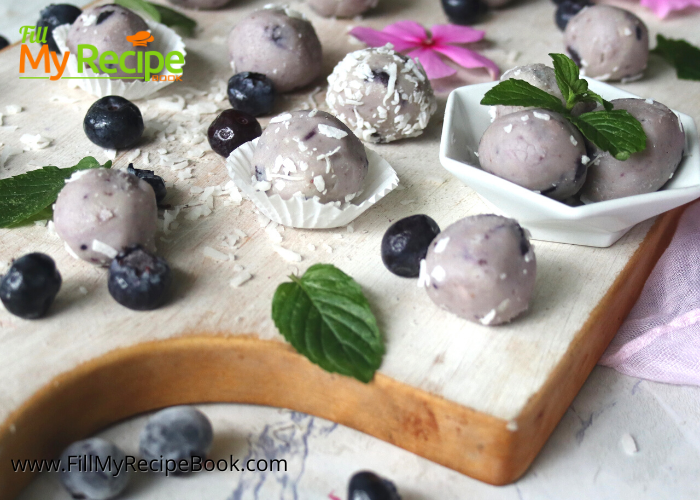 Make this recipe below that is not difficult at all. The truffles are quite tasty and very popular for a quick treat or snack. A pick you up.
Recommendations
(click the highlighted heading for the recipes)
For a FREE General Recipe Page to write out this recipe, go download it on the highlighted words.
There are also other Printables for kitchen charts and Household Planners to prepare weekly and monthly meals. Shopping lists and a very important part The Budget. Go download them.
Create other truffle balls recipes —-> White Chocolate Coconut Truffles and —-> Chocolate and Peanut Butter Balls and —-> Easy Peanut Butter Chocolate Balls and —-> Raspberry Dark Chocolate Truffles and —-> Raspberry White Chocolate Truffles
Learn to make more truffles or balls.—–> Easy no bake Truffles Recipes
Get some more recipe ideas with berries —-> 22 Easy Berry Treats Recipes
Some more coconut inspired recipes to create —–> 19 Coconut Inspired Snack Recipes
A few candy treats recipe ideas to add to these truffles.—–> 14 Satisfying Candy Recipes
Here are some other candy recipe ideas —–> 16 Easy Candy Recipes Ideas
Print
Blueberry White Chocolate Truffles
Blueberry White Chocolate Truffles balls recipe.  Easy candy to create, a no bake dessert   or snack, filled with blueberries and freezes well.
Author:
Prep Time:

10 min

Cook Time:

10 min

Total Time:

20 min

Yield:

20-25

Category:

Desserts

Method:

no bake
Ingredients
255 g

(

9 oz

) white chocolate chips

5 Tablespoons

(

75 g

) 1/3 cup unsalted butter

3 Tablespoons

(

42 g

) full dairy cream

35 g

(

1/3 cup

)

1.2 oz

of blueberries (blueberry powder may be used)

1/4 cup

of castor or powder sugar (for rolling truffles in)
Instructions
In a pot add the blue berries (if not a powder) and start to heat them up, adding cream and butter, bringing to a simmer, for 2 minutes, stirring all the time.
If you are using the blueberry powder then first warm the cream and add the butter and then the powder stirring while simmering for 2 minutes.
Blend the blueberry and cream, butter mixture with an immersion blender. (to blend the blueberries so there is no bit and pieces left.)
Make sure both mixtures are the same temperature and warm to blend them together well. (as the butter can separate while cooling)
Then on a double boiler melt the white chocolate chips, but DO NOT heat them up to 105 Deg. F. The melted chocolate should be warm to touch.
Add the blueberry mixture into the melted chocolate and mix thoroughly.
Pour into a container to seal and place in the fridge to cool. 2-3 hours. (or leave overnight) you may need to stir with a fork now and again to prevent the fat from separating. ( I found that because i used the immersion blender this didn't happen and that both mixtures need to be warm to mix in well)
Place some wax proof paper on a table to work on while rolling 1 inch balls for the truffles. Scoop with an ice cream scooper or a tablespoon. Then roll them in your palm of your hand to balls. Place on the wax proof paper until finished.
Then roll the balls in powdered sugar before placing in a sealed container in fridge before serving.
They will keep for a week this way, but do freeze well.
Keywords: Blueberry White Chocolate Truffles