Hot Chocolate Marshmallow Bombs Drink recipe. A hot chocolate idea with small marshmallows and bumblebee candy in a bomb to melt in the cup.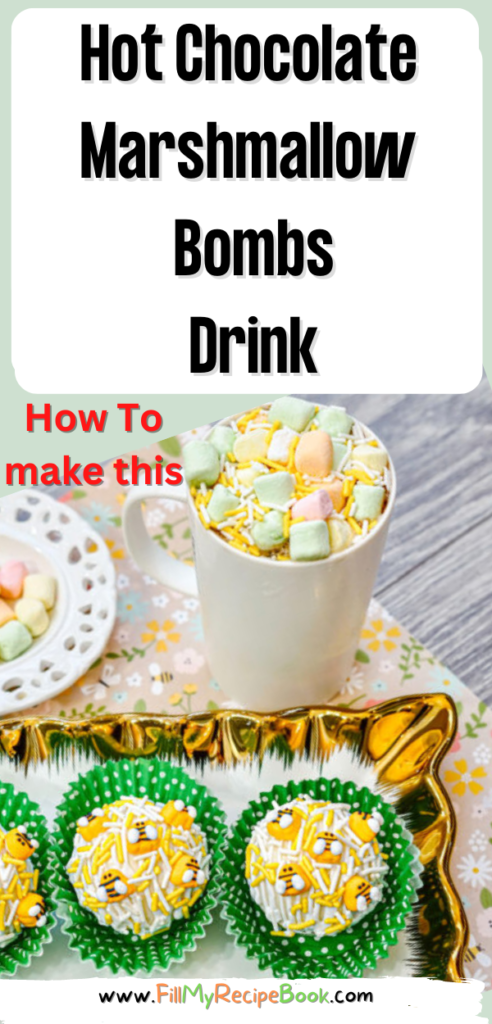 Hot Chocolate Marshmallow Bombs Drink
Make this hot chocolate marshmallow bombs drink recipe idea for a surprise for special occasion. A Fathers or Mothers Day or a valentine day. These are a beautiful and special way to make some hot chocolate with all these small marshmallows and bumblebee little treats. The marshmallows just float to the top. A no bake recipe made in a mold with chocolate filled with candy, hot chocolate mix and decorate with sprinkles and bumblebee candy. A warm cozy beverage.
Make these chocolate bombs for this hot chocolate drink.
How do you drink hot chocolate bombs?
Bombs for hot chocolate are round hollow molds with chocolate spheres, filled with hot chocolate powder and mini marshmallows. Then decorated with icing shapes and sprinkles over the molded bombs. Placed in a cup and boiling hot water or hot milk is then poured over the bomb. The bomb will melt and explode with the filling and marshmallows will float to the top with the sprinkles and other candy used. A pleasing surprise for any party or special occasion.
Can you use coffee instead of milk for hot chocolate bombs?
You certainly can use a coffee mix if you prefer, even a cappuccino with creamer. Make a mocha chocolate mix as well. Pour hot water or hot milk over the bomb and enjoy a rich warm beverage with melting marshmallows on top.
Do hot chocolate bombs need to be refrigerated?
If you temper chocolate properly it should not melt at room temperature. Keep in a sealed container in a cool place out of the sunlight for up to 60 days. If the chocolate is not tempered properly it will melt at room temperature.
Ingredients
hot chocolate
candy melts
small marshmallow
white icing
sprinkles
bumblebee cake decorations
For the amounts of the ingredients and the instructions view the recipe attached.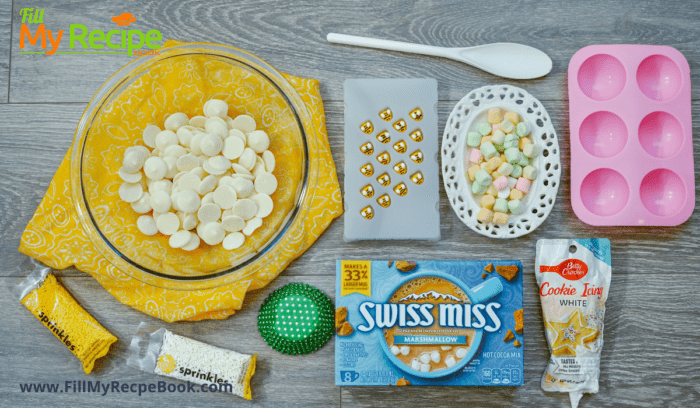 How To
Collect all the ingredients as per below recipe. A microwave is used to melt the white chocolate candy. As well as a round mold for the bombs. But, they should be tempered well so that when you make the molds they do not melt or break.
Pour candy melts into a microwave safe bowl and heat for 30 seconds or until chocolate have fully melted and has tempered properly at the correct heat required.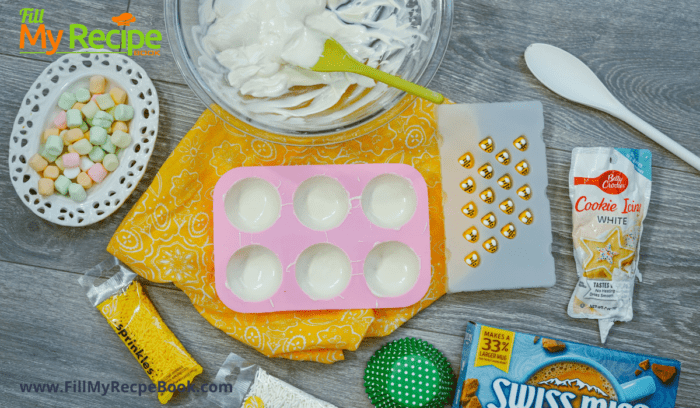 Some silicone molds are lined with the melted candy and left in the fridge to harden.
Fill the half of the spheres with the hot cocoa powder, sprinkles& marshmallows.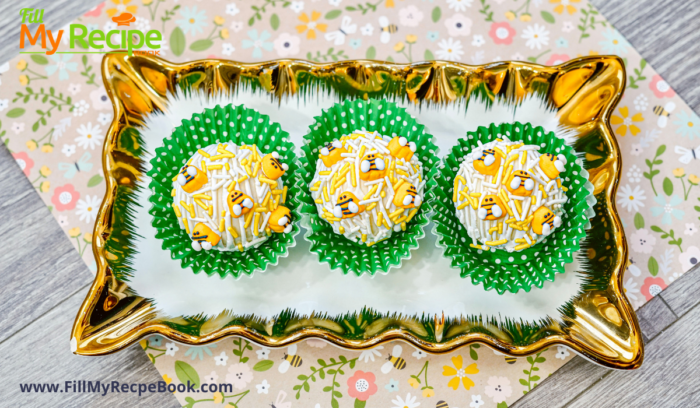 Decorated with color sprinkles and little bumblebee items. (any other decorations you would prefer, its a versatile recipe)
Obviously you can do your own colors and themes. Just use some inspiration, with the event you are catering for. A birthday or baby shower, any other special occasion that you would make these for.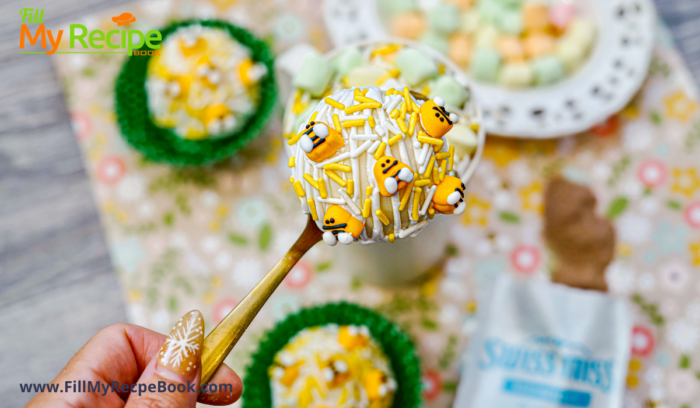 These hot chocolate filled bombs will make a delightful hot chocolate drink with the bumble bees and marshmallows floating to the top once the hot water is poured into the cup.
Recommendations
(click the highlighted heading for the recipes)
Get more marshmallow recipe ideas —-> 13 Easy Marshmallow Recipes and 10 Warm Winter Drinks Recipes and 9 Homemade Hot Tea Recipes and 10 Homemade Hot Coffee Mix Recipes
Enjoy another hot beverage recipe idea —-> Cinnamon Hot Chocolate & Marshmallows
For the cooler summer days these juices —-> 13 Homemade Cool Drinks Recipes
PURCHASE THESE ONLINE FOR YOUR CONVENIANCE, THEY ARE SO CUTE.
Here are 28 rather awesome accessories to use in the kitchen! We might not NEED some of these, but they are hard resist!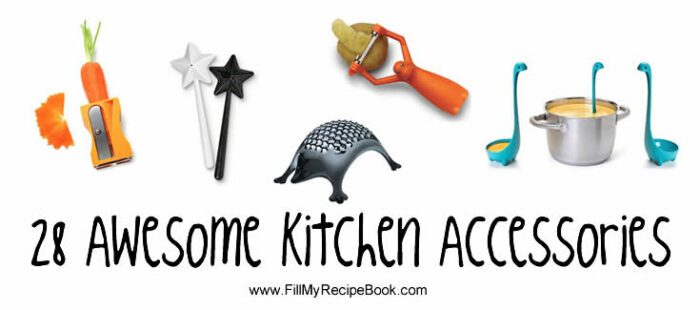 Print
Hot Chocolate Marshmallow Bombs Drink
Hot Chocolate Marshmallow Bombs Drink recipe. A hot chocolate idea with small marshmallows and bumblebee candy in a bomb to melt in the cup.
Author:
Prep Time:

60 min

Total Time:

60 min.

Yield:

4

Category:

drinks, hot

Method:

Stove top No Bake
Ingredients
1. 12oz Bag White Candy Melts
2. 1 Tbsp Hot Chocolate Per Bomb
3. Mini Marshmallows
4. White icing
5. Sprinkles
6. Bumble Bee Icing Decorations
7. 6 Sphere Silicon Mold
Instructions
Pour candy melts into a microwave safe bowl and heat for 30 seconds or until melts have fully melted. The chocolate needs to be tempered properly to prevent them melting or breaking.
Spread the candy melts up the sides of the mold until every bit of the mold is covered
Let the molds sit for about 5 minutes u0026 re-spread any of the candy melts that sank to the bottom of the molds.
Place the molds in the refrigerator for about 30-45 minutes.
Once set, carefully remove the candy melt spheres from the mold.
Fill the half of the spheres with the hot cocoa powder, sprinklesu0026 marshmallows.
Place a glass plate in the microwave for one minute.
Remove the plate and immediately place each chocolate sphere on the hot place to heat the edges.
Place each heated sphere on each filled sphere. You can use the tip of your finger to smooth the melted candy around the seam.
Take the icing and draw lines back and forth on the top of your sphere.
Place the bumblebee's on hot chocolate bomb using the icing as glue.
Then sprinkle away.
Boil kettle for a cup of hot chocolate, place a marshmallow chocolate bomb in the cup and pour the water over them until its melted. Then enjoy a cup of hot chocolate with marshmallow and bumble floating on top
Keywords: Hot Chocolate Marshmallow Bombs Drink recipe