Chocolate Chip Oat Cookies recipe. A healthy biscuit that's crispy on the outside and soft and chocolaty on the inside with a buttery taste.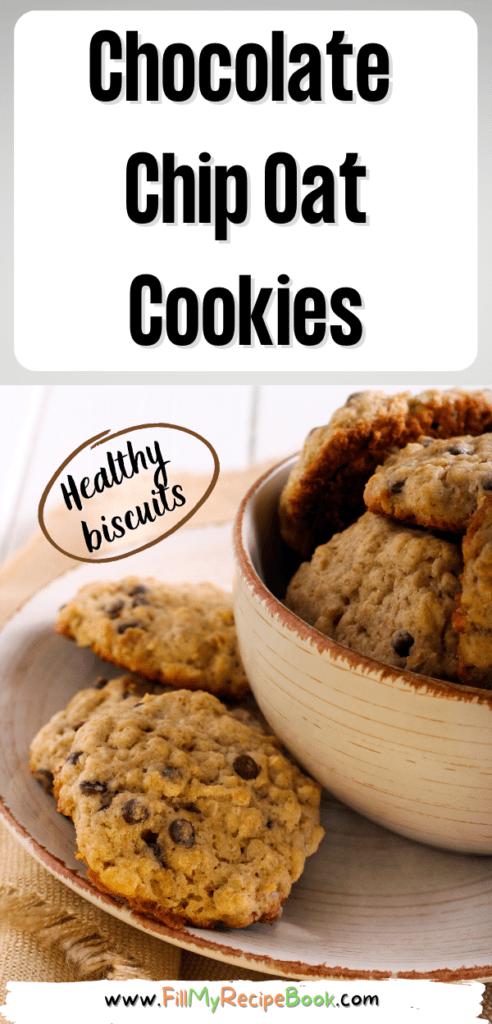 Chocolate Chip Oat Cookies
The best cookies or biscuits made with chocolate chips and rolled oats. Baked in the oven for a treat or snack. Easy and most delicious dessert that is not only healthy but filled with fiber and very tasty for kids and adults alike. To get fussy children to eat healthy treats use chocolate chips.
What does oats do in cookies?
Quick oats act as a binder in a cookie or cake batter, absorbing moisture and building structure. But rolled oats act like a mix-in, similar to a chocolate chip or a nut. They won't help your dough bind together, but they will add flavor and texture to a baked good.
Why are my oatmeal chocolate chip cookies dry?
The most common reason cookies are dry is too much flour. Over-measuring flour is a very common reason for most any baking recipe to fail. If you scoop your measuring cup down into the flour container to measure, then odds are you're using too much. Fluff up your flour before measuring then measure correctly.
Are oatmeal cookies healthier than regular cookies?
Oatmeal cookies have a high fiber content compared to normal sugar cookies. Oatmeal cookies contain significant amount of minerals like calcium, iron, magnesium and potassium, all of which are needed for overall physical health. Compared to sugar cookies, oatmeal cookies also have less calorie content.
Oatmeal meaning in Kannada
The word or phrase oatmeal refers to meal made from rolled or ground oats, or porridge made of rolled oats.
Ingredients
A few images of the ingredients needed for these amazing tasty chocolate chip cookies.
Flour
Rolled oats
Brown sugar and fine white sugar.
Unsalted butter and salt (if you use salted butter no salt.)
Small chocolate chips for the flavor of these cookies.
(view the exact measurements and ingredients with the recipe attached.)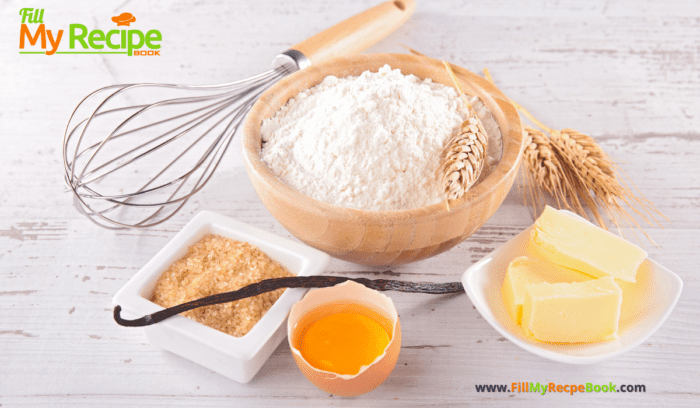 flour, sugar, butter, egg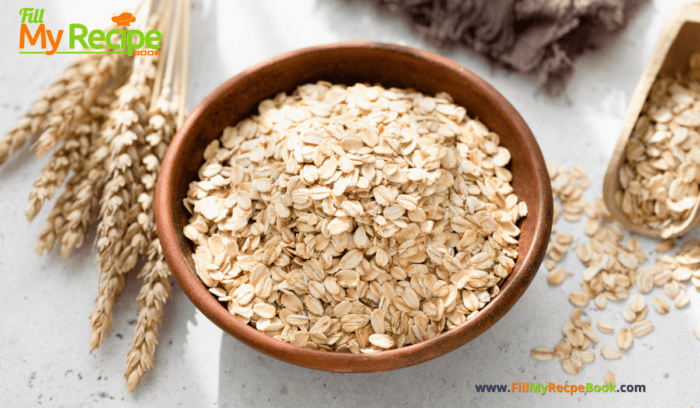 rolled oats
small chocolate chips
How To
After mixing and blending all your ingredients according to your recipe attached. Place the dough in the fridge to chill. This process will help the butter to set firmly and then the cookies will not spread out to much when baking.
Once baked and the edges are slightly brown and middle still soft. They are done. Take out the baking sheet and leave these to cool down on the cooler rack for a few minutes before scooping them off of the tray. If you take them off of the tray straight out of the oven they will break to pieces. Leave them to set a little. Then leave the cookies to cool on the cooler rack further. Before eating….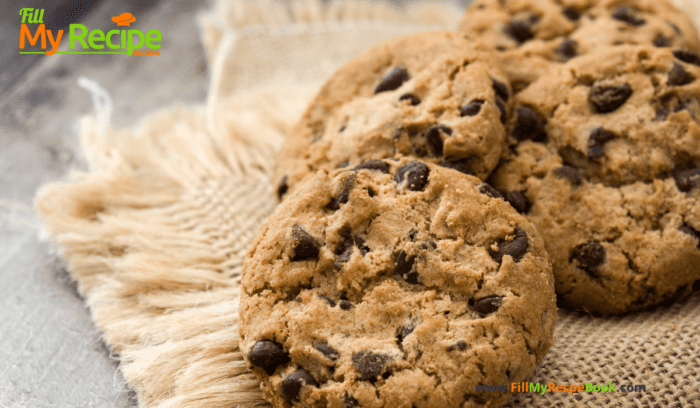 Store in sealed containers (but only when totally cool) Serve to the kids for snacks and for tea and coffee time in the afternoon. These are so healthy and have good fiber in for the digestive tract.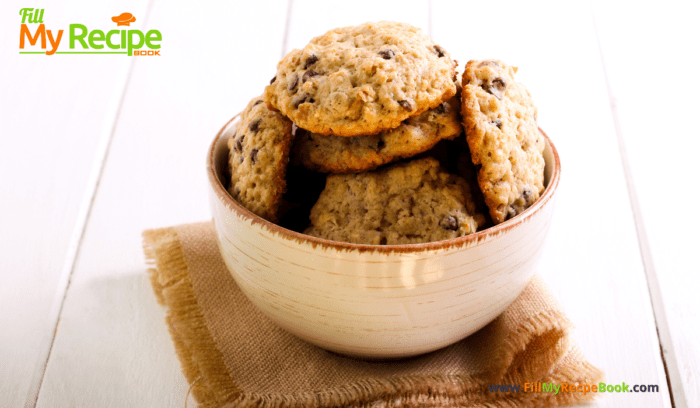 Really tasty with the chocolate chips in. The other alternative would be to add either raisins or nuts of your choice instead of chocolate chips. But kids love chocolate chips. Getting fussy eaters to eat healthy cookies is always a trick with chocolate chips.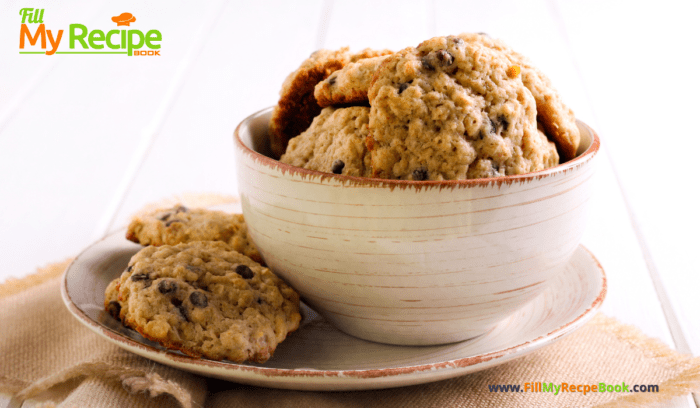 Recommendations
(click the highlighted heading for the recipe)
More cookie or biscuit recipes that include chocolate chips or other chocolate in them —-> Satisfying Chocolate Biscuit Recipes and Almond Butter Cookies & White Chocolate and Marshmallow Fridge Cake Biscuits and Popular Family Butter Biscuits
For Mothers Day tea recipe ideas —-> 25 Mother's Day Morning Tea Ideas
Bake these easy —-> Polish Kolaczki Cookies Recipe
You would love to get more recipe ideas to create with oats. —-> 11 Amazing Jungle Oats Recipes
Recipe ideas to use oats for an ingredient —->11 Amazing Jungle Oats Recipes and How to Cook Basic Oat Breakfast and Easy Banana Oat Pancake Recipe and Oat Raisin and Date Muffins and Scrumptious Banana Oat & Honey Muffins and The Best Oat Crunchies and Divine Oat and Chocolate Muffins and 15 Healthy Baking with Oats Recipes
Not leaving out these recipe ideas —-> The Best Oat Crunchies
Biscuit or cookies recipe ideas to create —-> Almond Butter Cookies & White Chocolate and —-> Chai Spiced Snickerdoodles Cookies and —-> Popular Family Butter Biscuits
Cookies to create —-> Polish Kolaczki Jam Cookies
Print
Chocolate Chip Oat Cookies
Chocolate Chip Oat Cookies recipe. A healthy biscuit that's crispy on the outside and soft and chocolaty on the inside with a buttery taste.
Author:
Prep Time:

10 min

Cook Time:

15-20 min

Total Time:

30 min

Yield:

24 or more

Category:

desserts, snacks

Method:

oven baking

Cuisine:

American
Ingredients
1.  3 cups of rolled oats or(2 cups of instant oats and 1 cup or rolled oats)If you only have rolled oats then blend some for the instant oats amount.
2.  1. 2/3 cup of flour
3.  1/2 teaspoon of baking soda
4.  1/2 teaspoon of Himalayan salt
5.  1 teaspoon of cinnamon
6.  200 g of unsalted butter at room temperature
7.  1/3 cup (115g )of granulated white sugar or castor sugar
8.  1 cup (220g)of brown sugar
9.  1 teaspoons of vanilla extract
10.  2 large egg
11.  1 cup of small chocolate chips.
Instructions
1.  In a bowl add the flour baking soda and salt and cinnamon. Whisk until they all combined and set aside.
2.  In another bowl add the butter and both brown and granulated sugar and beat or blend until light and fluffy, until the sugar has dissolved. Then on a lower speed add the eggs one at a time and vanilla and beat for another minute.
3.  Then add the flour mix and mix well, Adding the oats and combining it.
4.  Stir in with a wooden spoon the chocolate chips. Leave to chill in fridge for at least an hour. (this dough can be made before hand and kept overnight) Chilling the dough is optional but this stage helps the cookie spread out less.
5.  Preheat the oven to 170 deg. C (340 deg, F)
6.  On greased and lined baking sheets add the scooped out dough of an ice cream scoop size or two tablespoons full of cookie dough on the paper. Leaving each cookie at least 2 inches apart.
7.  Bake for at least 15 – 20 minutes until a little golden on edges but that will leave the middle soft.
Take out the baking sheet of cookies and place it on the cooler rack, leave for a few minutes before taking them off. Once they ok, then place the cookies on the cooler rack to cool.
Notes
Adding raisins or nuts is optional instead of chocolate chips.
Leaving the dough to chill will help the butter harden and then the cookies or biscuits do not spread out to much.
Mix or fluff up the flour for your measurements before measuring them as the correct amount will benefit the cookies dough better and then they will not be dry.
Keywords: Chocolate chip oat cookies, biscuits, buttery. healthy