Easy Avocado Baby Food for babies first meals with or without banana. Easily and quickly mashed or pureed for a finer meal for baby.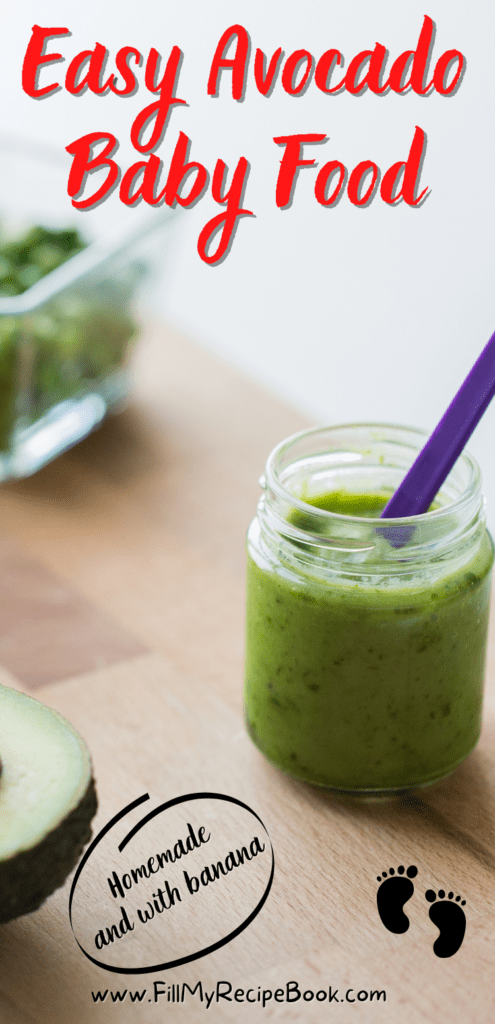 Easy Avocado Baby Food
Avocado is most delicious for a babies first meal, and so quickly to hand mash with a fork. Puree with a little liquid if needed or preferred.
Add some banana to the avocado, which will give it some sweetener and will be more filling.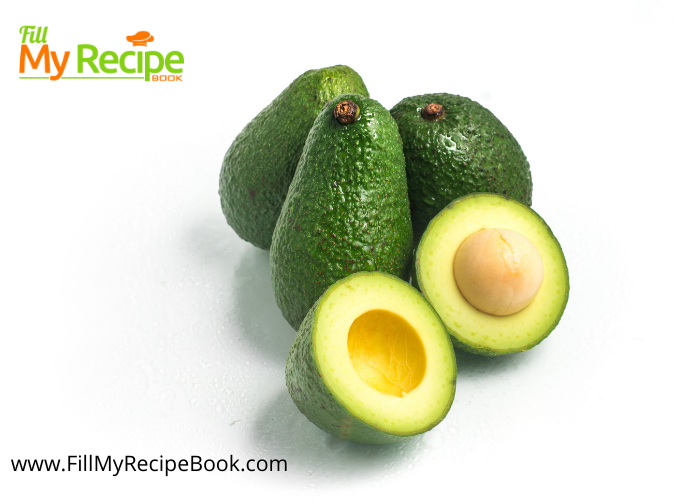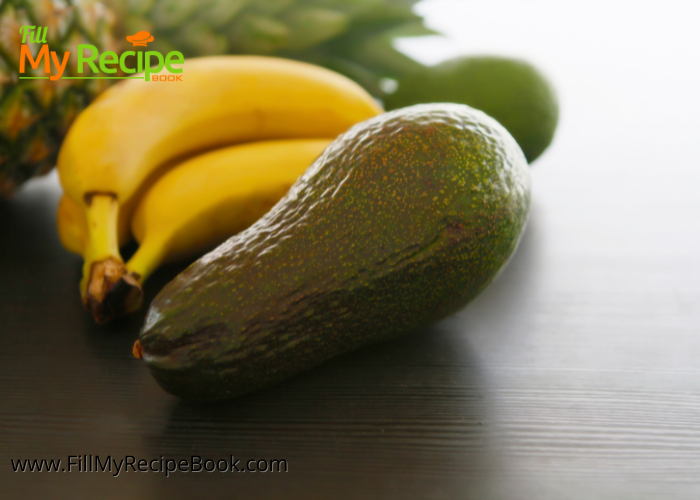 Avocado benefits
Avocados are full of vitamins and minerals with a good amount of fiber and healthy heart fats.
Avocados support eye, hair and skin health. Enhance digestive system and keeps the nervous system healthy as well as supports the brain growth with the healthy fats. Boosts the gross motor skills of the child.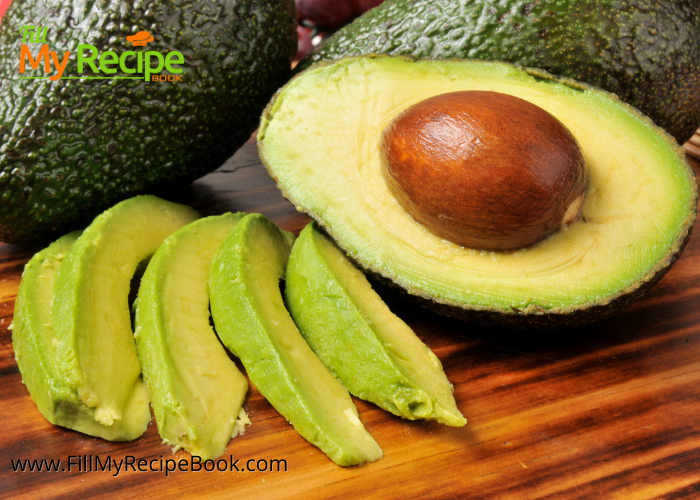 Mash the avocado with a fork and then eat the rest for yourself on toast or in a salad. Of course you could keep some in a sealed container with a little bit of lemon juice to stop it browning.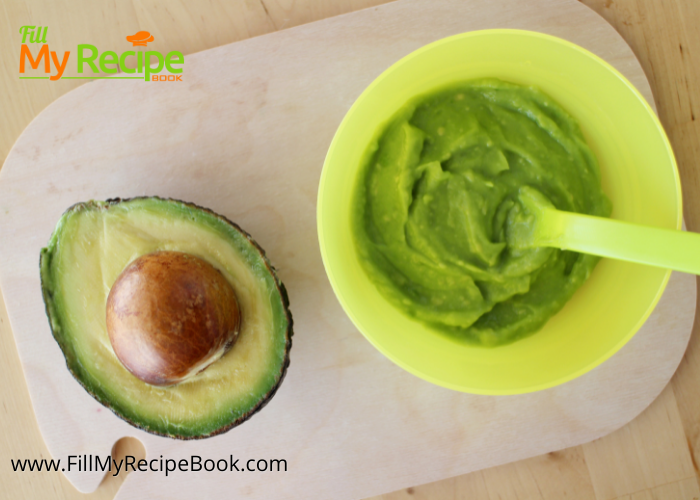 Avocados are loaded with antioxidants and anti-inflammatories. Has antimicrobial properties that prevents baby from getting ill.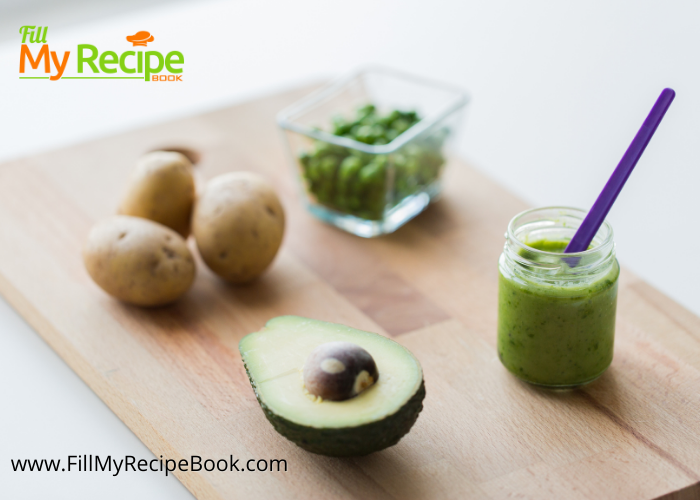 Avocado can be introduced to babies as soon as they ready to eat. Normally at the age of 4 months on. A yummy superfood and suitable for the first food for babies from 4 – 6 months old. Just always keep an eye on your baby while they eat.
If you would love to write out this recipe or other recipes then download a FREE printable of a General Recipe Page. There are also other kitchen charts to download as well as household planners for meal planning and shopping. Budget planners as well.
Recommendations
(click the highlighted heading for the recipe)
Baby foods for meals recipe ideas —-> Mashed Banana for Baby and Apple and Cinnamon Baby Puree and Butternut Squash Baby Puree and Homemade Sweeet Potato Puree Baby Food
Learn about storing baby food. —-> How to store pureed baby food and Homemade Teething Biscuits Recipes and Homemade Baby food recipes
For more avocado recipe ideas to create —-> Healthy Creamy Avocado Hummus and Avocado on Toast Breakfast Ideas and Healthy Chocolate Avocado Mousse and Tortilla with Avocado Spinach & Tomato and Easy Spicy Guacamole Recipe
More avocado recipe to choose from —-> 17 Surprising Avocado Recipes Ideas & 16 Healthy Avocado lunch Recipes and not forgetting these fillings —–> 11 Avocado Filled dishes
Also view more baby food recipes below.—–> Homemade Baby food recipes
Print
Easy Avocado Baby Food
Easy Avocado Baby Food for babies first meals with or without banana. Easily and quickly mashed or pureed for finer meal for baby.
Author:
Prep Time:

3 min

Cook Time:

0 min

Total Time:

3 min

Yield:

1

Category:

Baby food

Method:

no bake
Ingredients
Mashed or chunky avocado
1/4 Avocado cut and mashed
1 teaspoon of water (or breast milk or baby formula)
Avocado puree with banana
1/2 avocado
1/2 banana
Instructions
Mashed avocado
Place the slices of avocado peeled in a plate and mash thoroughly with a fork. If you need it more pureed then add the water then to a blender or processor.
Avocado with Banana
Place the avocado and banana in a bowl or plate and mash with a fork until smooth. If you need it pureed then add a little liquid and blend or process it.
Notes
Storage: If saving any leftover avocado or avocado puree, since it's likely baby will not eat the entire avocado, squeeze a few drops of lemon or lime juice on the avocado to prevent it from turning brown. Avocado puree or strips will last 1-2 days in the fridge. Avocado puree can be frozen with a little lemon or lime juice mixed in for up to 2 months. 
Keywords: Easy Avocado Baby Food with banana