How to Store Pureed Baby Food. Store baby food, including refrigeration and freezing temperatures, the amount of time baby food can be stored, and ideas for baby food storage.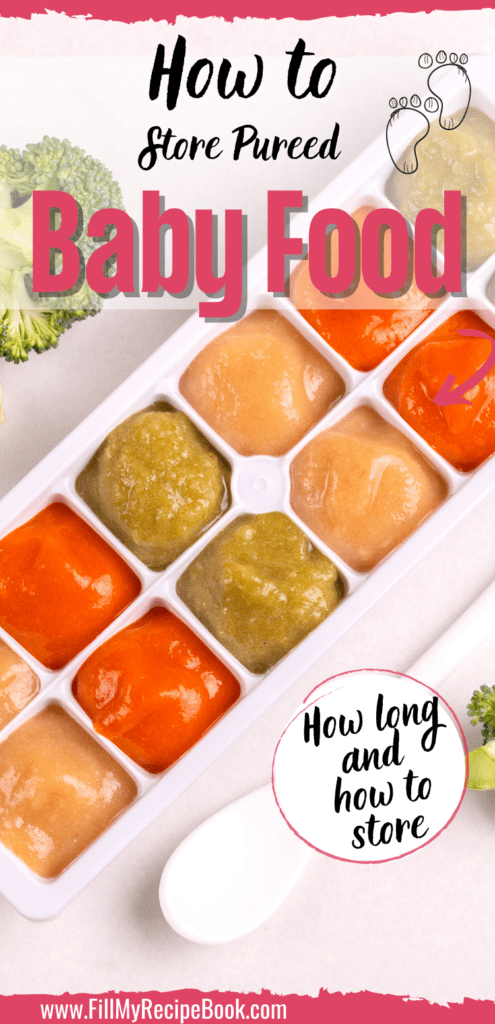 How to properly store Pureed baby food.
When it comes to babies, safety is always a concern – this is especially true about baby food storage. There are important guidelines that need to be followed in terms of refrigerating and freezing food and the amount of time that food can be stored. These guidelines are listed below, along with ideas for storing baby's food.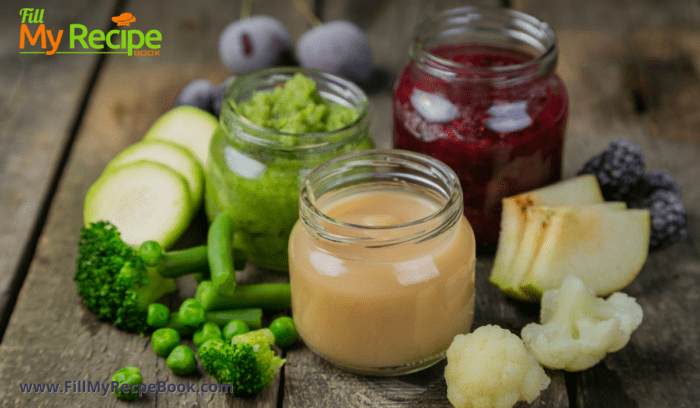 Refrigerating Baby Food
Storing baby food in the refrigerator, whether homemade or purchased, is probably the least convenient and safe way to store baby food. If parents are storing any homemade or previously opened commercial baby food in the refrigerator, be sure to use the food within 48 hours to prevent any bacterial contamination. Also, do not feed the baby directly from the jar and then reuse the jar as the saliva can also contaminate the food.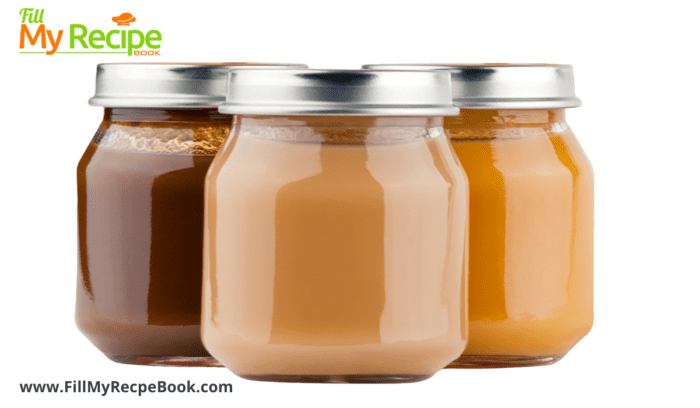 Using the Freezer to Store Baby Food
Freezing is a great way to store baby food as it is convenient, safe, and conserves most nutrients. The best way to use the freezer to store baby food is to freeze purees in ice cube trays and then turn these out into freezer-safe containers when frozen.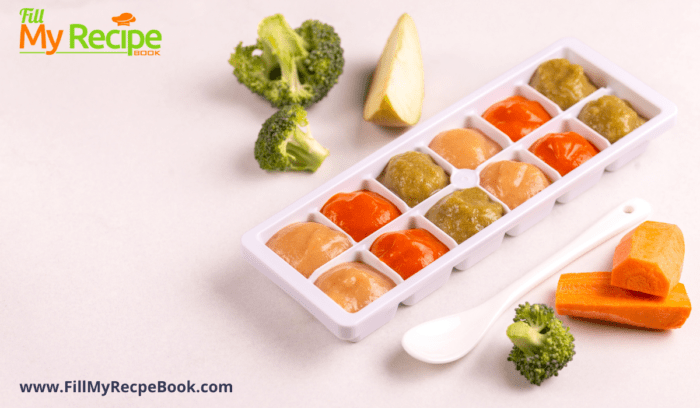 Label the containers clearly with their contents and expiry dates.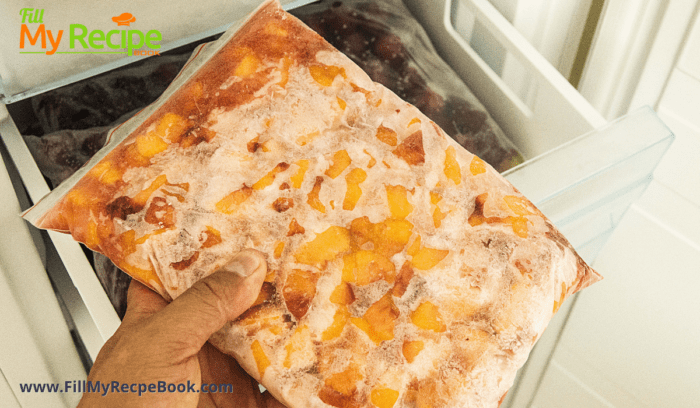 Below is a list of all the pureed foods that freeze well and their freezer life. Keep in mind that the freezer life listed is based on the food being kept sealed in a freezer-safe container and kept at zero degrees Celcius (32 degrees Fahrenheit).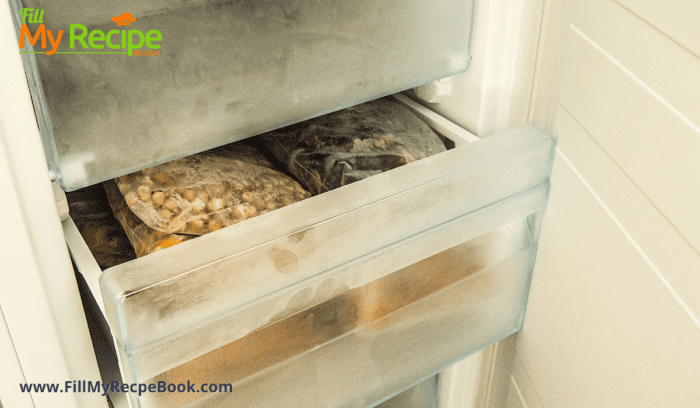 How long to keep
Fruits: Pureed fruit will last in the freezer for up to 1 year
Vegetables: Pureed vegetables will last in the freezer for 1-2 months
Bean, lentil, pea purees: 2 months
Beef or lamb, cooked: 4 months.
Ham or pork, cooked: 1 month
Poultry, cooked: 3 months
Fish, cooked: 2 months
Breastmilk: 6 months
Canned/Jarred Baby Food Storage
Canned or jarred baby foods are a tempting alternative to homemade baby food and convenient when traveling or visiting friends. Keep in mind that these really are a lesser product and should be replaced with homemade baby food whenever possible. The majority of canned foods are super processed and contain salt, sugar, and preservatives, not to mention that the can itself can leach chemicals into the food.
One solution to the canned food issue is to use jarred baby food, as most baby food is now packaged. Be sure to check the labels of the baby food jars to ensure they do not contain any added ingredients. There are many organic, natural purees on the market now.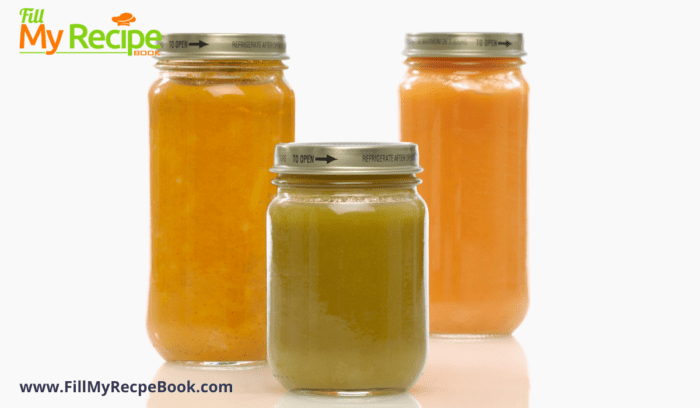 Dried Food Storage
When storing any dried foods, such as cereals, beans, lentils, pasta, and crackers, always keep them in sealed air-tight containers. Clearly label the containers with the contents and expiry dates of the products. Many people believe that many of these products last forever, but they do go stale and can begin to rot after a while. Keep an eye on expiry dates on packages.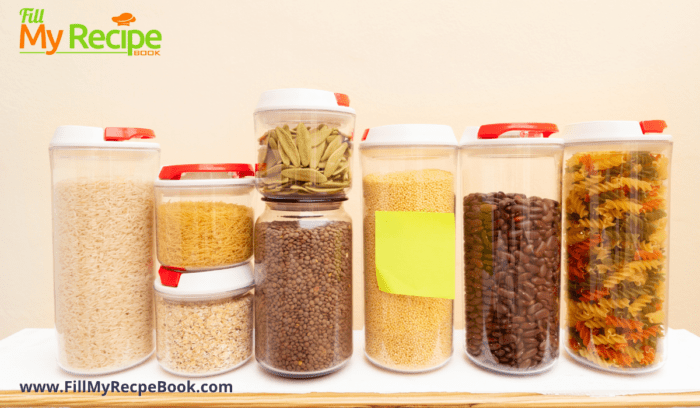 Choosing a Food Storage Method
Whatever method mom and dad decide to use when storing baby's food, it is important to ensure that it is not only safe for baby but convenient for parents and caregivers. Choosing a method that is inconvenient can easily result in dropping the ball in the safety department. If there is a question of whether a food product is safe to eat or not, err on the side of caution and do not feed the product to the baby.
For a recipe on how to puree baby food.
Purchase some containers online here.
This post may contain affiliate links, where we earn from qualifying purchases.