Mini Homemade Apple Pies. Have some apples needing to be used. Make this apple pie, including a method on how to make pastry.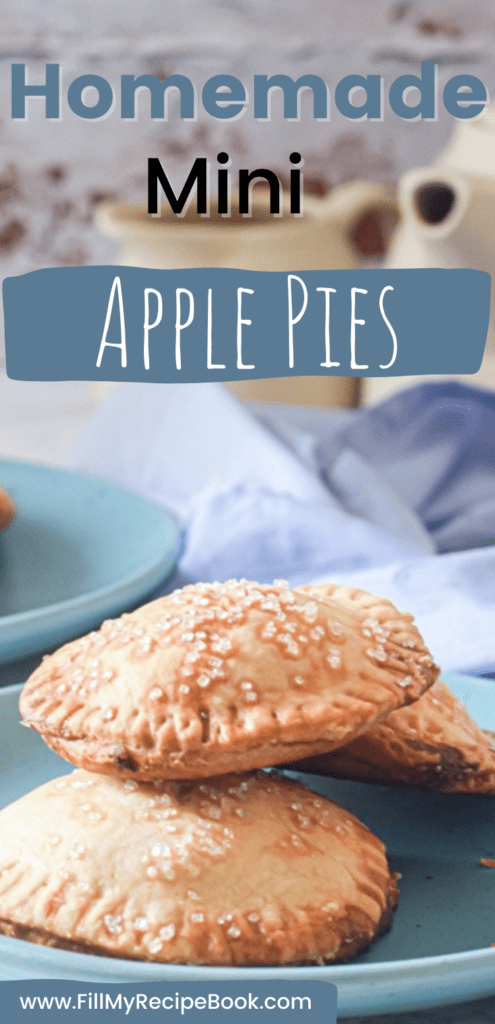 Mini Homemade Apple Pies.
When you are on a farm or homesteading, you may have plenty of fruit or apples that need to be used. Various recipes may be made with apples, including these amazing mini homemade apple pies. In the recipe below you will find a detailed description on how to make the pie dough. This will take up most of the recipe preparation time.
Below are some of the ingredients. Chop, peel and core the apples. Collect the other ingredients and set aside. Firstly make the dough for the pies.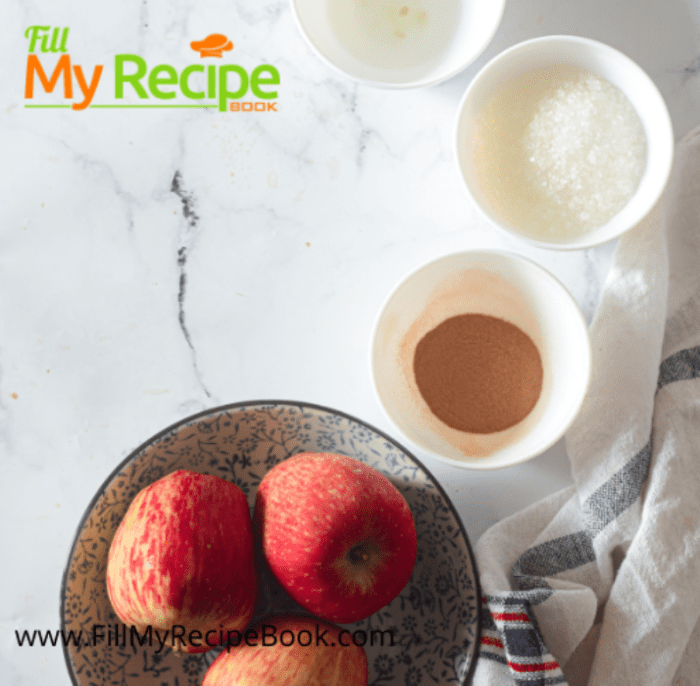 The chopped up and peeled apples and some sugar and cinnamon for the recipe.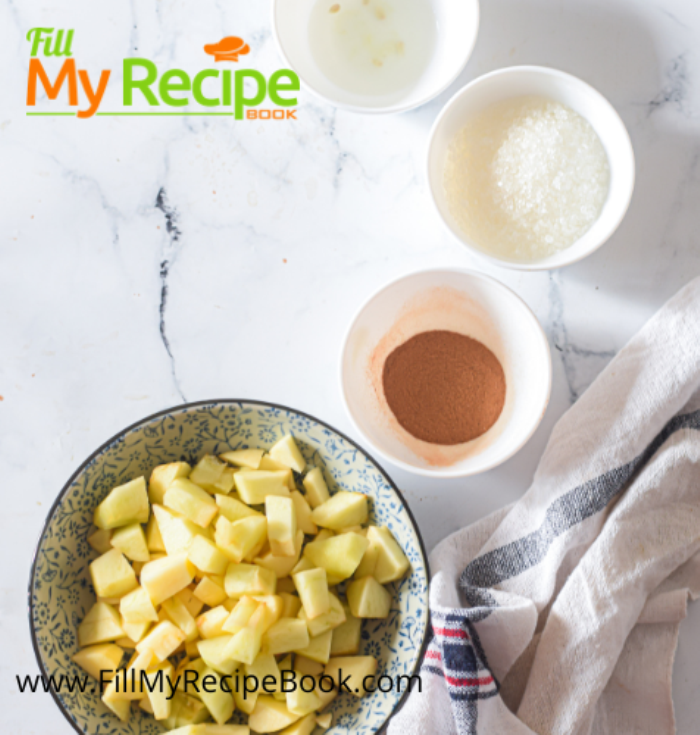 The apple pieces are placed in a bowl, then you mix the cinnamon and sugar thoroughly and set aside.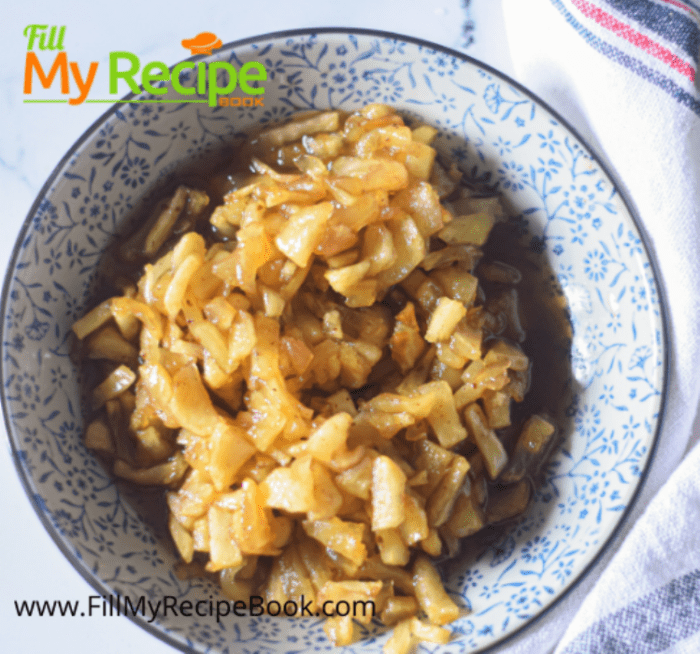 Below is the ingredients for the dough. Butter, as well as the flour mix.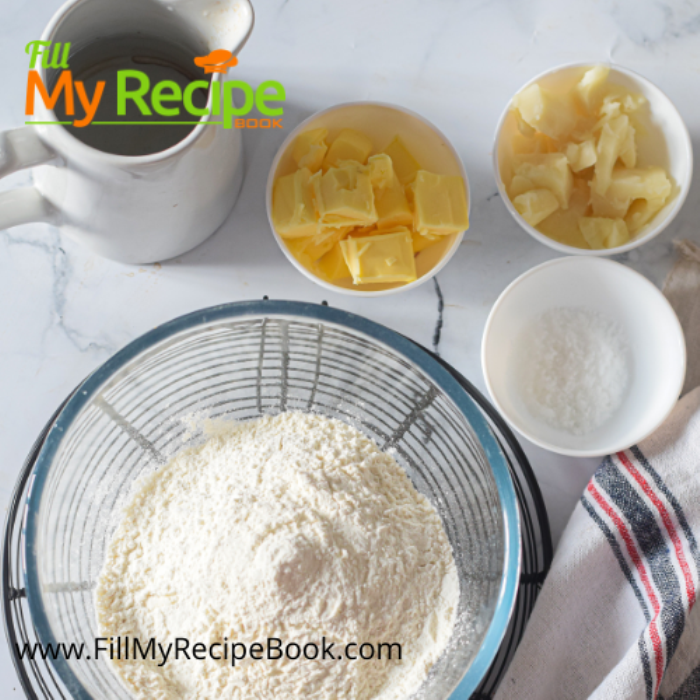 Once the dough is made and rolled out, it would go through its method as described in the recipe below.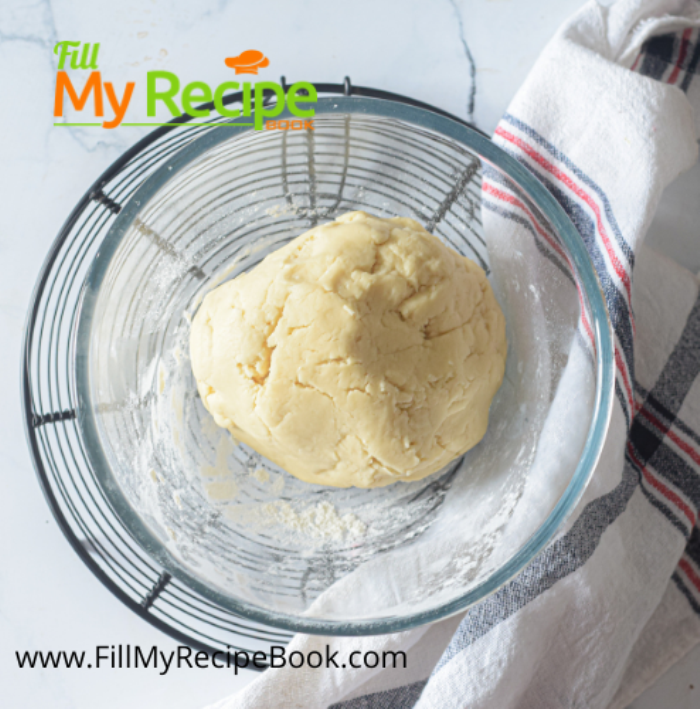 Once the dough has been processed, you would cut it in circles and place on a tray. The apple mixture will be place in the middle of the round cut out shapes. Taking good care not to mess any liquid on the edges of the pie dough. This will enable you to join the dough better once the top has been added, with a fork.
Ready for baking
All the mini pies are now ready to bake in the oven. Once you have painted with a pastry brush some milk or egg milk mix on the top for the pie to brown
When baked and a golden brown then remove from the oven and cool on a cooling rack. You may decorate the top of the pie as you please. Some castor sugar may be sprinkled on them.
Place in serving plates and serve with salads or make them a snack with tea and coffee. Yummy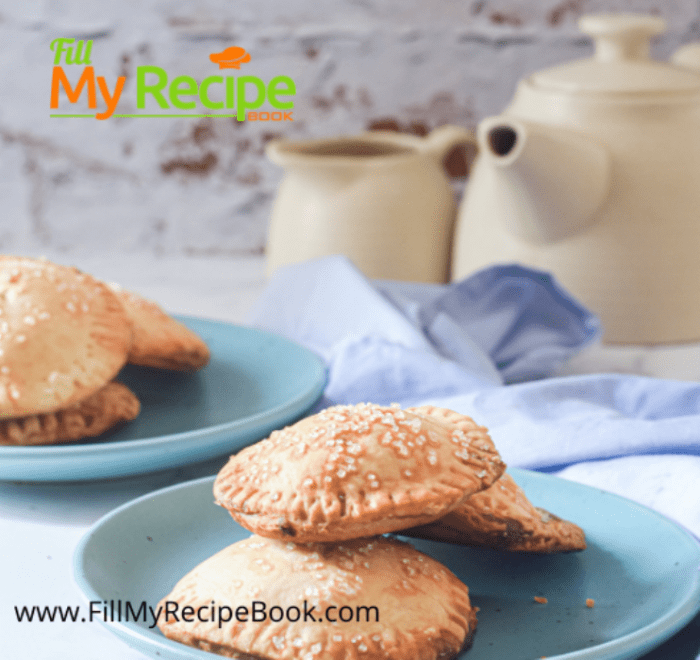 Recommendations.
(click on the highlighted heading for the recipes)
A breakfast eaten with apple pie —-> Traditional Irish Breakfast and Tea
For Mothers Day tea recipe ideas —-> 25 Mother's Day Morning Tea Ideas
Another ——> homemade apple pie with cream to make for your family.
Get some ideas for a snack or healthy eats recipe ——-> 16 Healthy New year's Eats Recipes
These are more fruit pies and tart recipes —–> 14 Tasty Fruit Tarts and Pies Recipes and other you would love to make —-> 24 Easy Mini Dessert Recipes
Get some recipe ideas for pies —–> 12 Homemade Meat Pies Recipes
So many apple recipe ideas and then these delicious ones to choose from —-> 21 Delicious Apple Recipes and these ideas —-> 8 Amazing Apple Pie Recipe and other fruity ideas —-> 27 Fruit Inspired Recipes
Sharing a few recipe ideas to create —–> 18 No Yeast Easy Dough Recipes
Appetizers and snacks to serve —–> 20 Easy Thanksgiving Appetizers Recipes. With more appetizer recipe ideas to create —–> 22 Yummy Appetizer Recipes
Some ideas for a beach snack —–> 20 Easy Beach Snack Ideas Recipes
Recipe ideas to create for Valentines —-> 14 Easy Valentine Appetizer Recipes
[click the highlighted heading for the recipe]
A Recipe below.
Mini Homemade Apple Pies
Mini Homemade Apple Pies. Have some apples needing to be used. Make this apple pie, including a method on how to make pastry.
Ingredients
2 1/2 Cups all purpose flour

1 tsp of Himalayan salt

1/2 Cup cold vegetable shortening (95 g)

1/2 Cup iced water (120 ml)

2 medium apples peeled, cored and diced (2 1/2 Cups diced)

1/3 Cup granulated sugar. (70 g)

2 Tbsp. unsalted butter

1 tsp cinnamon

lime juice

1/2 Cup cold cubed unsalted butter (115 g)
Directions
In a large mixing bowl whisk together the dry ingredients. Flour and salt until well combined.
Add the cold cubed butter and cold vegetable shortening. Using a fork cut the butter into the flour until a small pea sized crumb.
Slowly mix in one tablespoon of iced water at a time, and gently mix it until the dough comes together. (you may not need all the water)
Turn the dough out onto a lightly floured surface and roll it into a ball. Cut the ball in half and flatten each one out into two disks. Cover each one tightly with plastic wrap and refrigerate for an hour.
Combine the chopped apple pieces, cinnamon and lime juice in a bowl until all is coated.
On a lightly floured surface roll out the dough to about 1/8 inch thick. Using a 3.5 inch cookie cutter or a cup, cut our as many circles as you can. Reroll any scrap pieces together. You should get our about 18 – 20 circles. Transfer the cut our pieces to a baking tray and chill in fridge.
Preheat oven to 190 deg. C. Remove the circle from the fridge and evenly distribute the apple filling to half of them. Being careful to not get the edges wet and to leave a space to close the pies together. Place one or two cubed butter on top of the filling of each and every pie.
Place the other half of the circles on top. (use some water to help seal them together.) Crimp the edges with a fork.
Brush the top of the pie with egg milk mixture or just milk. Then poke with a fork three sets of holes to the pie top.
Bake in preheated oven for 22 minutes until brown and filling is bubbling. At 190 Deg. C

Remove from the oven and set aside on a cooling rack, leave to cool before serving. Or serve warm.