Bangers and mash with gravy and vegetables recipe. Easy meal for a lunch or supper on stove top and tips on how to make mash potato.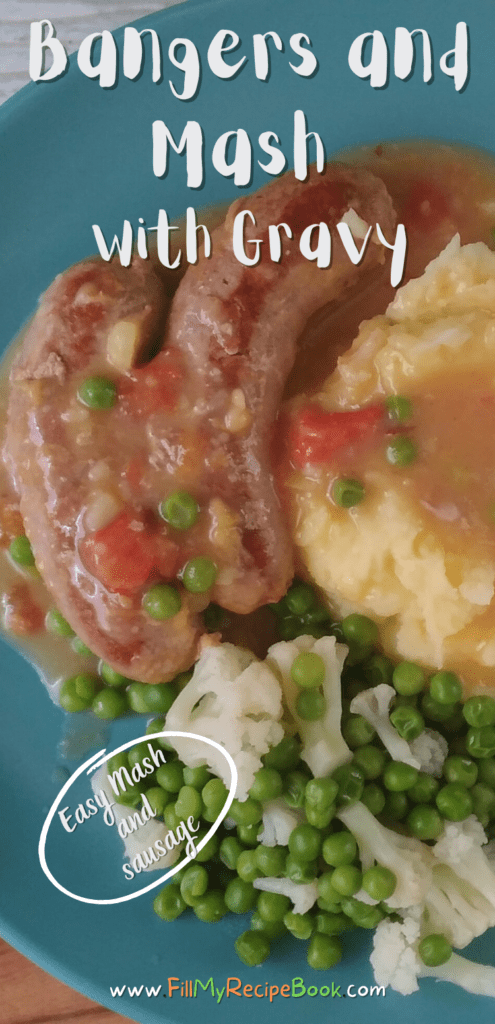 Bangers and Mash with Gravy
An easy stove top recipe for sausages and mash potato with gravy and vegetables. Making the gravy out of the sausage water with cornflour for thickening. Also showing you how to make mash potato the easy and tasty way.
Boerewors and mash potato can be served with side dishes such as salads or any cooked vegetables.
Ingredients.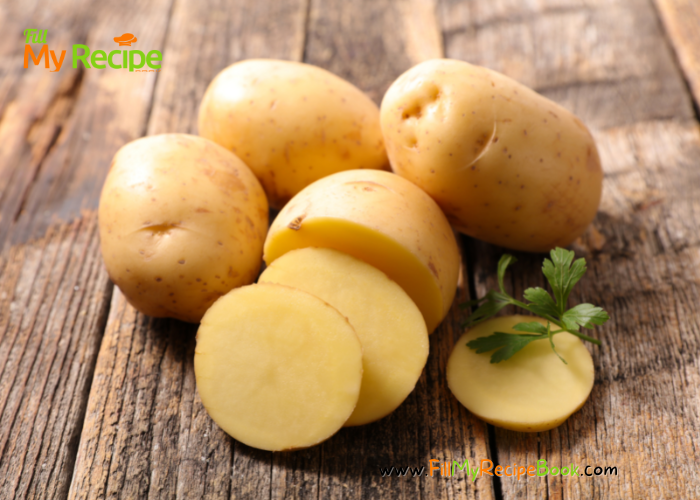 Potato´s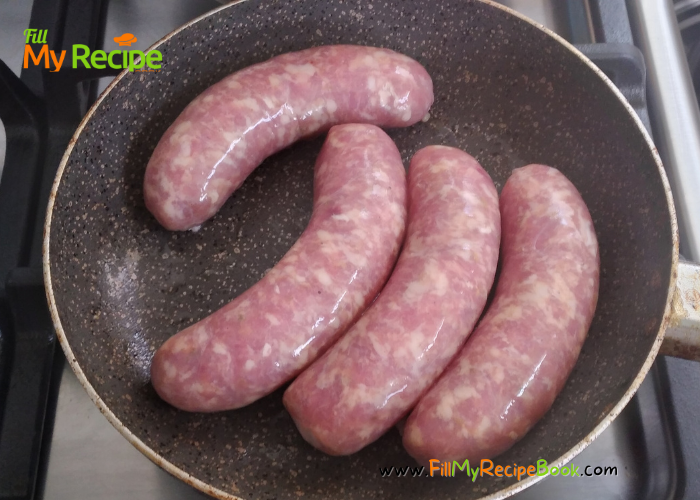 Sausage (bangers)
Of course vegetables of your choice which we used frozen peas and small florets of cauliflower.
How To.
How to make Mash Potato.
After cutting the potato into small pieces, (to cook faster) place them in some salted water and bring to boil. Do the same with the vegetables.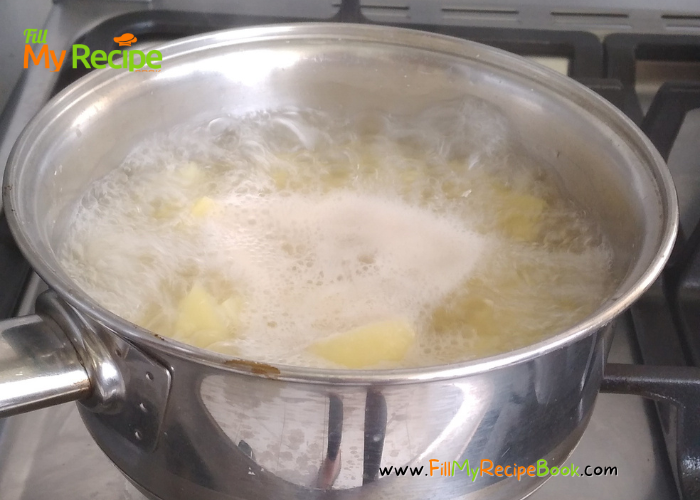 You need to multi task with three plates on the stove top, with two pots and a sauce pan for the bangers/boerewors. (see how to cook the boerewors or bangers below)
Continuing the mash potato.
Ingredients needed to make the mash potato are the butter and milk.
Once the potato has boiled and is soft enough then take of the stove top to carry on with the mash potato process.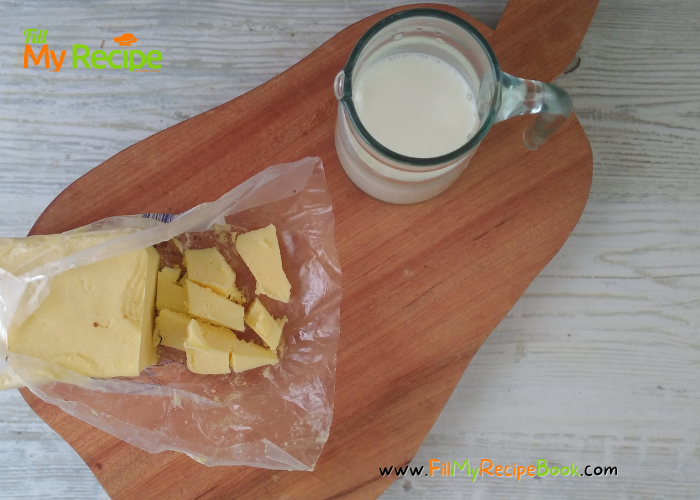 Adding the butter into the hot drained cooked potato so that it melts. Then add the milk
and start to mash the potato until all is creamy and mashed.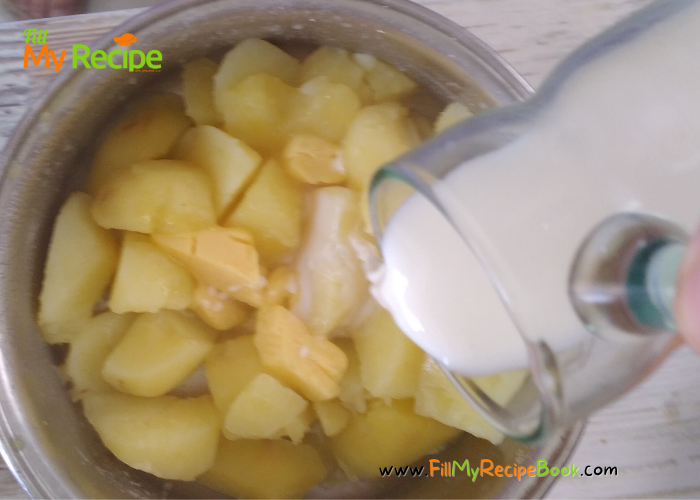 Mashing the potato until smooth. Place the required amount on the serving plate. When the bangers/sausage is done then add that to. Vegetables should be quick to boil, only needs 3-6 minutes. Plate those to.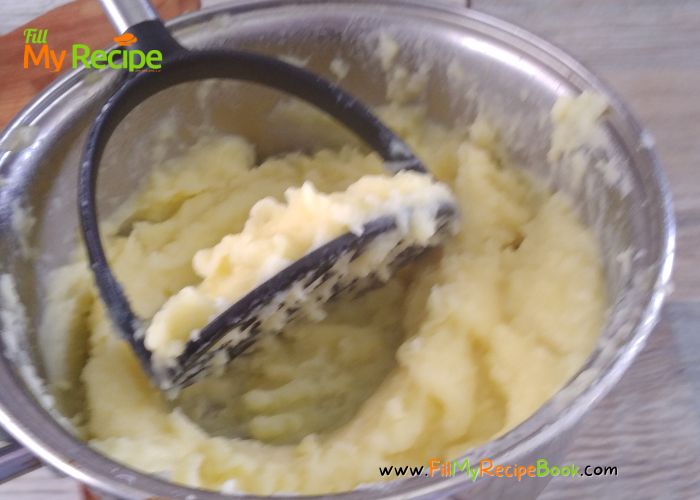 How to cook bangers on the stove.
Then in a sauce pan add the sausage and a little water and cook them slowly with the lid on until brown on both sides. If you using a glass lid with a hole for steam to escape then that is good, but if you use a pot lid, then place the lid on skew to let out some steam. Keep watch so that the bangers or sausages/boerewors does not dry out and burn. You can add a little more water. Cook until done and lightly browned. Set aside or dish up on the plate.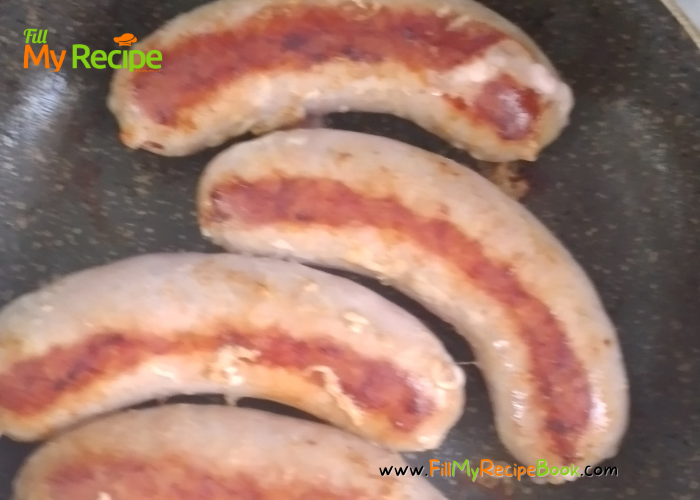 Serving the mash on a plate and making an indent on top with the spoon for the gravy. Then add the sausage with the vegetables and adding the gravy on the sausages as well. (see the recipe instructions for how to make the gravy)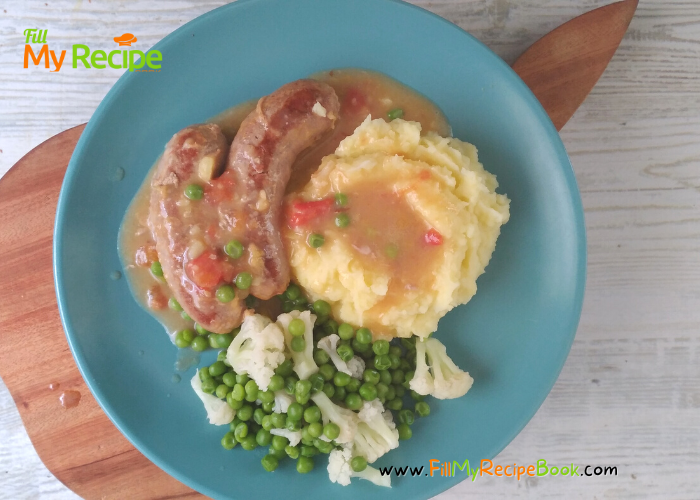 Pouring the warm gravy onto the mash potato and sausage. Serve and enjoy.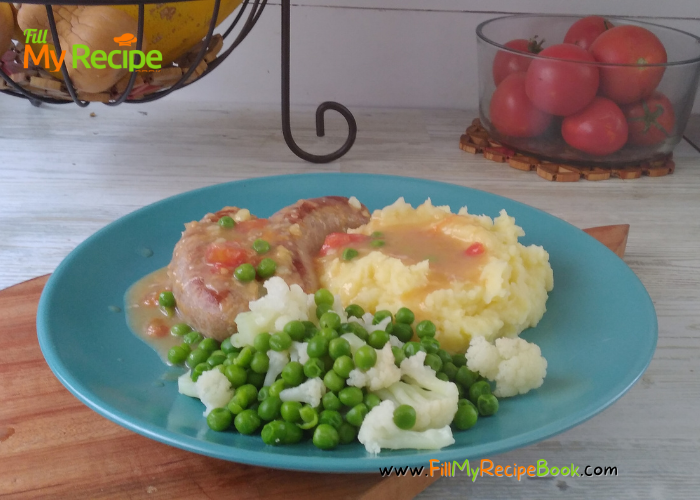 Another family recipe idea —-> How To Make Mashed Potato
Some great family recipe ideas —– 24 Easy Family Favourite Recipes
Some great family recipe ideas for dinners —–> 34 Easy Family Dinner Recipes and budget friendly ones —–> 23 Simple Family Budget Meals
These are a few great healthy dinners for two recipe ideas —-> 25 Easy Dinner Recipes For Two
and more supper or dinner ideas —–> 22 Easy Healthy Dinner Recipes
Print
Bangers and Mash with Gravy
Bangers and mash with gravy and vegetables recipe. Easy meal for a lunch or supper on stove top and tips on how to make mash potato.
Author:
Prep Time:

20 min

Cook Time:

25 min

Total Time:

45 min

Yield:

2

Category:

Meals supper or lunch

Method:

Stove top No Bake
Ingredients
3 large Potato (washed and cut into small pieces)
2 Tablespoons of butter
1/2 Cup of milk
Salt
6 Bangers Sausages
1 level tablespoon of cornflour or mazena (thicken gravy)
Worcestershire sauce
For vegetables frozen peas and small cut cauliflowers.
Instructions
Cut potato into small squares for faster boiling. Place them in some water that covers the potato's and a teaspoon of salt and then bring to boil. Boil until soft (the knife can pierce them).
Meanwhile in another pot boil some water and place in a little salt, then add the peas and cauliflower to bring to boil until cooked. (tender)
Also in a sauce pan add the sausages (bangers) with a little water and heat it up on medium. Cooking slowly until browning. Then turn and brown the other side until cooked.
Once the sausage has been cooked, take them out and place on a separate plate. Add a little vegetable water into the saucepan that had the sausages in. Bring to boil with some Worcestershire sauce in. Mix the cornflour and some water into a liquid paste and pour into the saucepan with water and mix until thick and cooked.
Once the potato´s are cooked drain them in a colander and add the butter and little milk. Start mashing with a masher and add a little milk if needed. Mash until nice and smooth.
In a serving plate add the potato and the drained mix veg. Then the sausages and spoon the gravy over the mash potato and sausage and serve hot to eat.
Keywords: Bangers and Mash with Gravy and vegetables