Decorated Christmas Chocolate Cupcakes with buttercream frosting and some Christmas colors included for your decoration.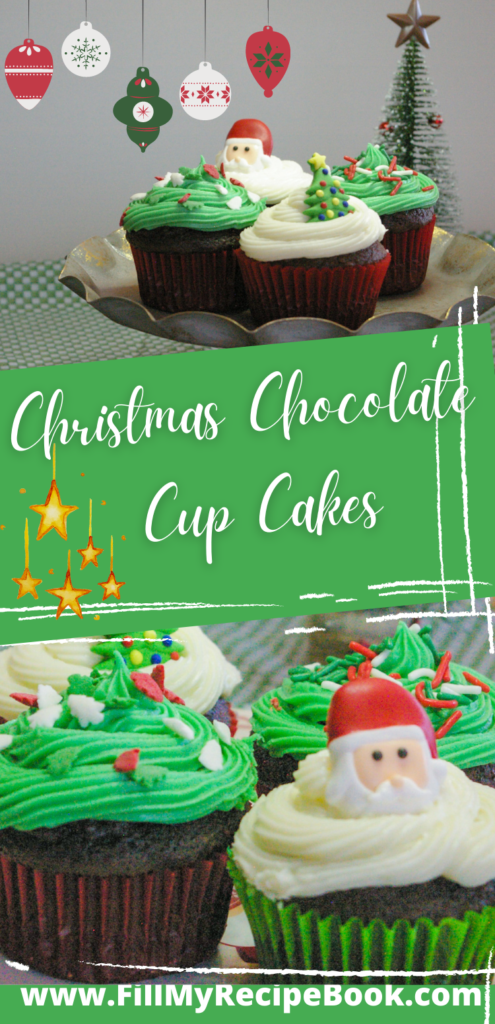 Decorated Christmas Chocolate Cupcakes
This recipe uses a bought chocolate cake mix that comes in a box. It's baked for 15 minutes.
If you prefer which would be a better choice, is to use a 7 minute chocolate microwave recipe, that also is used for muffins. Really light and very tasty for cupcakes.
This recipe is also used for normal oven baking, therefore it is really recommended.
Mix all the ingredients together for the box cake.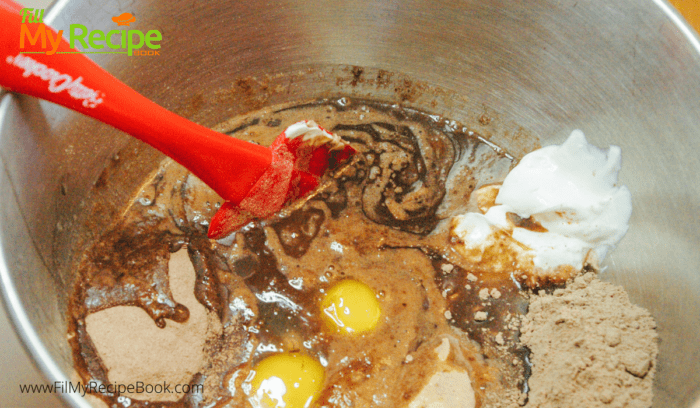 This chocolate cake mix is blended until al is smooth and poured into a cupcake holders in a muffin pan if you like. To keep the shape.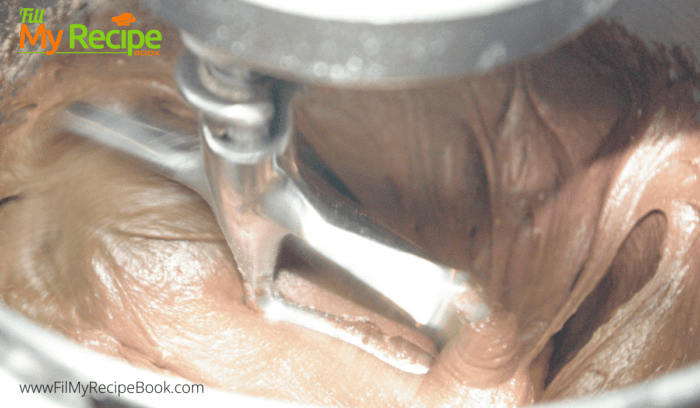 Silicon cupcake holders where used and placed in the muffin pan.
When out of the oven cool on a cooling rack for a few minutes before taking out.
Leave to cool further before placing the buttercream frosting on top.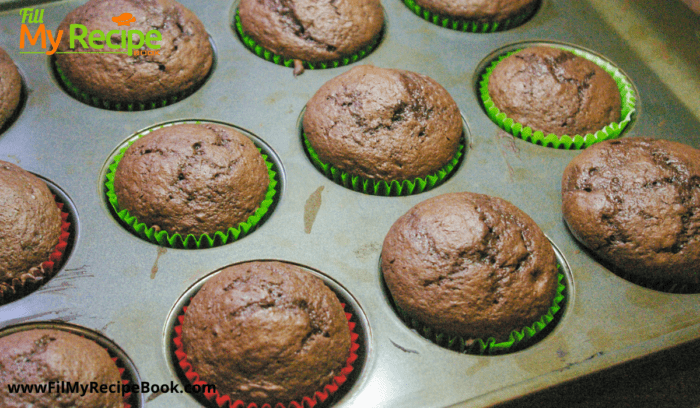 Mix the frosting as per recipe and then color and decorate the cupcakes.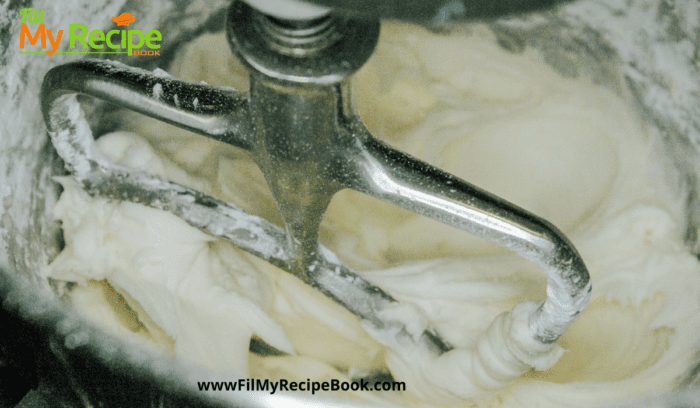 A Christmas theme was created with green and white and sprinkles and a father christmas face.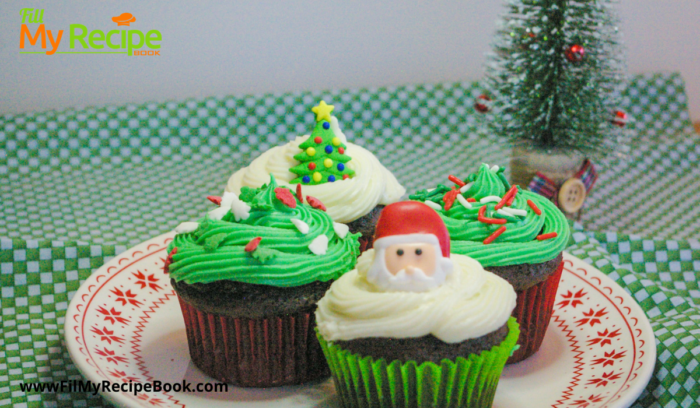 Place on a decorated plate and serve for your guests or have ready for the kids and Father Christmas.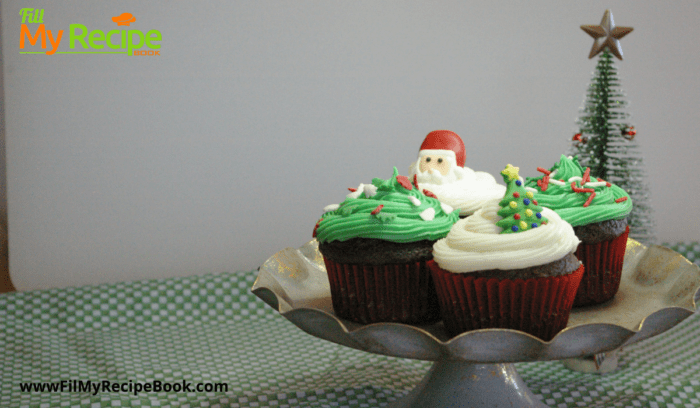 Amazing easy decorated chocolate Christmas cupcakes .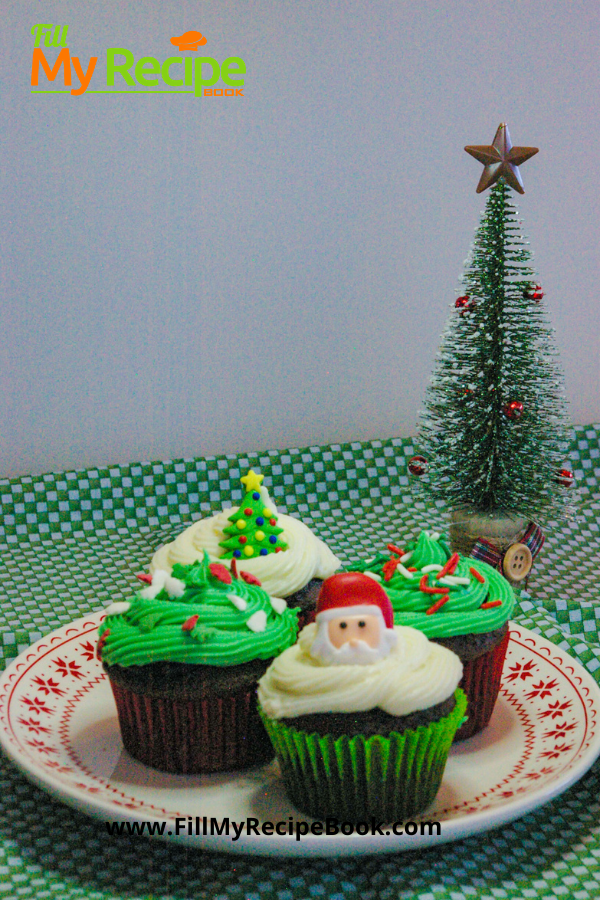 More recipe ideas.
Get some great decorative ideas —–> 12 Creative Cupcakes Ideas
You will also love these recipe ideas —–> 9 Divine Cupcake Recipes
Here are some Christmas recipe ideas to create —-> 15 Christmas Cake & Dessert Recipes
(click the highlighted link)
Decorated Christmas Chocolate Cupcakes
Easy Decorated Christmas Chocolate Cupcakes with buttercream frosting and some Christmas colors included for your decoration.
Ingredients
Box of devils food cake mix (or get a recipe here from fillmyrecipebook.com)

box of instant chocolate pudding

¾ Cup sour cream

¾ cup vegetable oil

3 eggs

2tsp vanilla

¾ cup Dr Pepper (Not diet)

Buttercream frosting.

2 sticks of butter

½ Cup Cream cheese

2 tsp vanilla

½ Cup heavy whipping cream

Optional: food coloring of your choice

5 Cups powdered sugar (for better absorption)
Directions
Preheat oven to 350 Deg. C
If you making the box of cake mix then. Mix together using the instructions on the cake box.
If not using box cake mixture then follow the chocolate cake recipe link here for this cupcakes. (also a fast baking 7 min cake)
Pour the mixture into muffin pans with cupcake holders.
Bake for 15 minutes or until the cup cakes comes out cooked.
Buttercream frosting.
Cream the cream cheese and the butter together, add vanilla. Alternate powdered sugar and heavy cream until frosting is a thick consistency. You don't want it too thick, because you have to get it through the decorating tip. Add food coloring if desired.
Cut the tip off of a frosting bag, be careful not to take off too much. Fill the pastry bag half full and twist t until the frosting moves through the tip. Squeeze the frosting in a nice ring around the cup cake.
Notes
When you do not want to make a box cake then use a normal chocolate cake mixture. Click here. 7 min.chocolate cake
More Holiday baking recipes.
10 Holiday Baking for Christmas Recipes
Some ideas and recipes to use for different flavors of muffins or cupcakes.