Chocolate Hot Cross Bun recipe idea to bake for easter that include Chocolate chips. Easy and delicious breakfast or snack for the family.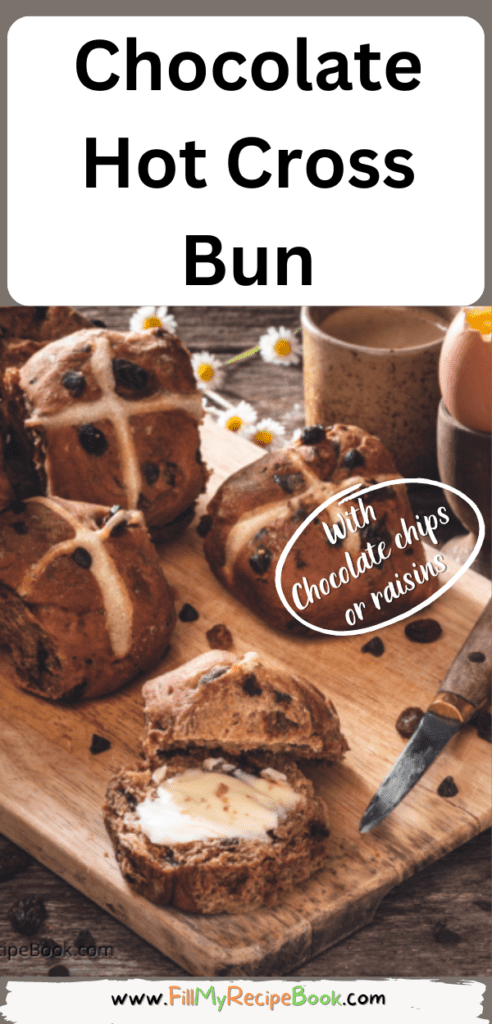 Chocolate Hot Cross Buns
These are so popular with the family that they come back for more. Why? Because they have chocolate chips in and not raisins. Some people don't like raisins in the hot cross buns.
Normally a hot cross bun is made with raisins, which are my favorite. But there will always be different tastes for people. Especially children they do not seem to like the raisins. So with this recipe you please all of them. Make these for Easter they are so delicious.
Is a hot cross bun sweet or Savoury?
They are a little sweet and have cinnamon or nutmeg spiced in them. These being chocolate with chocolate chips would be much sweeter. Normal traditional hot cross buns would not be as sweet as these chocolate ones. Filled with raisins.
Do you eat hot cross buns hot or cold?
The best and tastiest buns can be eaten fresh cold or warmed up or toasted with a blob of butter. Either way they are delicious.
What time of day do you eat hot cross buns?
The perfect easter bun should be toasted and dolloped with butter. It is said to not have them any time of the day but 11 am on the dot. With a cup of tea. But they are a great breakfast and snack for any tea time. Eaten especially on Easter good Friday.
What are hot cross buns called in America?
Hot cross buns in America are called Easter buns. There are many varieties of fillings for these tasty and popular buns.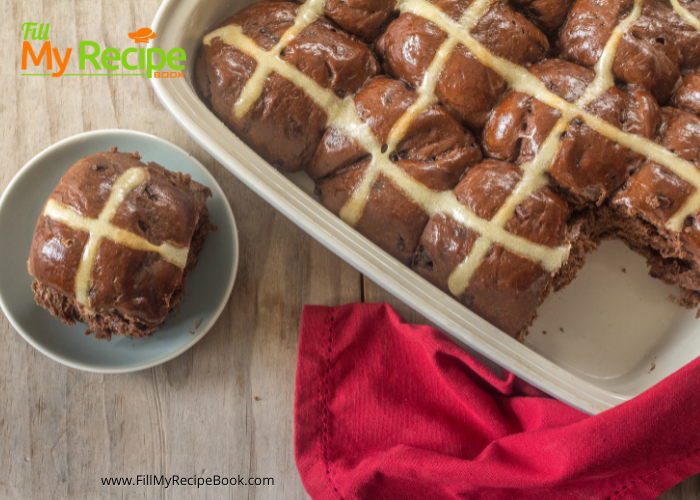 How To
Baking them in a low casserole dish or a baking pan with a glazing and the cross in a flour paste.
Easy to remove and serve, that is how easy it is.
How to serve ideas.
Cut in half and spread some butter on them. That is the best and most tastiest way to eat them fresh.
If they are not to fresh then toast them for breakfast they are so scrumptious this way. You would want more. You can also put them in the oven under the grill for a few minutes until lightly brown.
Add butter on top and enjoy them for a breakfast. Cheese or jam or jelly and any other topping of choice is also good.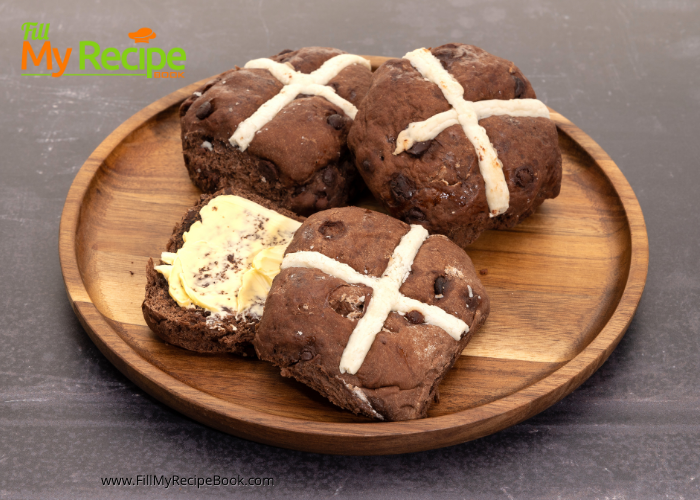 Look at these double chocolate hot cross buns, made with cocoa powder and chocolate chips to please.
For another alternative use some raisins and the chocolate chips….makes them even more delicious.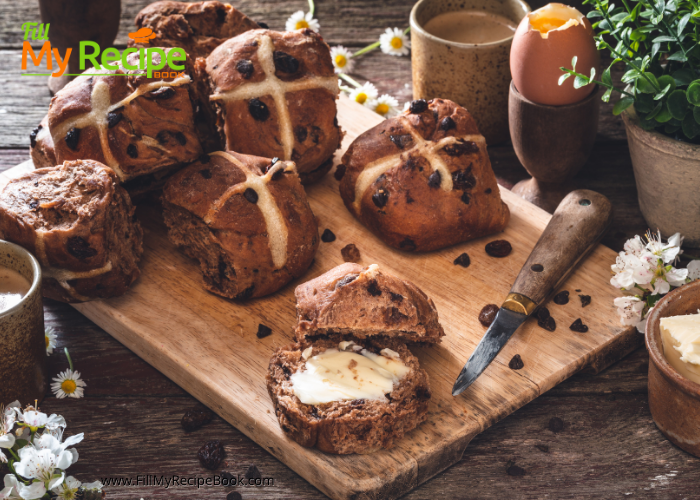 The option is to glaze or not to glaze. But that gives them a shiny topping and makes the top a bit more crispy. These are going to be made for definite this easter.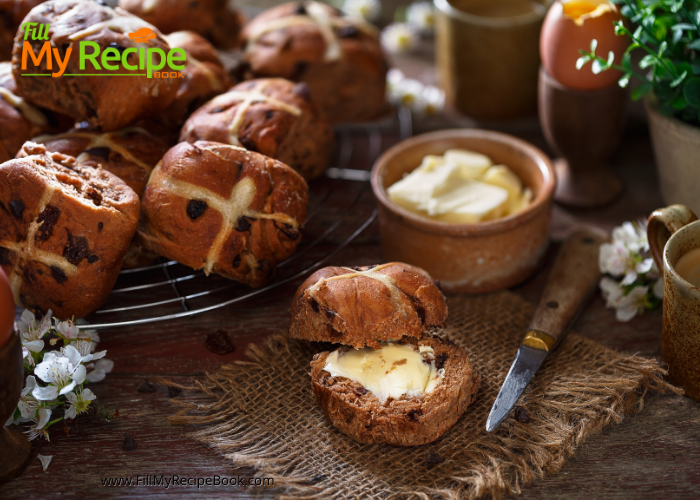 An easter tradition is having these hot cross buns for the easter weekend. Tasteful breakfast and tea time snack or treats all day long. My absolute favorite.
Recommendations
(click the highlighted wording for the recipes ideas)
Create some of these amazing hot cross buns for Easter —-> 9 Healthy Hot Cross Bun Recipes (SF,GF,)
Go and get some traditional easter foods and their meanings here.—–> Traditional Easter Foods and Treats and —-> Make this popular easter tradition recipe —-> Best Pickled Curry Fish
Another recipe to make some hot cross buns. —–> Best Hot Cross Buns and —-> 11 Varieties of Hot Cross Bun Recipes
Get some Easter Ideas here. —–>10 Easy Easter Ideas and —–> 9 Devine Hot Cross Bun Recipes
You will love to get more recipe ideas for buns here —–> 15 Delishes Bun & Rolls Bakes
Print
Chocolate Hot Cross Bun
Chocolate Hot Cross Bun recipe idea to bake for easter that include Chocolate chips. Easy and delicious breakfast or snack for the family.
Author:
Prep Time:

15 min

Cook Time:

25 min rising time 2 hrs

Total Time:

40 min

Yield:

12

Method:

Baking
Ingredients
1. 1/4 Cup of unsalted Butter (1/2 stick or 57 g)
2. 300 ml of milk
3. 4 cups of flour ( 520 g or 18.5 oz)
4. 1/3 cup of cocoa powder (35g or 1.5 oz)
5. 2 1/4 teaspoons of dry active yeast or instant yeast( 1 sachet or 7g)
6. 1/2 cup of white sugar (100g or3.5oz)
7. 2 teaspoons of ground cinnamon
8. 1/2 teaspoon of all spice
9. 1 teaspoon of vanilla essence
10. 1 large beaten egg
11. 1 cup of chocolate chips (200g or 7 oz)
Glaze for top
1. 1 egg yolk, beaten with a dash of water
2. 2 tablespoons cocoa powder
3. 1tablespoon plain flour
4. 2 1/2 tablespoons of water (50ml)
Flour paste for cross
1. 1 cup of flour (120 g. or more)
2. 1/2 cup and 2 Tbsp of water. (to adjust to thickness)
3. 2 Tbsp of sugar 
Instructions
1. Melt the butter in a small pot with half of the milk and then add the rest of the milk in to cool it down to use.
2. In a mixer bowl attach the dough hook and add all the dry ingredients. such as flour, cocoa, yeast, sugar and cinnamon and all spice. give it a mix to blend all the ingredients together.
3. Pour the warm butter/milk mixture into the flour mixture and add the vanilla and egg. (must be warm and not hot, as the yeast will be spoiled)
4. Beat the dough mixture for about 7 minutes until smooth, elastic and combined.
5. Taking the dough out of the mixer with a dough scraper or spatula, combining the dough together and spraying the bowl with spray and cook olive oil then place the dough back in and spray lightly the top of the dough again. Cover the bowl with dough with a plastic cling wrap and allow to rise for one hour or until doubled in size.
6. Once the dough has risen then lightly flour a surface for you to place the dough on. Then gently knead the dough while adding in the chocolate chips. Make sure they are evenly distributed. (don't over knead the dough)
7. Make a ball out of the dough and cut the ball into six pieces and halve those pieces then roll each one into a ball.
8. Then line a baking sheet with wax paper or any other liner. Place these balls on the sheets of the baking pan.(at least 9 x 13inch) Not touching giving them space to rise.
9. Cover again and allow to rise in a warm place for another hour or until they have doubled in size.
10. Preheat the oven to 200 Deg.C ( 400 Deg. F)
11. Brush the egg/water mixture over the top of the buns. (glaze for top)
12. Make the white flour paste and place in a piping bag and pipe the cross on top of each of the buns.
13. Bake for 20 – 25 minutes until shiny and crisp on top.
Cool on a cooling rack and serve warm or not. Butter the halved buns for a delicious treat.
PS: next morning toast half of the buns over a toaster and butter for an amazing breakfast.
Notes
They do not contain raisons. but do have chocolate chips in.
Keywords: Double Chocolate Hot Cross Bun with chocolate chips