Best Hot Cross Buns to make for Easter. These are so scrumptious and the most delicious and versatile spicy hot cross buns with raisons ever.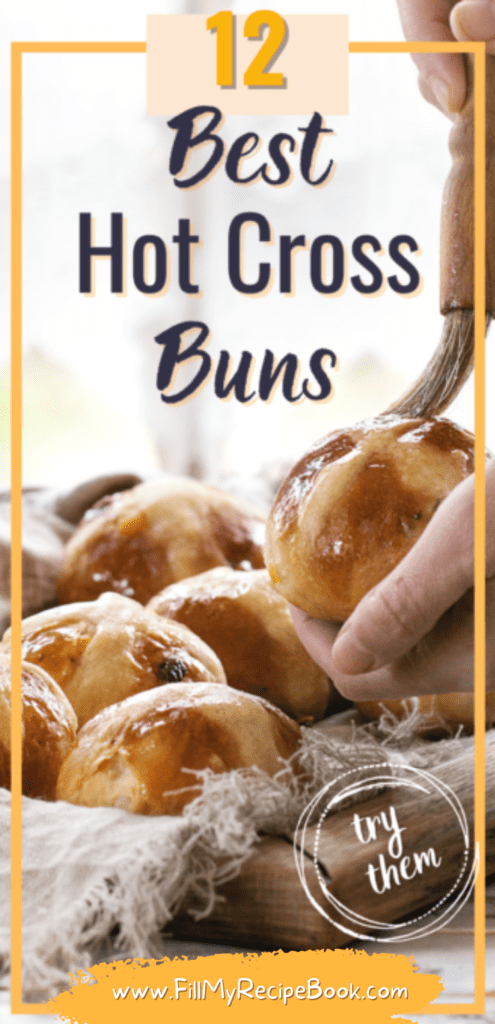 The Best Hot Cross Buns
Easter time is my favorite time of the year as this is the time that you make these amazing spicy raison filled hot cross buns. They are a very versatile bun and can be used for a breakfast or tea time. Spread with only some butter, served warm or cold.
Toast these once they are not fresh any more, scrumptious.
How To
Obtain the ingredients for the buns and first mix the warm water and the yeast, to work.
Then by hand or with a mixer mix and knead the dough to its working form and also leave to rise.
Once risen and kneaded and formed balls of dough for the buns, place them on a baking sheet.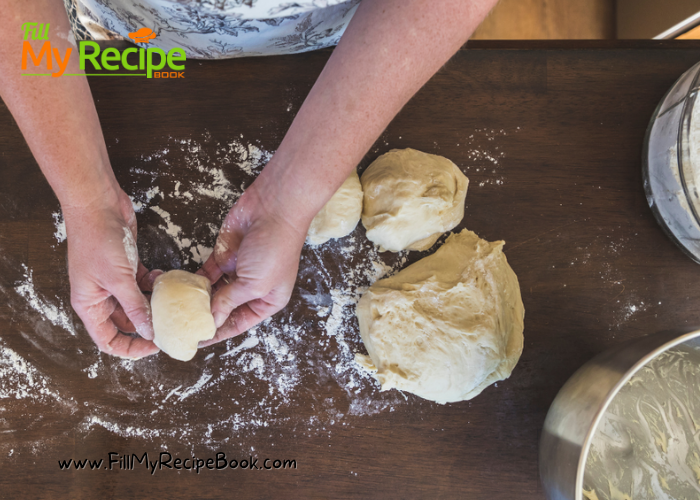 Roll them into buns and leave to rise further.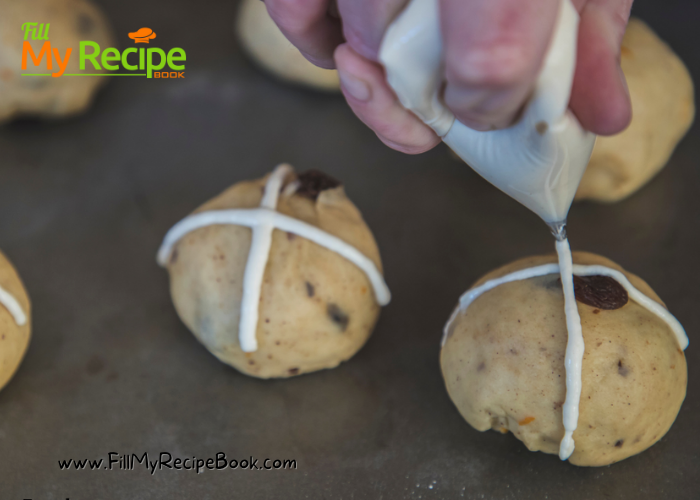 Make the paste for the crosses and then cross the buns read to go into the oven.
When baked then glaze them with the sugar and milk.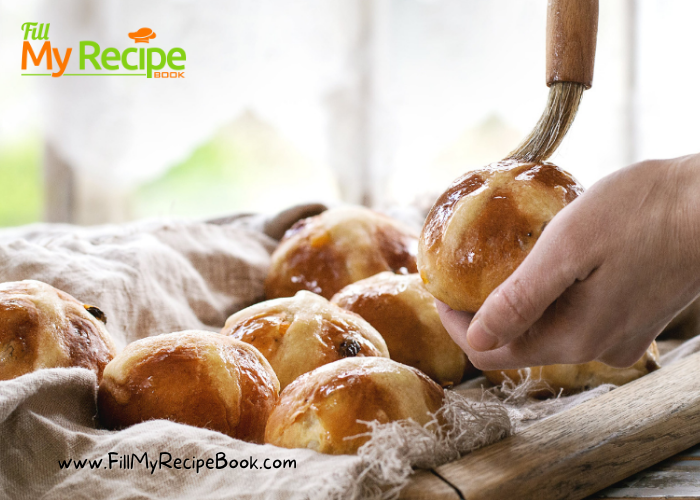 Leaving to cool before serving.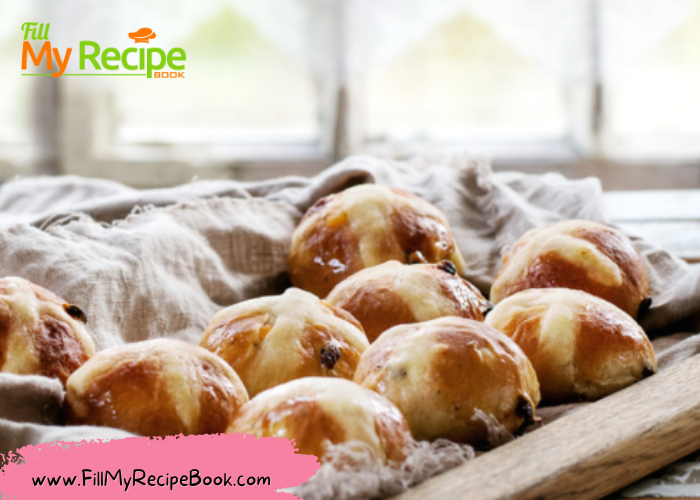 Serving these favorite buns up with just some butter is simply amazing.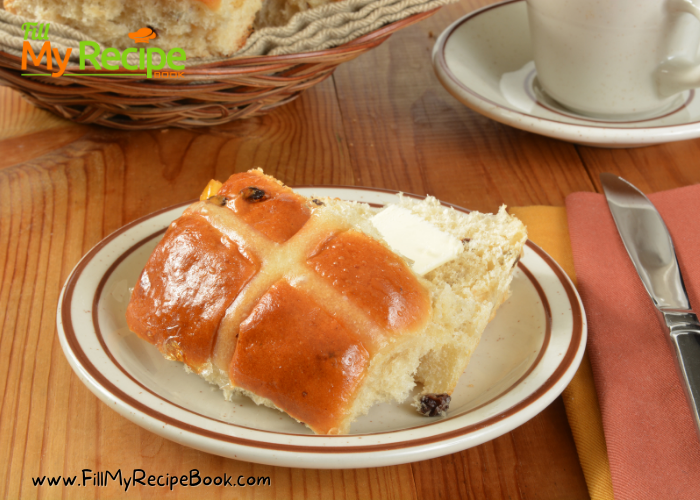 Get a few more hot cross bun recipe from this link here. 10 Devine Hot Cross Bun Recipes
Toast them for a delicious breakfast.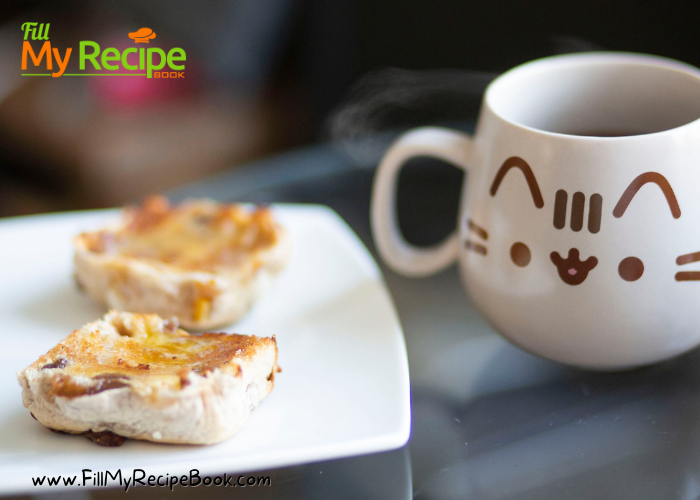 Another recipe to make but with chocolate chips. Double Chocolate Hot Cross Bun
Learn all about the easter traditions and the food that's eaten on easter weekend. Here. Traditional Easter Foods and Treats
More Easter Ideas Here. 10 Easy Easter Ideas
Enjoy
Print
Best Hot Cross Buns
Best Hot Cross Buns to make for Easter. These are so scrumptious and the most delicious and versatile spicy hot cross buns with raisons ever.
Prep Time:

30 min

Cook Time:

25 min

Total Time:

55 min

Yield:

12
Ingredients
2 1/4 Tsp active dry Yeast (1 sachet)
3 Tbsp warm water
1 Cup of milk (230 g. 240 ml)
4 oz of unsalted butter (114 g.)
1/3 Cup of sugar (75 g.)
1 tsp of salt
1 Large egg
3 3/4 cups of all purpose flour (445 g)
3/4 – 1 cup of seedless raisons (150 g)
1 Tbsp of grated orange peel
1 1/2 tsp of nutmeg, cinnamon and allspice (1/2 tsp of each)
Four paste.
1 cup of flour (120 g. or more)
1/2 cup and 2 Tbsp of water. (to adjust to thickness)
2 Tbsp of sugar
Sugar Glaze
2 Tbsp of warm milk
2 Tbsp of sugar
Instructions
1.  In a standing mixer with a bowl combine 2 Tbsp lukewarm water and yeast. Let it stand and dissolve for about 5 minutes and mix a little.
2.  In a microwave bowl combine the milk butter sugar and salt and microwave for about 1 minute stirring until all is dissolved.
3.  Lightly whisk in the egg to the butter mixture (once its cooled, otherwise the eggs will curdle)
4.  Pour all into the yeast mixture.
5.  Mix at medium speed with a dough hook until all is combined.
6.  Then add 3 1/2 cups of flour, spices and grated orange. Continue mixing until the dough doesn't stick to the sides of the bowl.
7.  Add additional flour if the consistency is not right. A soft dough.
8.  If kneading by hand turn the dough our on a floured surface and knead for about 6 minutes then add the raisons and continue kneading for another 2 minutes or more if you want airy buns. Or you can carry out this same method with a mixer and using a dough hook.
9.  Place bun dough in clean large dish, covering with a cloth and placing in a warm space to rise for 1 or 2 hours.(double in size) Punch dough down.
10.  Now divide the dough into 12 pieces and roll into balls. Place on greased or silicone sheeted baking sheet pan.
Flour Paste
Mix the flour and the sugar and water one tablespoon at a time, (to make a thick paste) and make the paste for the cross on the buns. Spoon the paste into a piping bag and pipe the cross on the op of the buns. Leave them to rise for about 15 minutes.
You may refrigerate before baking for up to 24 hrs.
Preheat the oven to 350 Deg.F (175 Deg.C) for 20 – 25 minutes.
Bake until the buns are a deep golden brown and the bottom of the buns sound hollow when tapped.  
Remove from the pan and place on a cooling rack.
Mix the glaze of sugar and milk and brush on top of the buns then leave them to cool.
Delishes when served warm and the butter melts in the buns when cut into halves.
NB: The time taken does not include the time needed for the dough to rise.
Notes
These buns are so versatile and my absolute favorite, you can toast them for breakfast and butter them they are amazing. My favorite time of the year and the best ever buns on the earth. The time taken does not include the time needed for the dough to rise.
Keywords: Best Hot Cross Buns homemade
These hot cross buns can be versatile with the ingredients as well. If you don't like spicy then use some cinnamon only. If you don't like raisons then leave them out, as you can add some chocolate chips into them. Or even just add some cocoa into the flour amount for chocolate buns.
Some more Oven Baking Recipe to choose from. As well as printables for baking and cooking.