How to make Raspberry and Vanilla Macarons Recipe idea. Aesthetic macarons oven baked and a raspberry or vanilla buttercream filling recipe.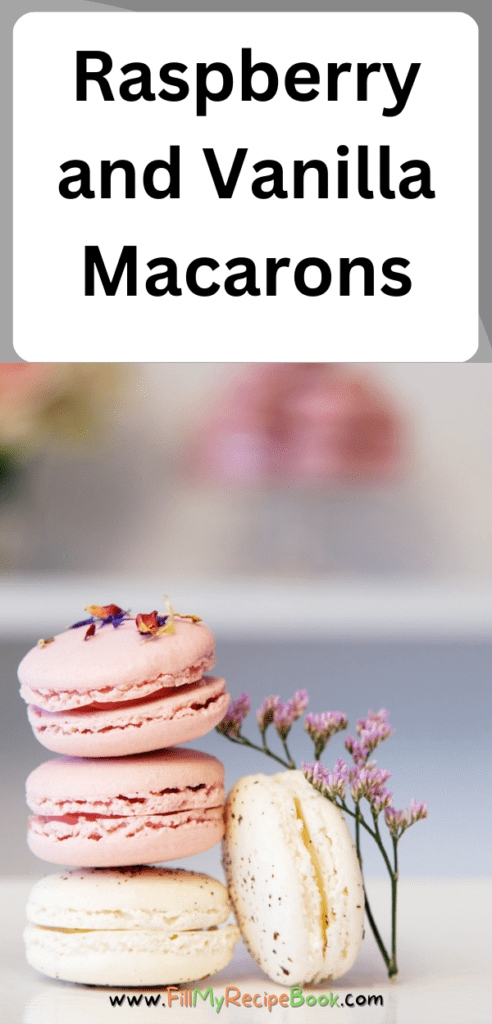 Raspberry and Vanilla Macarons
Make these different flavored Aesthetic macarons and buttercream raspberry and vanilla fillings. They are vanilla and raspberry macarons. Oven baked dessert for fine dining or to serve with tea or coffee.
What is the difference between a macaron and a French macaron?
Difference Between Macaron and Macaroon.
A macaron is a meringue-based sandwich cookie that is tinted with food coloring. A macaroon is a drop cookie made with shredded coconut.
Should macarons be crispy or chewy?
Although a macaron's shell should protect the rise and filling beneath its surface, you don't want your delectables to be crunchy or hard. Macarons should have a slight crunch with an overall chewy texture as one bites through the dessert. That texture is what truly makes a macaron marvelous.
What are common mistakes with making macarons?
Macarons can become lopsided from improper piping techniques, use of an overly strong fan to dry the macarons, oven's convection fan is too strong, use of a warped baking pan, shells were rested for too long, baking temperature too high or improper macaronage techniques.
Ingredients
The ingredients needed for these beautiful and aesthetics macarons. See the recipe attached for the filling ingredients.
3/4 Cup of Almond Flour (90g)
1 Cup of powdered sugar (125g)
2 egg whites (room temperature)
1/2 teaspoon of salt
1/4 cup of white sugar (50g)
1 teaspoon of raspberry essence (or raspberry juice) (use vanilla for vanilla macarons)
1 / 2 drops of food coloring. (not for vanilla macarons)
How To
After whisking the egg whites together, the below photo of the mix shows you how it should look like.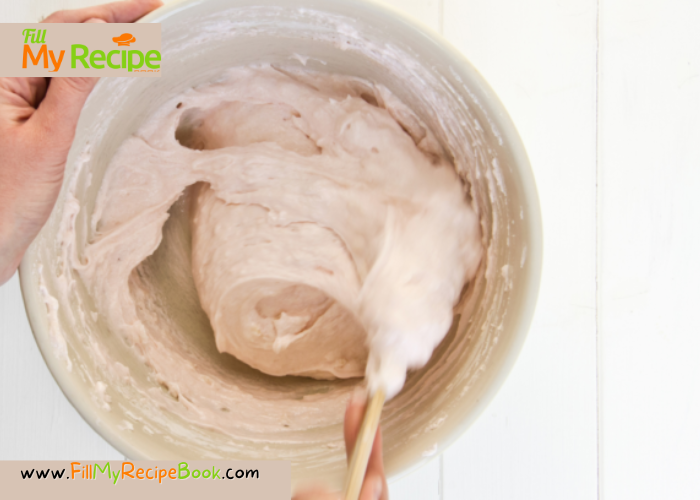 After filling up your piping bag then pipe the mixture onto a parchment paper that is not greased or you will allow the macaron mixture to absorb the liquid and then it will spread wider and not rise that well.
Try making them equal sizes even if you need to draw out the sizes on the paper. Its important to leave the piped macarons to rest for at least 20 minutes before baking. This will allow them to rise better once in the oven.
Get this baking set of Macaron Baking Mat, Macaron Mat Baking Sheet,2 Piping Pastry Bag with Bag Tie,6 Piping Tips to do this delicate job well. Its all you need. Purchase online.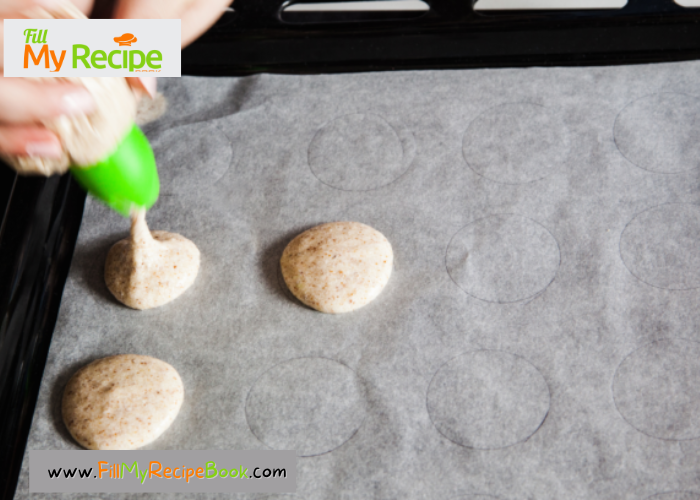 When they are baked and after cooling for a while then this photo below is what they should look like. Having the edges with this rough texture. Equal is size is perfect.
The best is to make these macarons a day before and rest them overnight, just like making meringues. Before making the fillings and piping them.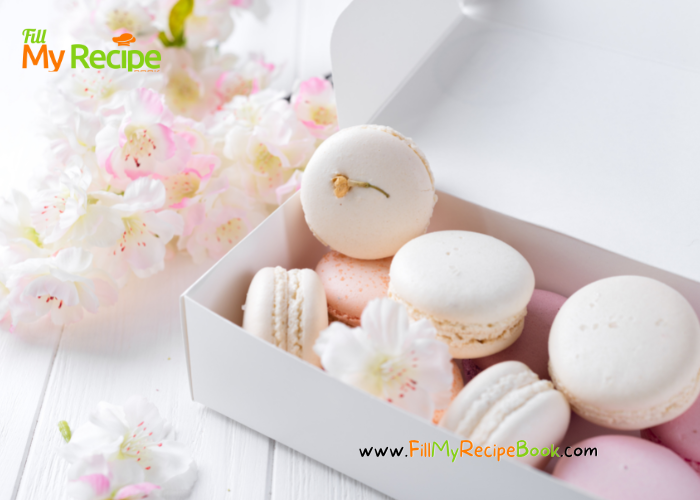 With this recipe we provide two different flavors that are easily interchanged. Make both and fill in the vanilla filling with the raspberry or make strawberry pink macarons. Then the raspberry pink filling with the vanilla macarons. Place them in attractive boxes or plates and give away as gifts.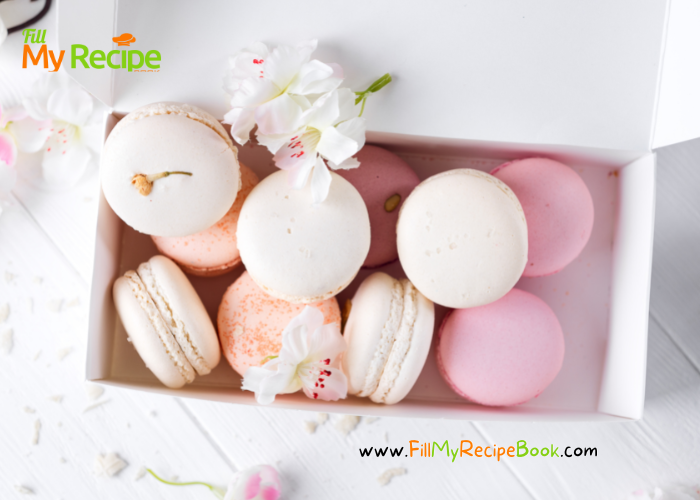 Purchase this idea to pack your macarons in when gifting. 25 Pack Macaron Box with Clear Window Macaron Boxes
A popular snack or dessert with some coffee or tea for friends and family. Spoil them and try other flavors for different colors with this recipe. For a fine dining dessert serving purchase online this Crystalia Glass Small Patisserie Service Platter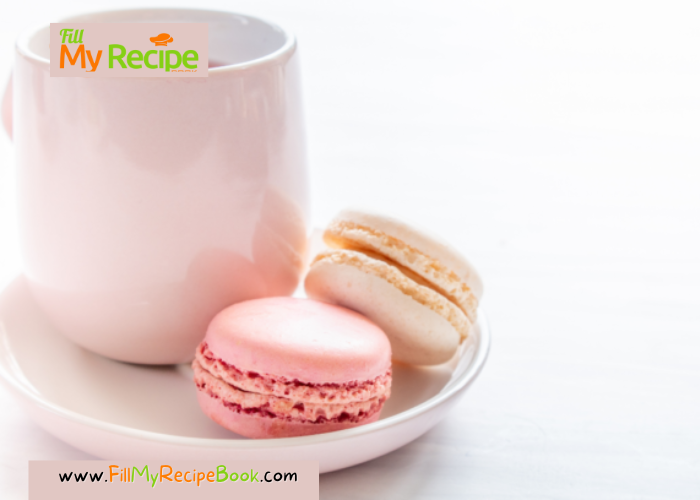 Macarons are not that hard to make when you understand the correct process.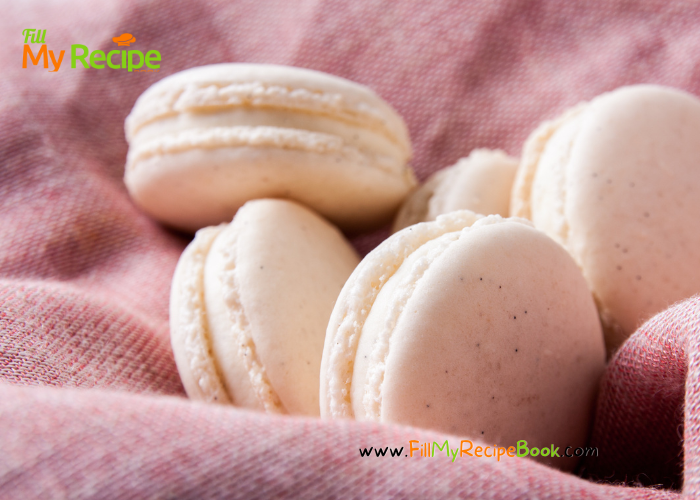 Pink and creamy macarons to offer your special guests for teas.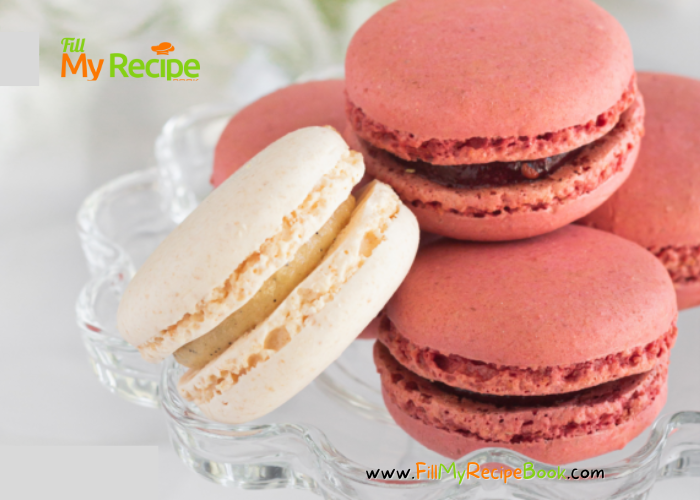 Below is the detailed recipe to download or save. Even if you would love to just write the recipe out and file it in your recipe folder then download the General Recipe page provided in printables for you.
The prep time includes the time you rest the piped macarons before you bake them.
Recommendations.
(click on the highlighted heading for the recipe)
For Mothers Day tea recipe ideas —-> 25 Mother's Day Morning Tea Ideas
Get more macaron ideas —–> 12 Easy Delicious Macarons Recipes
Sharing more delicious dessert ideas —–> 20 Scrumptious Dessert Recipes
Get these delicious pastry recipe ideas as well —–> 11 French Pastry Desserts Recipes
Not forgetting these fine dining ideas —–> 15 Gourmet Fine Dining Desserts Recipes and other you would love to make —-> 24 Easy Mini Dessert Recipes and these Valentine desserts ideas —-> 14 Special Valentine Dessert Recipes for Two
and these ideas —–> 16 Easy Valentines Snacks Recipes
Purchase some of these helpful kitchen accessories to make life easier for you.
Get these bargains while they last with a few Useful gizmos for the kitchen. Some interesting gizmos to help in and around the kitchen and house.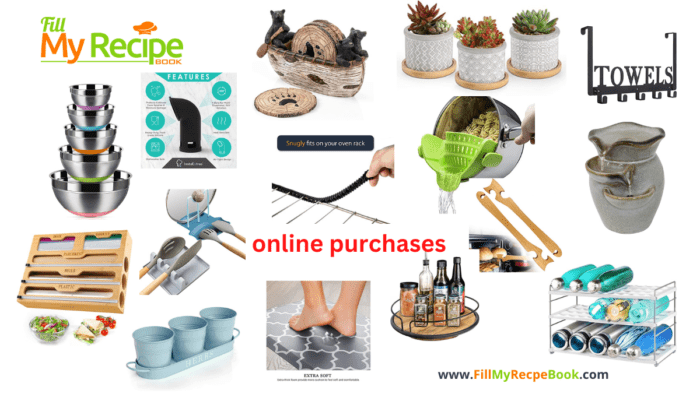 Print
Raspberry and Vanilla Macarons
How to make Raspberry and Vanilla Macarons Recipe idea. Aesthetic macarons oven baked and a raspberry or vanilla buttercream filling recipe.
Author:
Prep Time:

50min

Cook Time:

15 min

Total Time:

65 min

Yield:

15

Category:

Desserts

Method:

Oven Baking

Cuisine:

French
Ingredients
Raspberry macarons  (For vanilla macarons use vanilla)
3/4 Cup

of Almond Flour  (

90g

)

1 Cup

of powdered sugar (

125g

)

2

egg whites (room temperature)

1/2 teaspoon

of salt

1/4 cup

of white sugar (

50g

)

1 teaspoon

of raspberry essence (or raspberry juice) (use vanilla for vanilla macarons)

1

/ 2 drops of food coloring. (not for vanilla macarons)
Vanilla butter cream  (for raspberry butter cream use some raspberry juice and coloring)
113 g

of soft butter (less than

half a cup

)

1 1/2 Cups

of powdered sugar

1 teaspoon

of vanilla essence    (for raspberry flavor use

1 teaspoons

raspberry juice)

1 Tablespoon

of milk
Instructions
Add the ground almond flour and powdered sugar to the food processor and pulse to combine them well. Pour into a sieve and push it through making sure its all fine. 
Separate the room temperature 2 eggs, saving the yolks for another recipe. adding the whites to another bowl with the salt. Whip your egg whites until they become foamy in a stand mixer or with a hand mixer.
Sprinkle in the 1/4 cup of powdered sugar with the mixer on high. When the egg whites are at the soft peak stage add the raspberry essence/vanilla essence and coloring(if you making raspberry ones) Whip the egg whites again until they reach stiff peaks.
Add half of the egg whites to the dry ingredients and fold together until combined. This you make sure is folded until almost thick and doesnt stick while the mixture just falls of the spoon. Add the remaining egg whites and fold together without the mixture breaking if you make a figure 8.
Spoon the macaron batter into a piping bag with a small round tip and pip 1 inch rounds about an inch apart on a lined baking sheet. Do not grease or use spray and cook, any liquid will affect your macarons. Then tap the sheet on a work surface a few times to remove any air bubbles and leave to rest for 20 minutes before placing in the oven. The air firms them up better and when they bake they will rise better.
When you can touch the macarons without smudging them place into a preheated oven at 150 Deg, C (300 Deg. F) and bake for 15 minutes.
Cool completely before filling. ( they are best to be made the day before and rested overnight) 

Vanilla/Raspberry Buttercream

Add the soft butter to the bowl of your mixer, Mix on medium speed for about 5 minutes or until light and fluffy and doubled in volume.
Add the sugar slowly a cup at a time, mixing well in between each addition until well combined.
Then add the vanilla essence/raspberry juice and milk and give the buttercream a final mix.
Pipe 1 Tablespoon worth about an inch of buttercream on one of the macarons and top with another, pressing until the buttercream reaches the edges.
Continue with the remaining macarons.

  
Notes
Macarons are best the next day, so make them a day ahead. As well as using a gel coloring for using a liquid can make them spread out more. 
When changing flavors use 1 teaspoon of different extracts or essences of your choice.
Keywords: Raspberry and Vanilla Macarons
Here are related posts for meringue recipes or other Oven Baking Desserts
Pretty Mini Pink Meringue Kisses
Go view in the Printables menu for a few downloaded prints that will give you information when baking and help with collecting written out pages for recipes.
This post may contain affiliate links, where we earn from qualifying purchases. See more details in the policy page.