16 amazing grilled skewer ideas recipes for braais or BBQ, can make them smaller for appetizers they are just so tasty and delishes.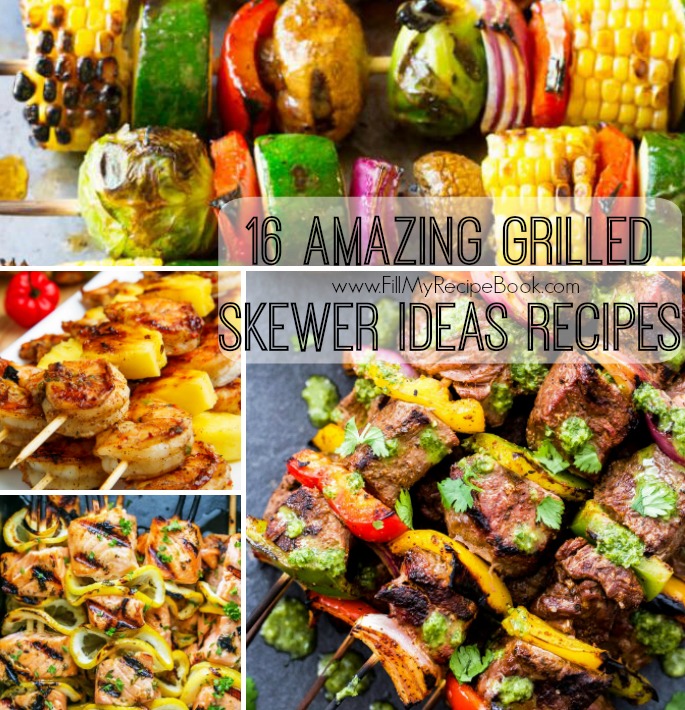 16 Amazing Grilled Skewer Ideas Recipes
Having people or friends and family around for a meal is so wonderful. Barbecue or braai and sit and talk around the fire is all that is needed to have a wonderful time. What family does is every one brings something to braai and a side dish each.
Here we give some recipes and links to many different skewers or kebabs or as south africans call it sosaties. Vegetable ones and chicken and meat or sea food. They are amazing, so go through them and click on the highlighted name for the recipe. Or the photo. enjoy.
Grilled-thai-curry-chicken-skewers-with-coconut-peanut-sauce
Most of the ingredients for these chicken skewers are pretty straightforward. If you're not familiar with Thai red curry paste, it's a blend of lemongrass, Thai ginger, fresh red chilis, and fragrant spices. Most large supermarkets carry it in the Asian food section.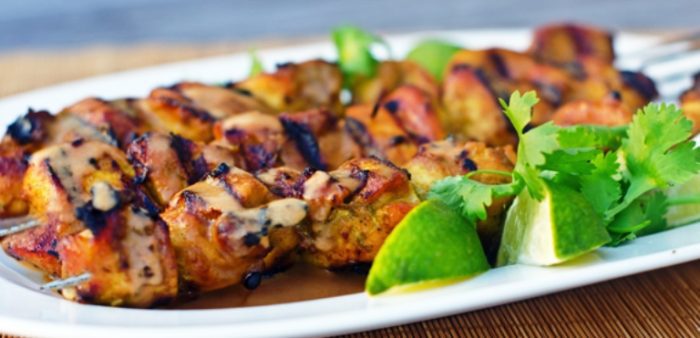 Balsamic-garlic-grilled-mushroom-skewers
These balsamic garlic grilled mushroom skewers are so nice and easy to make and perfect for summer grilling and get-togethers! You just need to marinate the mushrooms in a simple and tasty balsamic garlic marinade, skewer them up and grill'em! The next time you are looking for a side or some tasty appetizers or even a light main for your outdoor grilling event remember these balsamic garlic grilled mushroom skewers!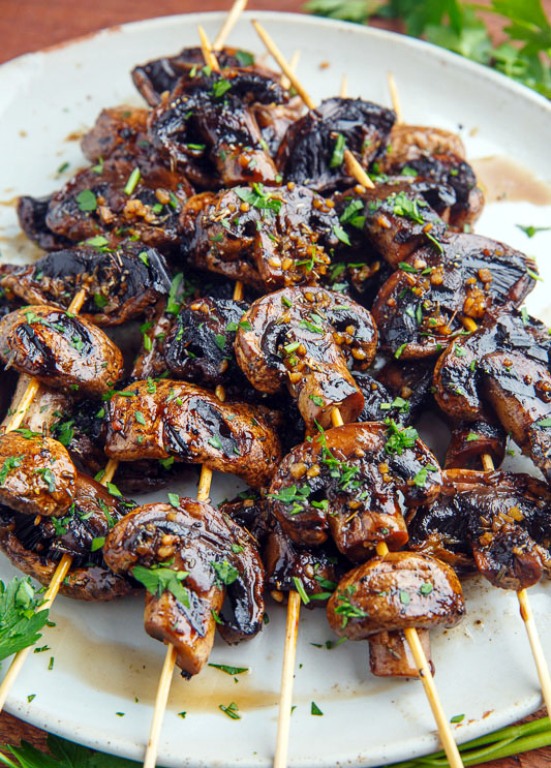 Grilled Honey Mustard Chicken Kebabs. 
Grilled Honey Mustard Chicken Kebabs. Love to braai or grill, then make these tasty homemade honey and mustard marinated chicken kebabs.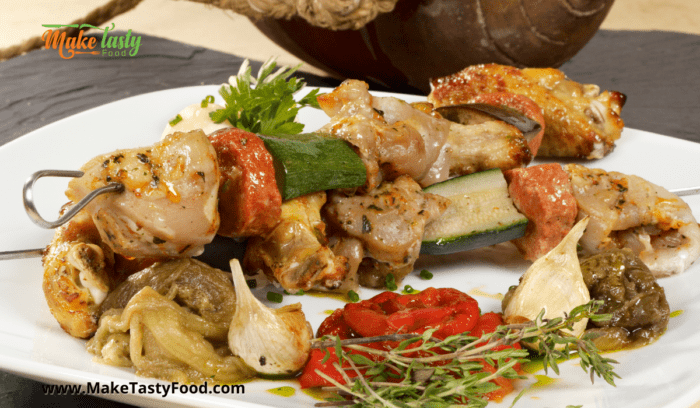 Bbq-chicken-bacon-pineapple-kabobs
BBQ Chicken Kabobs recipe with tender chicken grilled with pineapple and bacon then slathered with your favorite BBQ sauce. These ultimate BBQ recipe for grilled chicken kabobs are perfect for your next cookout!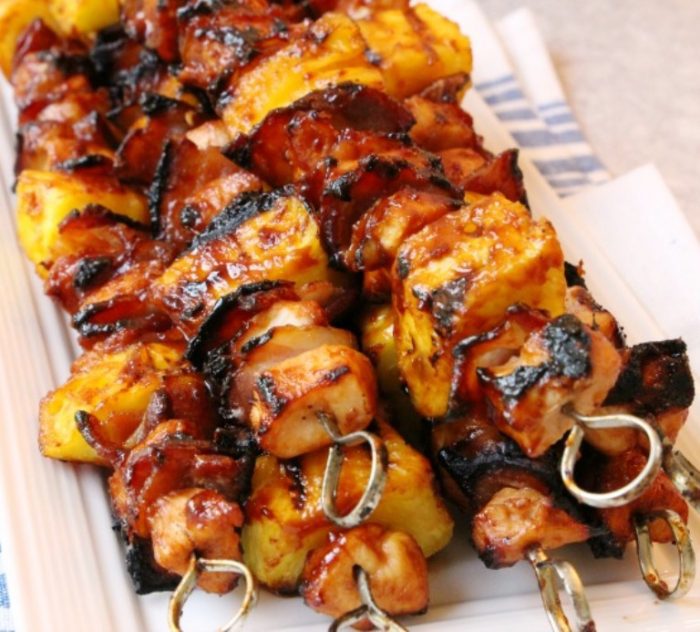 Grilled-jerk-shrimp-and-pineapple
Spicy grilled jerk marinated shrimp and sweet and juicy pineapple skewers!
Up next in my summer grilling adventures I head down south to the Caribbean for some grilled Jamaican jerk shrimp using a tasty homemade jerk marinade. Jamaican jerk spice comes in the form of a spice blend a paste or a marinade and its main ingredients are allspice, scotch bonnet peppers, green onions, thyme, nutmeg and garlic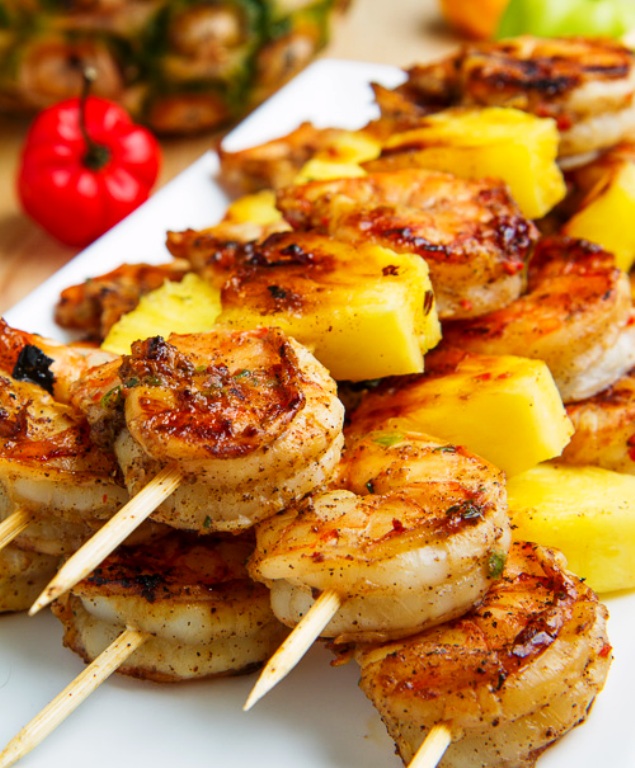 Grilled-fajita-vegetable-skewers
Amazing Grilled Vegetable Kabobs: A healthy vegetarian skewer recipe loaded with fresh summer veggies and "fajita butter." A fabulous side dish for picnics!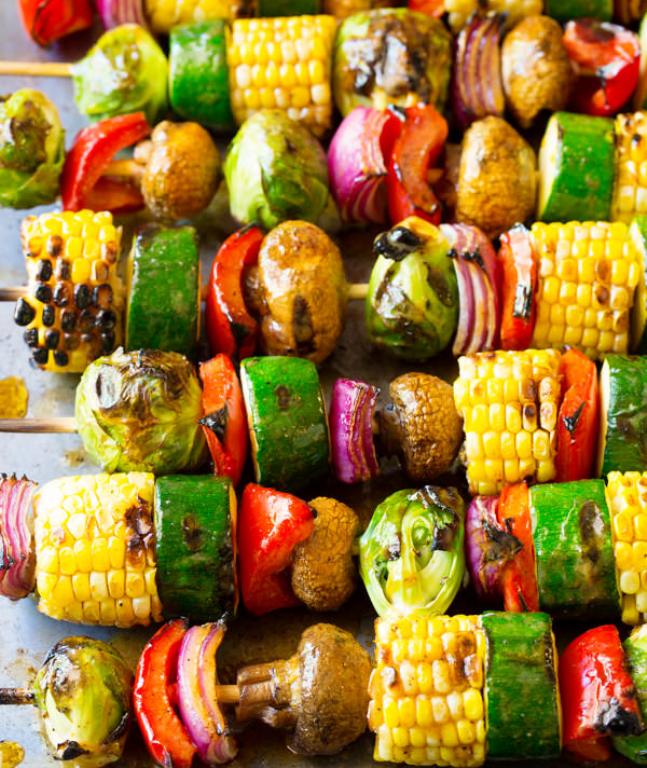 A Grilled Beef and Peppers Sosaties
Get the recipe for these Grilled Beef and Peppers Sosaties on a braai or a barbecue. Kebabs or sosaties they all the same made with beef, bell peppers and onion.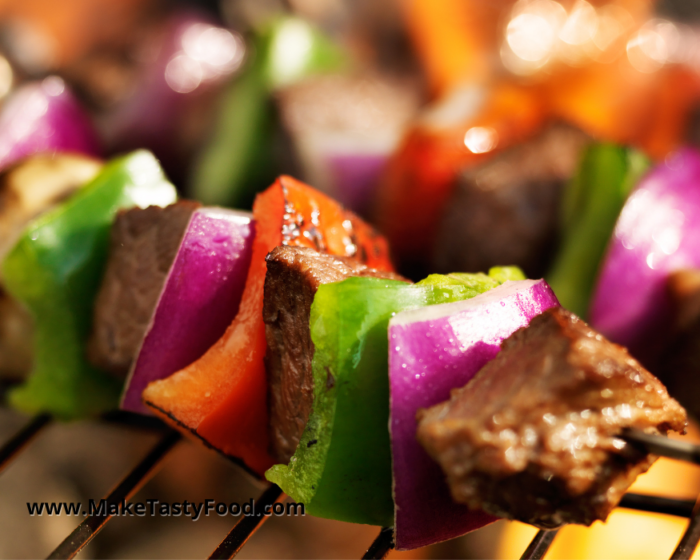 Grilled-hawaiian-teriyaki-chicken-skewers
Grilled Hawaiian Teriyaki Chicken Skewers marinate in the very best homemade Hawaiian teriyaki sauce! Loaded with peppers, fresh pineapple and red onions, these make an incredible and vibrant meal
Grilled-salmon-skewers-with-garlic-and-dijon
 These take less than 30 minutes to make and you end up with such juicy, flaky and flavorful salmon… you'll want seconds! We ate these up so fast.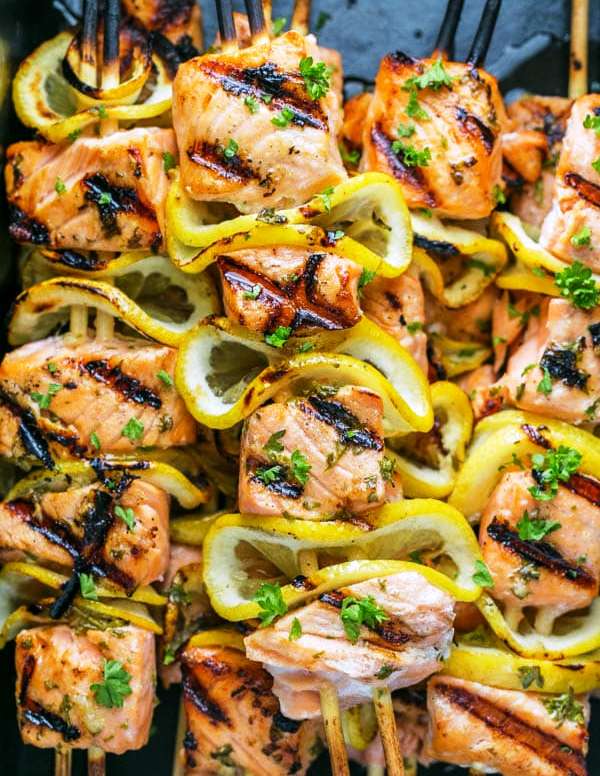 3-ingredient-grilled-ranch-potatoes
These easy grilled 3-Ingredient Grilled Ranch Potatoes are quick, absolutely delicious, and make the perfect side dish for any summertime meal.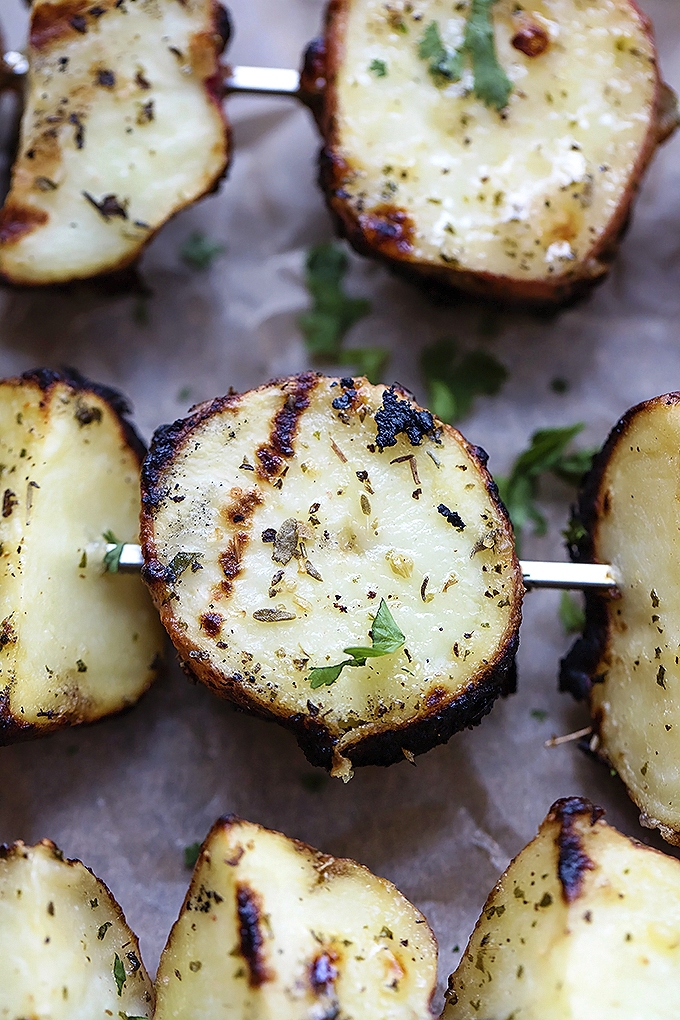 Grilled-chicken-with-honey-chili-lime-cilantro
Great grilled Honey Chili Lime Cilantro Chicken – A savory and nourishing grilled chicken perfect recipe for your Summer cookouts. Chicken breasts seasoned with a salty, sweet, sour, and spicy marinade (made with Cilantro, lemon juice, honey and Chili) are grilled to a tender finish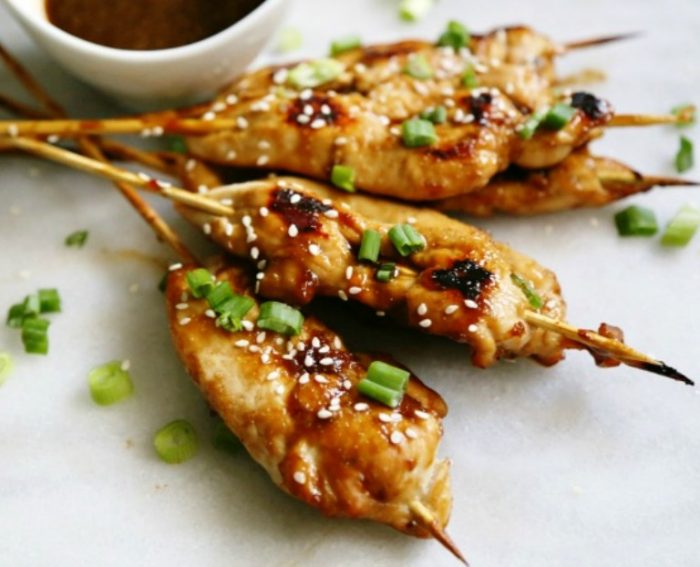 Steak fajita skewers with cilantro chimichurri 
Steak Fajita Skewers with Cilantro Chimichurri are perfect for summer grilling! Big, juicy pieces of steak, sweet bell peppers and red onion all topped with an amazing cilantro chimichurri sauce. Healthy grilling never looked so good!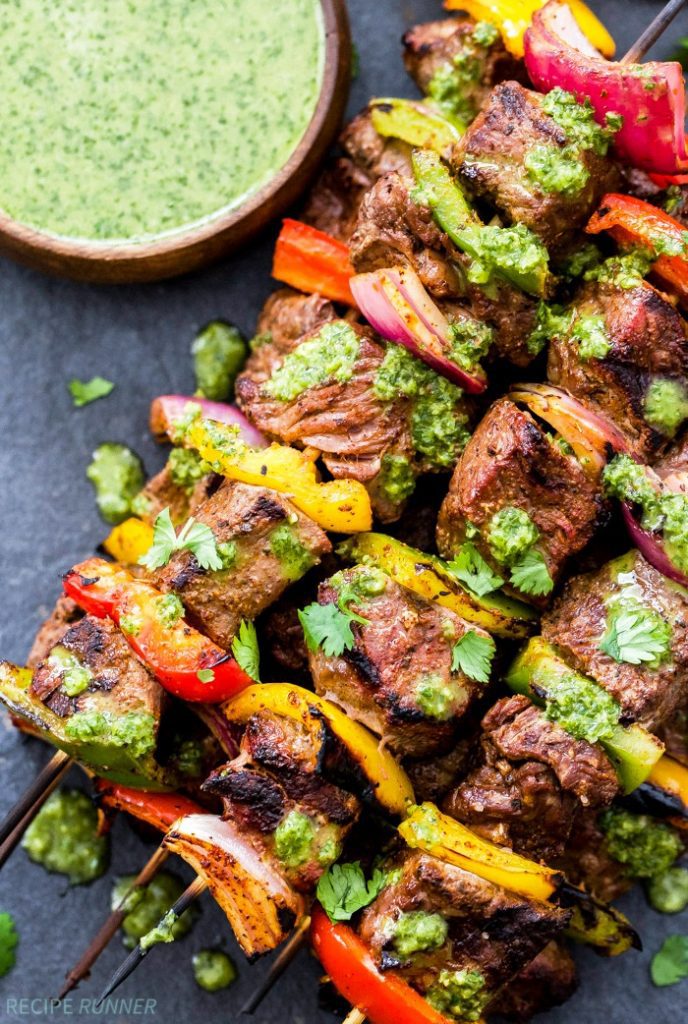 Grilled asian garlic steak skewers
Delicious Grilled Asian Garlic Steak Skewers are marinated in a delicious Asian garlic sesame sauce and grilled to tender and juicy perfection.  A fun and unique addition to any gathering!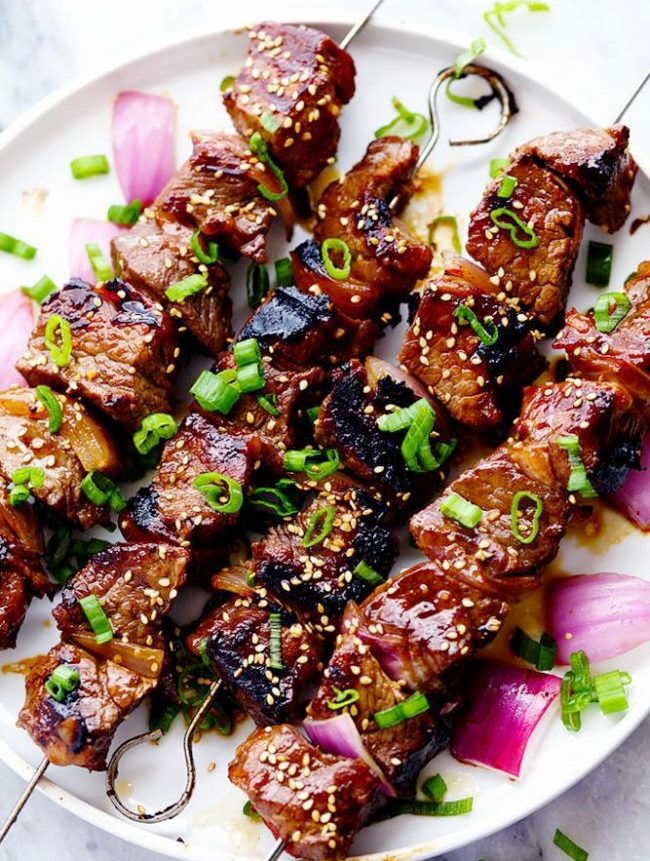 Honey garlic chicken skewers recipe
Love to share these Honey Garlic Chicken Skewers recipe with you all. This is a simple, yet delicious appetizer recipe that my guests enjoy.
Bacon-brussels-sprouts-appetizer
When it comes to pleasing people who are low-carb or following the paleo diet, you can't go wrong with a little bacon! Simple bacon and brussels sprout skewers are a Paleo-friendly and naturally gluten-free appetizer that come together in just a few steps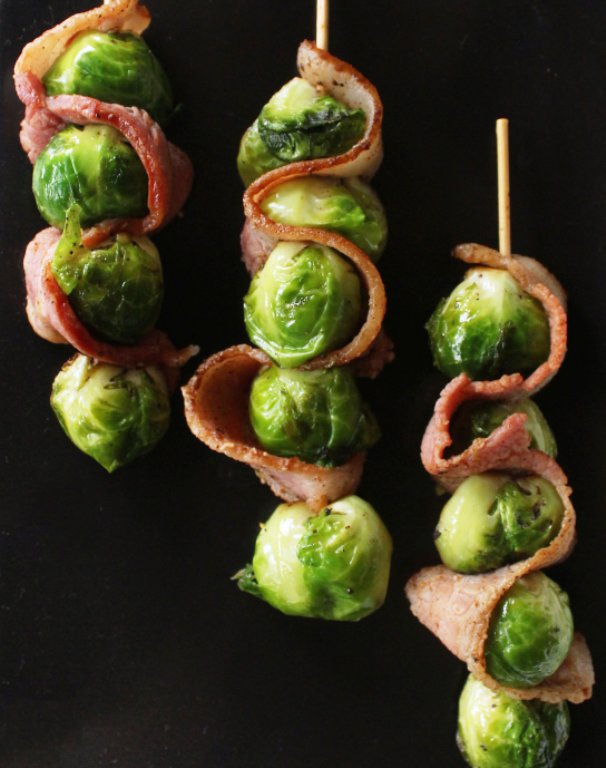 Try this Filipino BBQ on Skewers. A perfect combination of sweet, salty, and sticky! 
Spiced sweet potato and bacon skewers recipe
Sugar and spice and everything nice…that's what this Spiced Sweet Potato and Bacon Skewers recipe is made of! An easy side dish, perfect for fall.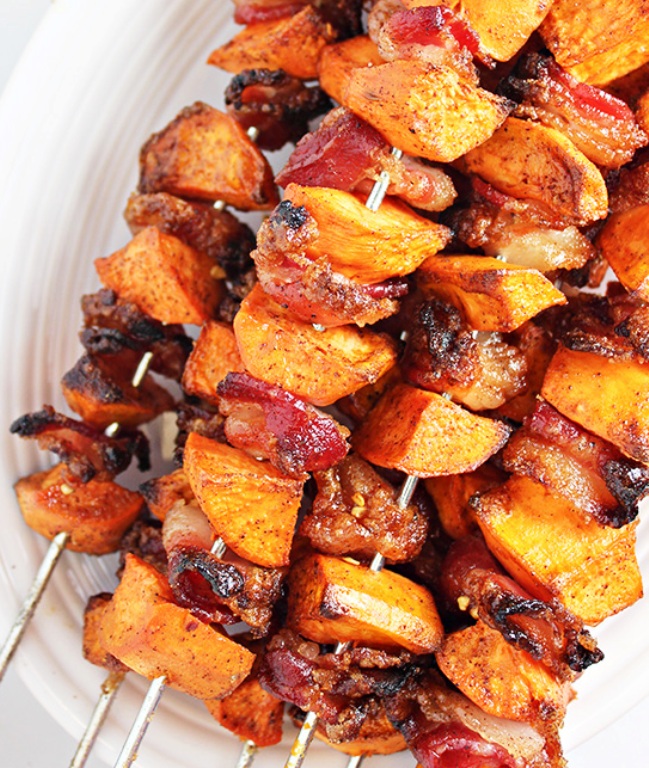 Grill Braai or Barbecue is a great way to cook a meal to share with friends and family. Get more recipes for these on the highlighted headings.
Go on have a braai or BBQ and enjoy the company and good food. enjoy