10 Roasted Stuffed Butternut Recipes ideas to create for a dinner. Butternut squash with fillings are healthy and vegan, vegetarian friendly.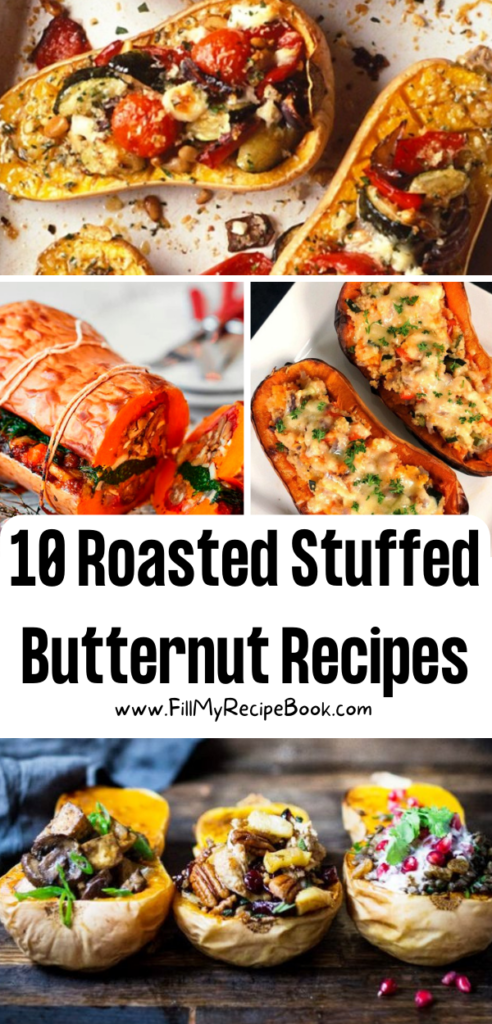 10 Roasted Stuffed Butternut Recipes
Here we share a few roasted and stuffed butternut squash recipe ideas for you to create for a dinner or any special meal. Filled with creamy spinach or with roasted vegetables and goats cheese. Even make a Christmas centre piece with the sandwich stuffed butternut for vegan or vegetarian recipe idea. There are vegan and gluten free recipes to create. Use turkey for a stuffing as well as couscous and quinoa and many other vegetables and flavors to create a delicious stuffed butternut.
Do you eat the skin on roasted butternut?
The skin may be eaten. Roasted with the skin on. Half the butternut and scoop out the seeds, and some of the butternut, keep the butternut to add to other recipes, such as stews soups or warm salads. Even used them with the ingredients you stuff your butternut with.
Is it better to boil or roast butternut squash?
Butternut boils in just 5 – 6 minutes, But roasting the butternut takes at least 35 minutes. A stuffed butternut it would provide the flavors of herbs and vegetables, sweet and caramelized exterior that roasting gives it. Roasting pieces or sliced butternut also gives you that flavor.
(click on the highlighted heading or image for the recipe)
Butternut Squash Stuffed and Roasted
Butternut Squash Stuffed and Roasted recipe with vegetables, rice, bacon and cheese. An oven roast that is a healthy side dish with a meal.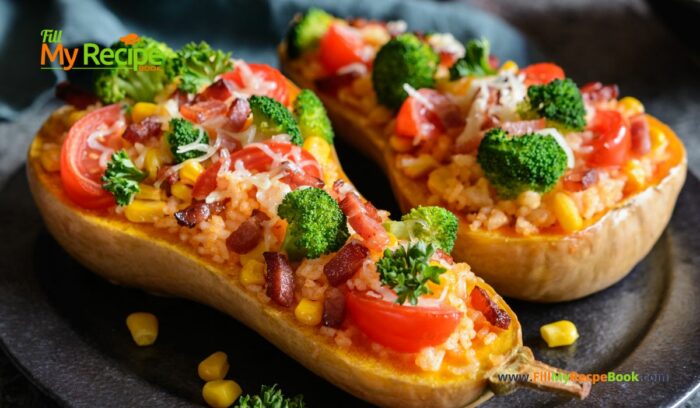 Baked-creamy-spinach-butternut-squash-recipe
Creamy baked Butternut Squash: The holidays are around the corner, and if you're looking for a dish that will impress your guests, you've found it!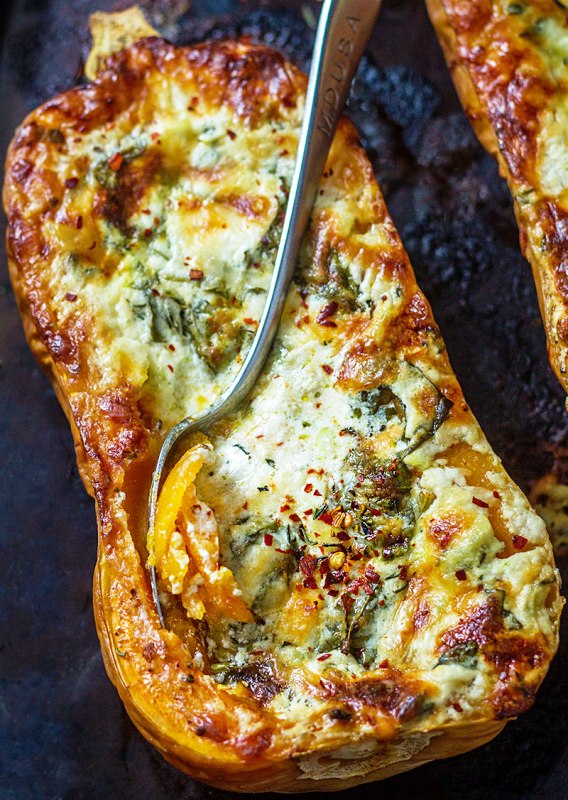 Roasted-butternut-squash-with-goats-cheese
A really attractive autumn recipe with sweet butternut squash halves stuffed with roasted vegetables and goat's cheese and finished with a scattering of breadcrumbs to make little eat-all vegetable gratins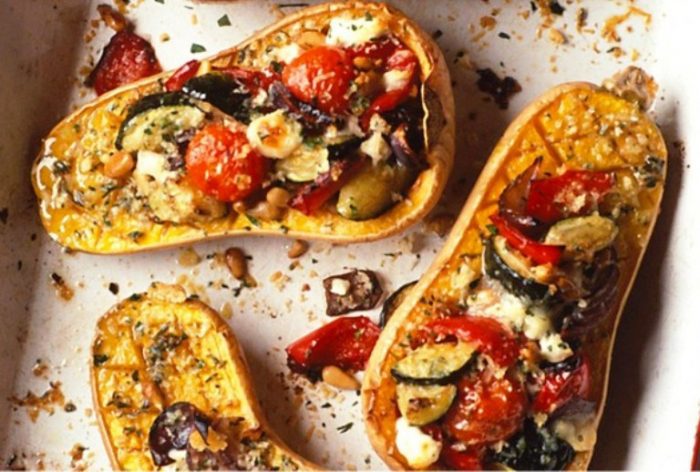 Stuffed-roasted-butternut-squash
As much as I adore that loaf in all its gorgeousness, I was craving a new holiday centerpiece. Introducing my new, stunningly gorgeous, super duper scrumptious, Stuffed Roasted Butternut Squash.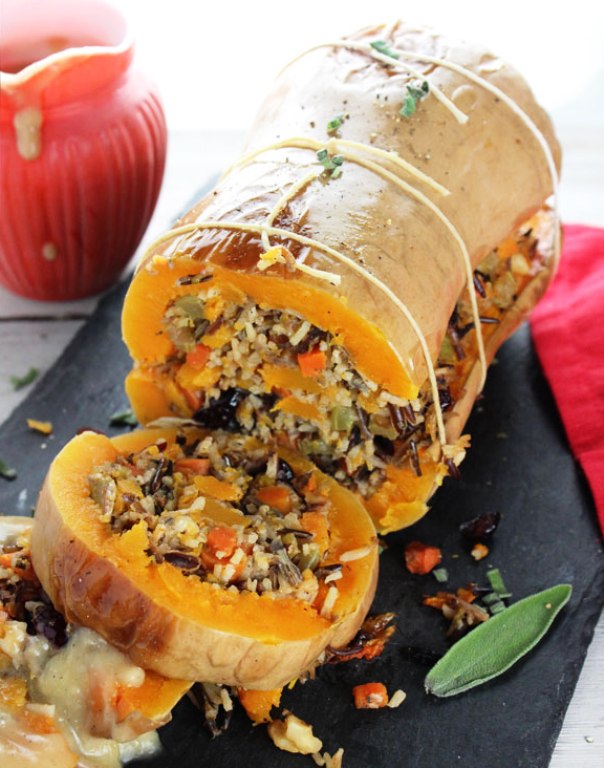 Roasted-butternut-squash-with-turkey-stuffing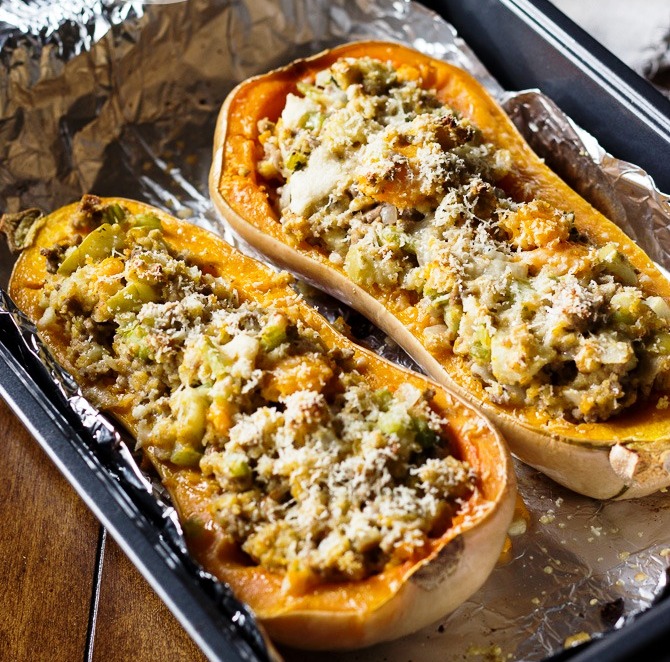 Savory-stuffed-butternut-squash-vegan-gluten-free
Enjoy this easy Vegan Stuffed Butternut Squash recipe! It's savory with a hint of sweet and is so perfect for a satisfying, cozy fall dinner. Made in partnership with my friends at Sweet Earth Foods.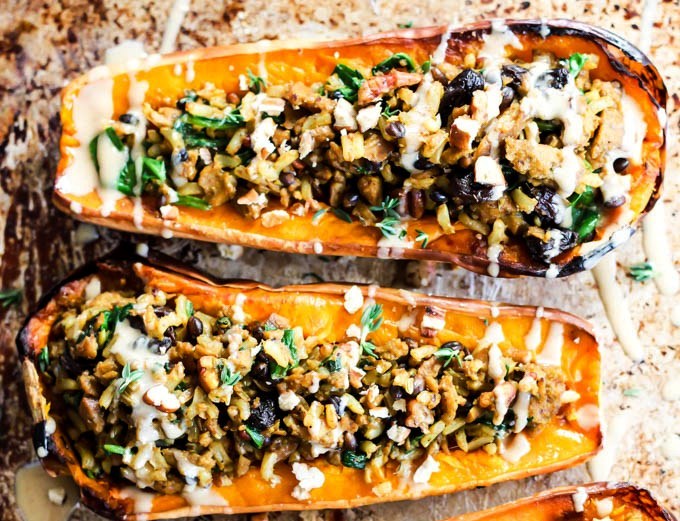 Stuffed-roasted-squash-with-pesto
Prepare this stunning centerpiece to impress your vegan guests on Christmas day. Roasting a whole butternut squash, scooping out the sweet flesh and then filling with layers of chargrilled peppers, mushrooms, chestnuts and spinach is really easy to do, and gives impressive results. Serve this vegan Christmas recipe with homemade pesto for an extra flavour kick!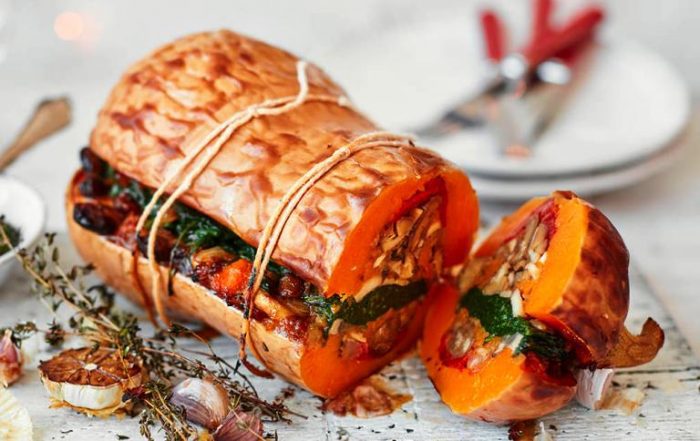 A quick and healthy weeknight dinner with roasted butternut squash as the base. Vegan adaptable and gluten-free!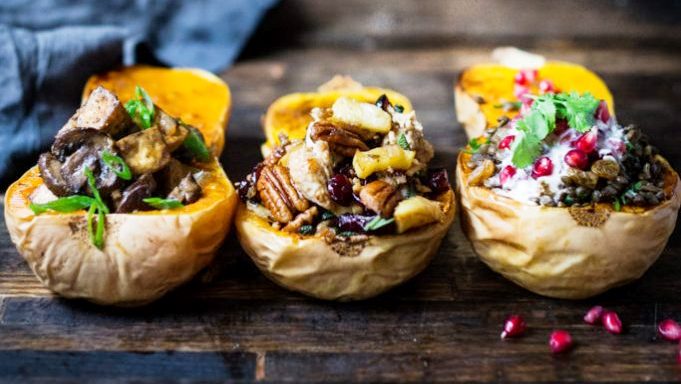 Simple-roasted-butternut-squash-stuffed-with-couscous-and-vegetables
A great dish for your Thanksgiving of Christmas dinner, but also fantastic all year around. It might be simple, but it's packed full of flavours, and can be enjoyed either as a side or a meal on its own.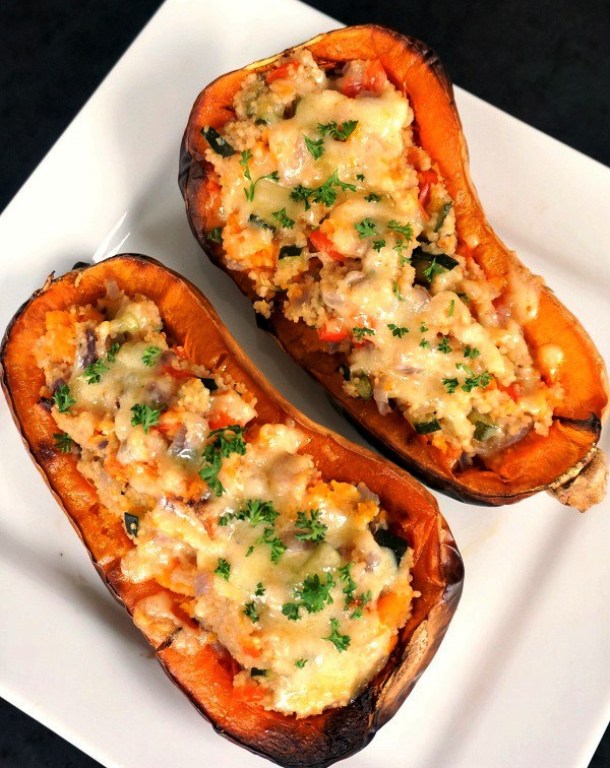 Mediterranean-quinoa-stuffed-butternut-squash
This Mediterranean quinoa stuffed butternut squash is a great idea if you are having guests and you want to impress them with something a bit more interesting that doesn't require too much effort. If you want to turn this meal into a vegan one, just skip the cheese and it will still be delicious!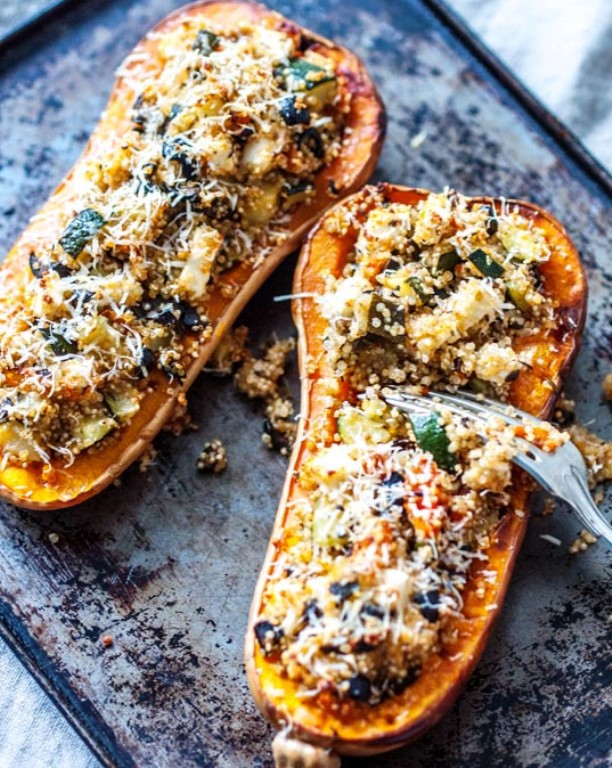 I arrived excited and hungry, and I departed nourished. And I don't mean "fiber bar" nourished, or even "super food smoothie" nourished. I mean, deep-down in your heart, fills you to the brim, Quinoa Stuffed Butternut Squash with Cranberries and Kale nourished.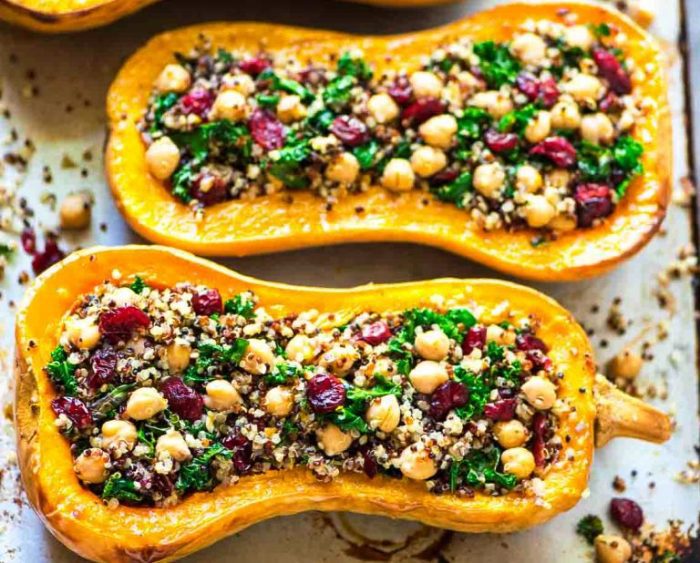 Recommended.
(click the highlighted heading for the recipes)
More ideas to make butternut roasts. —-> 13 Scrumptious Butternut Recipes
These butternut squash recipe ideas are delicious as well.
—–> Roasted Butternut Creamy Soup
—–> Butternut Squash Baby Puree
—–> Creamy Pumpkin & Vegetable Casserole or butternut