Beef Stew with Vegetables. This amazing Beef stew and Veggies is cooked with juices and spiced up with herbs and spices for a warm meal.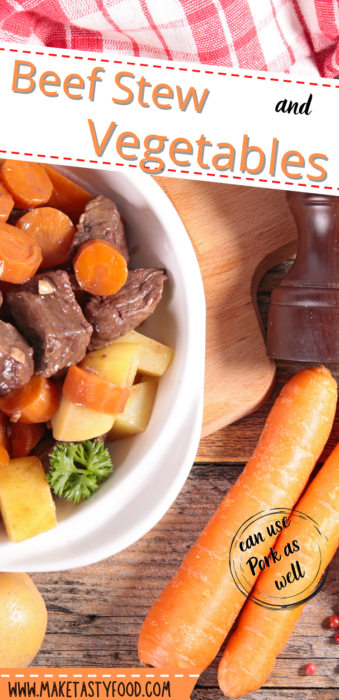 Winter days and chillier evenings call for this pot of stew and vegetables. If the stove hasn't kept you warm this meal certainly will.
Plus the left overs are so delicious the next day on a slice of bread or toast.
Freeze in small freezing bags to warm up for a meal.
Ingredients for this meal.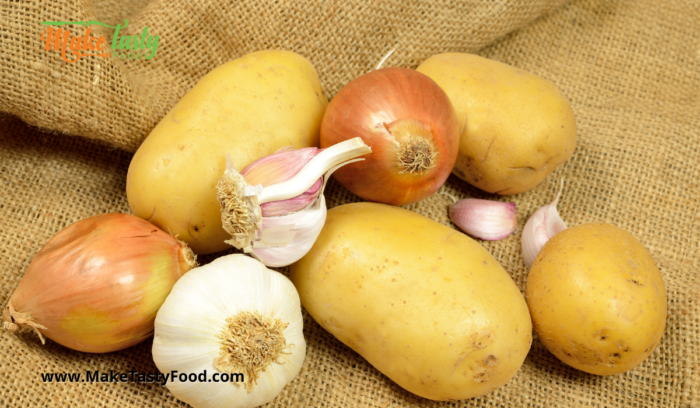 Also some vegetables of your choice or these carrots and green beans. See the recipe for other ingredients below.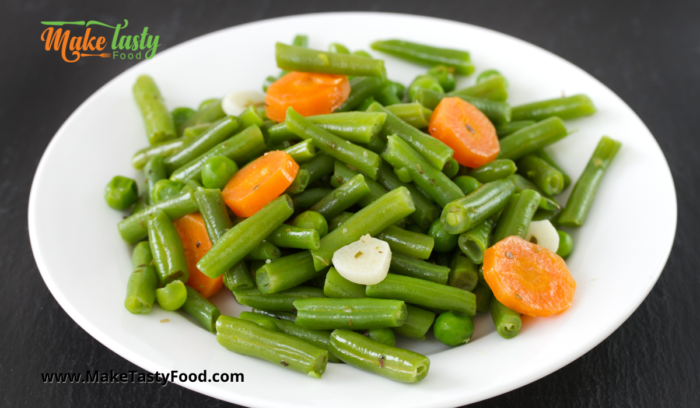 According to the recipe provided below in the printable or savable recipe. Cook you meat and vegetables and herbs and spices in a pot.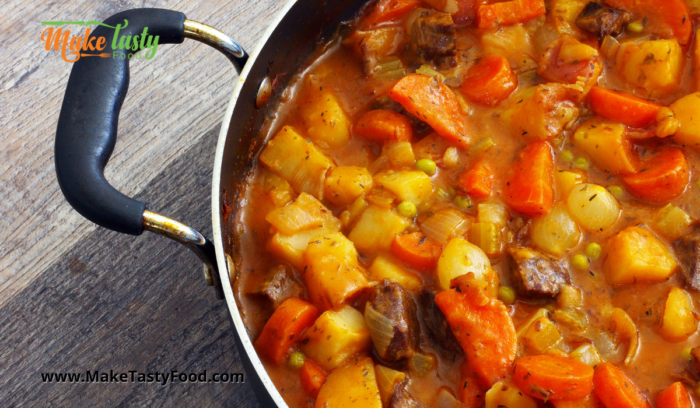 Dish the stew and vegetables up in a bowl and enjoy.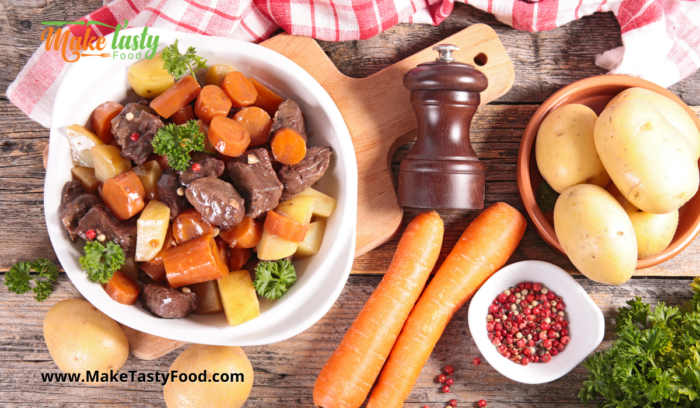 A delicious warm meaty meal with its own gravy on some rice or like most people do, on a slice of bread.
Such a satisfying meal for a family. Although this recipe is for 6 people you can easily double it. Keep over to freeze for other meals in the future.
[click on the highlighted link]
Get more One Pot veggies recipes. ——–> 16 Warm One Pot Veggie Dish Recipes
The recipe is below print or save it as you please.
Print
Beef Stew with Vegetables
Beef Stew with Vegetables. This amazing Beef stew and Vegetables is cooked with juices and spiced up with herbs and spices for a warm meal.
Prep Time:

20 min

Cook Time:

60 min

Total Time:

80 min

Yield:

6
450 g(1 Lb) Stew Meat
1 Cup Carrots, sliced
3 Cups Potatoes, cut into 1" pieces
1 Cup Green beans, frozen
1 Med Onion, sliced
2 Tbsp Flour
3 Cups Vegetable Juice
1 Cup Water
2 Tbsp. Olive oil
2 Beef bouillon cubes
½ Tsp. Dried oregano
To taste Salt, Pepper
To taste Garlic Powder
1 Sprig Rosemary, dried, crushed
½ Tsp. Parsley, dried
3–4 Bay leaves, dried
Instructions
1. Put flour in a plastic bag. Add cubes of meat a few at a time and shake to coat
2. Put oil in a large pot; add meat and allow to brown over medium-high heat. Drain fat.
3. Add all wet ingredients and spices. Bring to a boil, then reduce heat. Cover lightly and allow to simmer for at least 30 minutes.
4. Add all vegetables and continue to simmer for about another 45-60 minutes.
5. Serve. Excellent with crusty French bread.
Variation:
Substitute pork for the beef and reduce the final simmering time to 30 minutes.
Small portions of these stews packed in a microwaveable container make terrific lunches.
Enjoy
Keywords: Beef stew and vegetables
Another meal to warm you up and that has beef meat in is…..
A Slow Cooker Chicken and Veg Stew
(click on the highlighted heading to view recipe)
Choose more No Bake Stove Top Recipes.
download your FREE Printables here.