Simple House Rules Printable for you kitchen and home to place on the fridge. Free printable to download with three choices.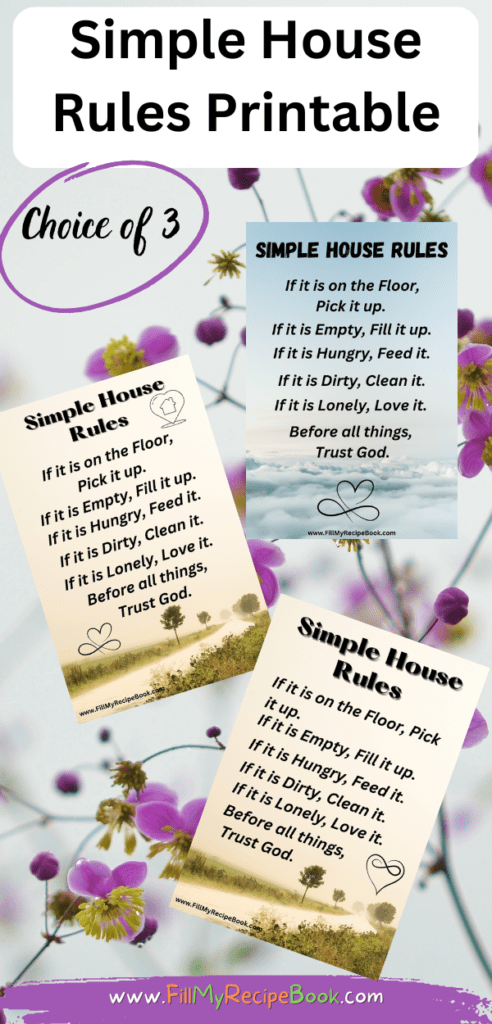 Simple House Rules Printable
In the kitchen we would love some orderly easy and simple house rules for all to go by. These are great to print and stick on the fridge or frame them for gifts. Just a few ideas to go by for all family members.
Homes need structure for the simplest of things that everybody can do. It is caring and very thoughtful ideas to install in the kitchen or the household.
Choose from one of these three ideas or print them all for your home with choices of other kitchen chart printables.
DOWLOAD the Simple House Rule printable. (click the highlighted heading or image)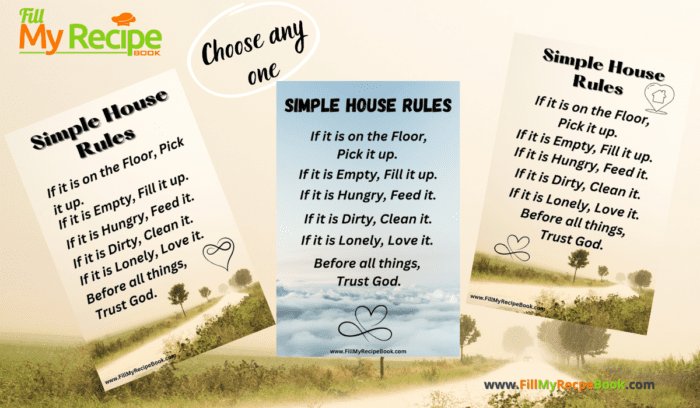 Examples of common family rules
No hurting. Keep your hands and feet to yourself.
No interrupting. Wait for your turn to speak.
No yelling in the house. Use an inside voice when talking in the house.
No climbing or jumping on furniture. Sit on the couch or lie down on the bed.
These are just some examples for the entire family to live in harmony and to teach the kids to respect all family members and other people. Respect happens in all kinds of ways, and this would help for all who live in the house to live peacefully.
Download some PRINTABLE or Kitchen Charts or Household planners and Online purchases.
(click the highlighted heading for the printables for FREE)